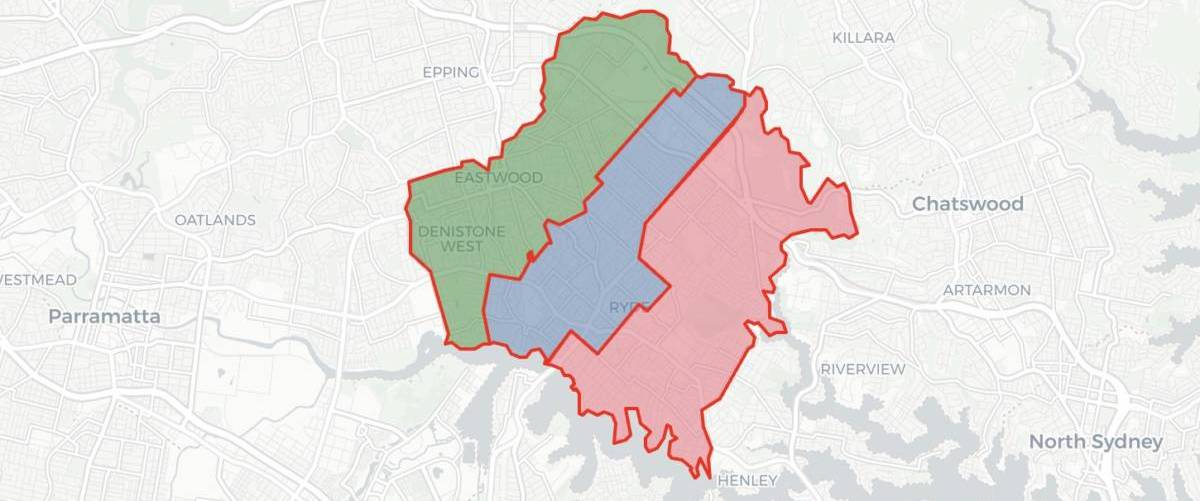 Ryde council covers the inner north-west of Sydney, covering suburbs at the western end of the lower north shore on the north side of the Parramatta River. The council covers the suburbs of Ryde, Meadowbank, West Ryde, Denistone, Melrose Park, Eastwood, Marsfield, Macquarie Park, North Ryde and parts of Gladesville.
The council has a population of about 131,000 as of 2019.
Wards
The City of Ryde is divided into three wards, with each ward electing four councillors.
East ward covers Putney, Gladesville, North Ryde and East Ryde.
Central ward covers Ryde, Meadowbank and parts of West Ryde and Macquarie Park.
West ward covers the remainder of West Ryde and Macquarie Park, as well as Eastwood, Denistone, Melrose Park and Marsfield.
| | | |
| --- | --- | --- |
| Central | East | West |
| Edwina Clifton (Greens) | Christopher Gordon (Greens) | Trenton Brown (Liberal) |
| Chris Moujalli (Liberal) | Jordan Lane (Liberal) | Peter Kim (Independent)1 |
| Bernard Purcell (Labor) | Roy Maggio (Independent) | Jerome Laxale (Labor) |
| Sarkis Yedelian (Liberal) | Penny Pedersen (Labor) | Simon Zhou (Independent) |
1Kim was suspended from Labor after being elected deputy mayor with Liberal support in 2020.
History
Ryde is an area which has tended to lean towards the Liberal Party, but much less so than other parts of the north shore. Despite this trend, the Liberal Party only began running official candidates in 2008.
Prior to the 2004 election, the mayoralty had been shared around amongst an independent grouping, with Edna Wilde and Ivan Petch each serving two terms as mayor from 1999 until March 2004.
At the 2004 election, Labor won three seats alongside two Greens. The remaining seven seats went to independents, including at least one who later won a seat as a Liberal.
Independent Terry Perram served as mayor from 2004 to 2005, followed by Ivan Petch from 2005 until 2008.
The Liberal Party made its first official push for Ryde council in 2008, winning four seats. Labor also won four seats, with the Greens winning no seats on the council. The remaining four were held by independents.
The mayoralty was shared between the major parties, with Liberal Vic Tagg serving as mayor from 2008 until 2009, followed by Labor's Michael Butterworth until 2010, and then Liberal councillor Artin Etmekdjian from 2010 until 2012.
The Liberal Party gained ground from Labor in 2012, winning a fifth seat. Labor only won three, while four independents won seats. Three of these independents had served on the previous council.
Independent councillor Ivan Petch served as mayor from 2012 to 2013, followed by Liberal councillor Roy Maggio from 2013 to 2014 and then fellow Liberal Bill Pickering from 2014 to 2015.
Former mayor Ivan Petch resigned in late 2014, triggering an early 2015 by-election won by Liberal candidate Jane Stott. This gave the Liberal Party six out of twelve seats on the council.
Despite this shift in the numbers, the 2015 mayoral election saw Labor's Jerome Laxale win when the result was drawn from a hat. Former Liberal mayor Etmekdjian won the vote of all six Liberal councillors, while the three current and former Labor councillors voted for Laxale, and the three other independents voted for Terry Perram. Laxale won the tiebreaker between himself and Perram, and Perram's supporters went on to vote for Laxale, resulting in a 6-6 tie. This result was broken by drawing Laxale's name out of the hat.
Liberal councillor Bill Pickering returned to the mayoralty in September 2016, thanks to former Labor councillor Jeff Salvestro-Martin switching and supporting Pickering over Labor's Laxale.
The council swung to the left in 2017. Labor won a fourth seat, while the Greens returned to the council with two seats. The Liberal Party was reduced to four seats, along with two independents.
Jerome Laxale has held the mayoralty since 2017. Labor and Greens have generally voted together on leadership elections, while independent Simon Zhou has either voted with them or abstained.
Greens councillor Chris Gordon was elected deputy mayor in 2017, while Zhou took the job in 2018 and 2019.
Labor councillor Peter Kim nominated for deputy mayor in 2020 with the support of the Liberal councillors and Maggio, resulting in a 6-6 tie against Greens councillor Gordon. Kim won the draw of the hat, and was subsequently suspended by the ALP.
Candidate summary
Labor and Liberal are running full tickets. All three incumbent Labor councillors are running for re-election. Three out of four Liberals are running for re-election.
One of the two Greens elected in 2017 is running again, with a new candidate in one other ward.
The three incumbent independents are all running for re-election, with three other groups also running.
The full candidate list is at the end of this guide.
Assessment
Labor has had a working majority for the last four years, but that is not typical for Ryde.
Labor and the Liberal Party each have three safe seats. A party needs about 40% after preferences to win a second seat in a ward. A number of candidates were elected with a primary vote of 11-13%. The second Liberal councillor in the East was elected with 11%, as did independent councillor Zhou in the West. The Greens councillor in the East won with less than 14%.
So there are a number of seats that could well be in play. A flip of just one seat from the left to the right would be enough to tie the council.
| | | | | |
| --- | --- | --- | --- | --- |
| Party | Votes | % | Swing | Seats won |
| Liberal | 17,627 | 31.45 | -2.9 | 4 |
| Labor | 17,192 | 30.68 | +14.5 | 4 |
| Independents | 12,105 | 21.60 | -11.7 | 2 |
| Greens | 5,520 | 9.85 | -0.6 | 2 |
| Christian Democrats | 3,596 | 6.42 | -0.9 | |
| Informal | 3,490 | 5.86 | | |
Vote breakdown by ward
The Liberal Party topped the poll in two wards, with a vote ranging from 30.2% in the west ward to 33.0% in the central ward. The Liberal Party won two seats in the central ward and one each in the other wards.
Labor's vote was much more widely varied, ranging from 23.8% in the east ward to 39.6% in the west ward. Labor won two seats in the west ward and one each in the other two wards.
Independents ran in all three wards. Two groups ran in the east ward, with Roy Maggio polling 21.8% and the other group polling 9%. Simon Zhou's group polled 13% in the west ward, with 8% for a different independent group. The sole independent group in the central ward polled 12%.
The Greens ran in two wards, winning a seat in each ward. Their vote was 13.6% in the east and 15.9% in the central ward.
| | | | | |
| --- | --- | --- | --- | --- |
| Ward | LIB % | ALP % | IND % | GRN % |
| Central | 33.0 | 28.7 | 11.9 | 15.9 |
| East | 31.1 | 23.8 | 31.4 | 13.6 |
| West | 30.2 | 39.6 | 21.3 | 0.0 |
Election results at the 2017 City of Ryde election
Toggle between primary votes for the Liberal Party, Labor, independent candidates and the Greens.
Candidates – Central
A –

Labor

Katie O'Reilly
Francisco Valencia Cepeda
Margaret Mayger

B –

Independent

Felix Lo
Lisa Liu
Benedict Lau
Steven Dearing

C –

Independent

Gaurav Patni
Jordan Hodgson
Amrita Narain
Vishal Singal

D –

Liberal

Cr Sarkis Yedelian
Shweta Deshpande
Antonia Courtelis
Granville Schokman

E –

Greens

Harpreet Dhillon
Jonathan Brough
Catherine Rytmeister
Candidates – East
A –

Labor

Eloise Price
James Jelly
Chris Rutter

B –

Independent

Cr Roy Maggio
Crystal Tisseverasinghe
Louis George
Marianinna Candy

C –

Liberal

Cr Jordan Lane
Sophie Lara-Watson
Sarah McFayden
Christopher Galloway

D –

Greens

Helena Malinowska
David Isaacs
Yaser Naseri
Candidates – West
A –

Independent

Lichen Zhang
Michael Melville
May Mak

B –

Labor

Charles Song
Jananie Janarthana
Steve Colquhoun

C –

Independent

Bin Lin
Leanne Zullo
Wai Yeung
Xiaogang Zhang

D –

Liberal

Cr Trenton Brown
Daniel Han
Timothy Pinzone
Elaine Budd

E –

Independent

Cr Simon Zhou
Hugh Lee
Katherine Prosser
Rain Song