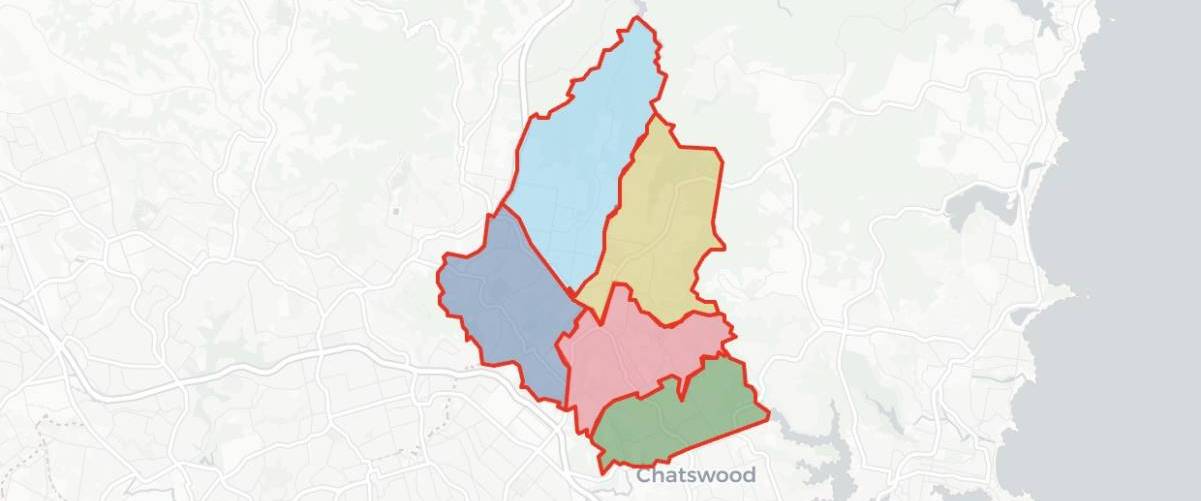 Ku-ring-gai council covers the upper north shore of Sydney, including the suburbs of Roseville, Lindfield, Killara, Gordon, Pymble, Turramurra, St Ives, Warrawee and Wahroonga.
The council has a population of about 127,000 people as of 2019.
Wards
Ku-ring-gai council is divided into five wards, with each ward electing two councillors.
Comenarra ward covers north-western parts of the council, including West Pymble, South Turramurra, and parts of Turramurra, Warrawee and Wahroonga. The ward's north-eastern boundary follows the railway line through Turraumurra, Warrawee and Wahroonga.
Gordon ward covers central parts of the council, including Killara, Gordon and East Killara.
Roseville ward covers the southern end of the council, including Lindfield, Roseville, East Lindfield and Roseville Chase.
St Ives ward covers north-eastern parts of the council, including St Ives, St Ives Chase and the centre of Pymble.
Wahroonga ward covers eastern parts of Wahroonga, Turramurra and Warrawee, as well as North Turramurra and North Wahroonga.
| | | |
| --- | --- | --- |
| Comenarra | Callum Clarke | Jeff Pettett |
| Gordon | Peter Kelly | Cheryl Szatow |
| Roseville | Jennifer Anderson | Sam Ngai |
| St Ives | Christine Kay1 | Martin Smith |
| Wahroonga | Donna Greenfield | Cedric Spencer |
1Christine Kay was elected at a by-election on 31 October 2018 after the resignation of David Citer.
History
The Ku-ring-gai area is very strong for the Liberal Party in state and federal elections, but the council is dominated by independents, with no major parties contesting local elections.
Each ward of Ku-ring-gai council elects two councillors. Prior to the 2012 election, these councillors were elected with a non-proportional system, where each candidate required a majority of the vote, and the votes of the first candidate were recycled to elect the second candidate. This produced a result where the two seats in each ward usually went to candidates running on the same ticket.
At the 2004 election, all five wards elected both candidates from the same ticket.
Adrienne Ryan was elected mayor in 2004, with Maureen Shelley elected as deputy mayor.
Elaine Malicki and Nick Ebbeck took over the council's leadership in 2005, followed by Nick Ebbeck and Anita Andrew in 2006 and 2007. Over the course of the council term, councillors from four ward teams served as mayor or deputy mayor, with no candidate from St Ives team serving in a leadership role.
In 2008, all five wards elected a unified team. Elaine Malicki and Tony Hall were re-elected with new running mates in Comenarra and St Ives wards, while Nick Ebbeck and Tony Cross were re-elected in Wahroonga ward.
The incumbent councillors in Roseville ward retired, while Adrienne Ryan and Michael Lane were defeated for re-election.
In the 2008-2012 council, the mayoralty and deputy mayoralty were held exclusively by the councillors from the Comenarra, Roseville and Wahroonga wards. Elaine Malicki served as mayor from 2008 until 2010, followed by Ian Cross in 2010 and Jennifer Anderson in 2011. The deputy mayoralty was held by Jennifer Anderson and Elaine Malicki.
On the 2012-2017 council, the leadership was shared amongst five councillors, each of whom represents a different ward. Elaine Malicki was elected mayor in 2012 and deputy mayor in 2013. Cheryl Szatow was deputy mayor in 2012 and mayor in 2015. Jennifer Anderson was mayor in 2013, 2014 and 2016. Chantelle Fomari-Orsmond was deputy mayor in 2014, and David Ossip was deputy mayor in 2015 and 2016.
Only four councillors were re-elected in 2017. Pettett, Szatow and Anderson retained their seats, while David Citer shifted from Gordon to St Ives.
Citer stepped down in 2018 and the by-election was won by Christine Kay.
Jennifer Anderson defeated Cheryl Szatow for mayor in 2017, while Callum Clarke won a tied ballot against Jeff Pettett for deputy mayor. Pettett defeated Clarke 5-4 in 2018.
Anderson and Clarke were elected unopposed to the leadership in 2019.
The deputy mayoral election in 2020 was a tie between Cedric Spencer and Clarke, with the tie broken for Spencer.
The 2021 mayoral election was a tie, with five councillors voting for Anderson and five for Spencer. The tie was broken in Spencer's favour.
Candidate summary
There has been an increase in the number of candidates running for Ku-ring-gai since 2017.
24 groups are running in Ku-ring-gai, up from 16 in 2017. That's an average of 4.8 per ward.
All five councillors belonging to Cedric Spencer's faction are running for re-election at the head of their group in their ward.
Of the five councillors in Jennifer Anderson's faction, only two of them are running for re-election in a winnable spot – Anderson and Smith. Greenfield is running in the unwinnable second spot on her ticket, with Clarke and Szatow retiring.
The full candidate list is at the end of this guide.
Assessment
No parties seriously contest Ku-ring-gai council. But a deadlock between two factions of five councillors each has developed since 2020. Each faction has one councillor in each ward.
The electoral system change before the 2012 election shook up how Ku-ring-gai council elections work. Prior to this time, unified tickets would win both seats in a ward. Now, a ticket cannot win more than one seat, which means that each team in each ward can only win one seat.
The current factions do not appear to have much relationship to how people vote. Only seven of the current councillors are seriously running for re-election and it seems likely the current deadlock will be disrupted with new councillors elected.
| | | | |
| --- | --- | --- | --- |
| Group | Votes | % | Quotas |
| Jeff Pettett | 6,809 | 56.18 | 1.6854 |
| Callum Clarke | 5,310 | 43.82 | 1.3144 |
| Informal | 1,137 | | |
2017 results – Gordon Ward
| | | | |
| --- | --- | --- | --- |
| Group | Votes | % | Quotas |
| Cheryl Szatow | 4,338 | 35.55 | 1.0661 |
| Peter Kelly | 3,579 | 29.33 | 0.8796 |
| Greg Cook | 2,354 | 19.29 | 0.5785 |
| Rakesh Duncombe | 1,933 | 15.84 | 0.4751 |
| Informal | 1,106 | | |
2017 results – Roseville Ward
| | | | |
| --- | --- | --- | --- |
| Group | Votes | % | Quotas |
| Sam Ngai | 5,043 | 41.34 | 1.2400 |
| Jennifer Anderson | 3,083 | 25.27 | 0.7581 |
| David Armstrong | 2,529 | 20.73 | 0.6218 |
| Chiming Shea | 866 | 7.10 | 0.2129 |
| Ungrouped | 679 | 5.57 | 0.1670 |
| Informal | 953 | | |
2017 results – St Ives Ward
| | | | |
| --- | --- | --- | --- |
| Group | Votes | % | Quotas |
| David Citer | 4,507 | 35.46 | 1.0635 |
| Martin Smith | 4,434 | 34.88 | 1.0462 |
| Christine Kay | 2,910 | 22.89 | 0.6866 |
| Ungrouped | 860 | 6.77 | 0.2029 |
| Informal | 1,017 | | |
2017 results – Wahroonga Ward
| | | | |
| --- | --- | --- | --- |
| Group | Votes | % | Quotas |
| Donna Greenfield | 5,711 | 45.96 | 1.3785 |
| Cedric Spencer | 3,780 | 30.42 | 0.9124 |
| John Cronly | 2,936 | 23.63 | 0.7087 |
| Informal | 1,072 | | |
Candidates – Comenarra
A –

Independent

Cr Jeff Pettett
Trish Lynch

B –

Independent

Gurdeep Singh
Avtar Kaur

C –

Independent

Roshan Wickremanayake
Shavera Gunasekera
Cameron Smith

D –

Independent

Jayamala Gupte
Kay Smede

E –

Independent

Boru Tumulty
Ali Rabieli

F –

Independent

Greg Taylor
Mackenzie Sloan
Candidates – Gordon
A –

Independent

Barbara Ward
Mike Li

B –

Independent

Simon Lennon
Philip Hext

C –

Independent

Cr Peter Kelly
Anthony Carnovale

D –

Independent

Greg Cook
Tori Huxtable
Candidates – Roseville
A –

Independent

Alec Taylor
Shankari Nadanachandran

B –

Independent

Cr Sam Ngai
Amanda Blackman
Mitchell Frater-Baird

C –

Independent

Cr Jennifer Anderson
Annelie Kvisle

D –

Independent

Anthony Ching
Carmel Heffernan
Candidates – St Ives
A –

Independent

Cr Martin Smith
Anna-Lisa Ryan

B –

Independent

Henry Song
Joseph Audet

C –

Independent

Cr Christine Kay
Alexia Silver

D –

Independent

Amanda Brien
David Howard
Candidates – Wahroonga
A –

Independent

Cr Cedric Spencer
Tony Pang

B –

Independent

Sarah Beresford
Cr Donna Greenfield

C –

Liberal Democrats

Mitchell Strahan
Nathaniel Bryan

D –

Independent

Adrienne McLean
Elizabeth McLean

E –

Independent

Kim Wheatley
Lisa Dixon

F –

Independent

Sheri Evans
Anne Matheson