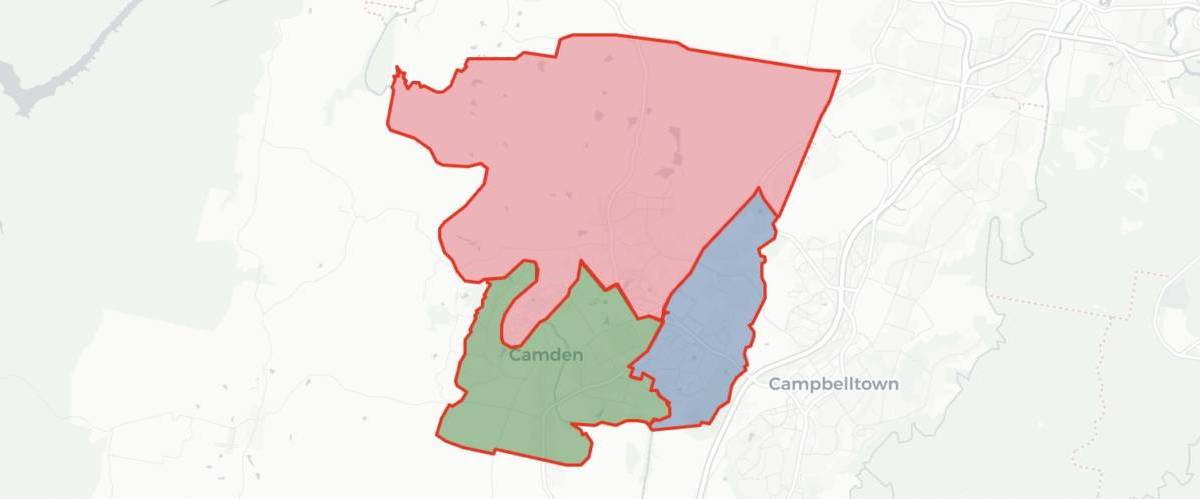 Camden Council covers suburbs in the outer south-west of Sydney, including Camden, Narellan, Leppington, Catherine Field, Cobbitty, Elderslie, Harrington Park, Mount Annan and Smeaton Grange.
The council has a rapidly growing population. The population was 78,218 at the time of the 2016 census but is estimated to be approximately 101,000 as of 2019.
Wards
Camden Council is divided into three wards.
The Central Ward covers Mount Annan, Narellan Vale, Smeaton Grange, Currans Hill, Gregory Hills and Gledswood Hills. The entire ward lies on the eastern side of Camden Valley Way.
The North Ward covers a majority of the land area in the council, and the fastest-growing parts of the council. Suburbs include Cobbitty, Harrington Park, Oran Park, Catherine Field, Leppington and Rossmore.
The South Ward covers the oldest most established suburbs in the council, including Camden, Camden South, Bickley Vale, Grassmere, Spring Farm, Elderslie, Kirkham and Narellan.
Redistribution
Rapid population growth in the North Ward has massive outpaced growth in the other two wards over the last decade, necessitating repeated redistributions to shift the Central and South wards further north.
The most recent redistribution moved Kirkham into the South Ward and Gregory Hills and Gledswood Hills into the Central Ward.
| | | | |
| --- | --- | --- | --- |
| Central | Ashleigh Cagney (Lab) | Therese Fedeli (Liberal) | Robert Mills (Ind) |
| North | Cindy Cagney (Labor) | Michael Morrison (Lib) | Lara Symkowiak (Lib) |
| South | Eva Campbell (Ind) | Paul Farrow (Labor) | Vacant (Liberal)1 |
1 Peter Sidgreaves resigned from council in early 2021 after being elected as the state member for Camden in 2019.
History
Camden Council has a short history of being dominated by political parties.
The 1999-2004 council appears to have leant in a progressive direction. Centre-left independent Eva Campbell served as mayor for two years, followed by Geoff Corrigan, who held the job for eighteen months until elected as the Labor MP for Camden in 2003.
In 2004, every seat was won by an independent, although two of them could be clearly identified with the Liberal Party, including Liz Kernohan, who had served as the state Liberal MP for the area from 1991 to 2003. She died less than a year into her term. The Greens also stood in that election, but no other parties.
The 2008 election was entirely non-partisan, although at least two tickets were led by candidates who went on to become state MPs for a major party. Chris Patterson, who became Liberal MP for Camden in 2011, had won the by-election following Kernohan's death in 2005, became mayor in 2006 and polled 64% in the South Ward in 2008. Greg Warren, who would become Labor MP for Campbelltown in 2015, polled 35% in the Central Ward and won a seat.
The Liberal Party ran for Camden Council for the first time in 2012, polling 40.6% and winning five out of nine seats on the council. Amongst the Liberals on council, two of them had served on the previous council. Debbie Dewbery had been elected as Chris Patterson's running mate in the South Ward in 2008, while Lara Symkowiak had been elected as David Funnell's running mate in the North Ward in 2008. Patterson had left the council after winning a state seat in 2011, but Funnell ran unsuccessfully as an independent in 2012.
Chris Patterson had served as mayor right up until his election to parliament in 2011. Soon after the mayoralty went to Greg Warren, who held the job until the 2012 council election.
Symkowiak became mayor at the head of the Liberal majority in 2012, and held the job for the next six years.
At the 2016 election, Labor responded to the Liberal intervention in 2012 by also running.
Seven of the nine seats went to one of the two major parties: four Liberals and three Labor. The Labor councillors included Cindy Cagney, who had previously served on Camden Council as an independent but had lost her seat in 2012.
Liz Campbell was re-elected as an independent. Campbell has served on the council since at least 1999.
The final seat went to independent local butcher Robert Mills, who polled over a full quota (26.4%) below the line despite being ranked second on fellow independent Scott Metcalfe's ticket. Metcalfe polled just 11% in above- and below-the-line votes.
An alliance of Liberals and Mills has run the council since 2016. Symkowiak served two more years as mayor before handing over to Peter Sidgreaves who held the job for less than a year before being elected as the state MP for Camden in 2019. He was replaced as mayor by his deputy Therese Fedeli in 2019, and Mills was elected as her deputy mayor.
Candidate summary
Both Liberal and Labor parties are running full tickets. All three Labor councillors are running for re-election, as are two of the three Liberal councillors.
Sitting independent councillor Eva Campbell is running for re-election, but fellow independent Robert Mills is retiring.
Three other independent groups are also running.
The full candidate list is at the end of this guide.
Assessment
Camden Council's elections are now dominated by the two major parties and that is unlikely to change. But there remains a significant share of the vote that have gone to independents which could elect a significant number of councillors.
The biggest change since 2016 is the massive growth. This growth is primarily concentrated in the North ward but some of the new suburbs are in the Central ward. These voters won't be familiar with the independents but will know Labor and Liberal which will give them an edge.
The third seat in the North ward is also the seat that has given the current governing alliance a 5-4 majority on the current council. If the Liberal Party were to lose their second seat here to Labor, that would give Labor multiple options for finding a fifth vote for majorities and would likely put them in a governing position.
The third seat in the Central ward was unexpectedly put into play when independent Robert Mills failed to nominate.
If the Liberal Party could pick up a second seat in the Central or South ward they would give them a majority – that is not impossible to imagine.
| | | | | |
| --- | --- | --- | --- | --- |
| Party | Votes | % | Swing | Seats won |
| Independents | 17,709 | 43.08 | -16.3 | 2 |
| Liberal | 13,153 | 32.00 | -8.6 | 4 |
| Labor | 10,245 | 24.92 | +24.9 | 3 |
| Informal | 2,974 | 6.75 | | |
The following two tables show the vote in each ward before and after the recent redistribution.
While the major parties won most seats, independents polled a majority of the vote in two wards in 2016. This vote was split between a number of tickets. Two independent tickets ran in Central (Metcalffe-Mills and McLean) and three ran in South (Campbell, Copeland and Funnell), so that vote wasn't united behind single tickets.
The North ward has experienced most of the growth since 2016, which has resulted in parts of the North ward (with its very high Liberal vote) being moved into the other wards, thus pushing up the Liberal vote in both wards. It also slightly increased the Labor vote. But it's worth noting that with such significant growth it's hard to know how those new voters will vote.
Pre-redistribution vote numbers
| | | | |
| --- | --- | --- | --- |
| Voter group | LIB % | ALP % | IND % |
| Central | 22.9 | 23.7 | 53.4 |
| North | 50.5 | 28.4 | 21.0 |
| South | 21.7 | 22.5 | 55.8 |
Post-redistribution vote numbers
| | | | |
| --- | --- | --- | --- |
| Voter group | LIB % | ALP % | IND % |
| Central | 28.2 | 24.2 | 47.5 |
| North | 50.3 | 28.9 | 20.8 |
| South | 22.1 | 22.6 | 55.3 |
Election results at the 2016 Camden Council election
Toggle between primary votes for the Liberal Party, Labor and independent candidates.
Candidates – Central
A –

Independent

Peter McLean
Sue Cross
David Nethercote

B –

Labor

Cr Ashleigh Cagney
Sharlene Jamieson
Lachlan Mackenzie

C –

Liberal

Cr Therese Fedeli
Deborah Dewbery
Rohan Best
Candidates – North
A –

Labor

Cr Cindy Cagney
Sally Quinnell
Syd Sanman

B –

Independent

Sean Jeppesen
Louise Martin
Matthew Martin

C –

Liberal

Cr Lara Symkowiak
Usha Dommaraju
Tony Law

D –

Independent

Haseen Zaman
Sarah Zaman
Savrina Zaman

Ungrouped

Muhammad Farooq (

Independent

)
Kadeja Assaad (

Shooters, Fishers and Farmers

)
Candidates – South
A –

Independent

Cr Eva Campbell
Keith Hart
Jill Leemen

B –

Liberal

Russell Zammit
Anna Younan
John Smith

C –

Labor

Cr Paul Farrow
Aoife Champion
Harry Stait-Gardner

Ungrouped

Valerie Tarela-Moyes (

Independent

)
Mick Jackson (

Independent

)