IND 30.2% vs NAT
Incumbent MP
Richard Torbay, since 1999.
Geography
The seat of Northern Tablelands covers most of the New England region, including the Armidale Dumaresq, Glen Innes Severn, Guyra, Gwydir, Inverell, Uralla and Walcha local government areas and part of Tenterfield. The major centres of the seat are Armidale, Inverell and Glen Innes.
History
The current seat of Northern Tablelands was created in 1980 following the abolition of the districts of Armidale and Tenterfield. A seat with the same name had also existed from 1920 to 1927, when it elected three members by proportional representation.
Tenterfield had been held by the Country Party continuously since 1927. The seat was first won by Michael Bruxner. He had first won a seat in Northern Tablelands as a Progressive MP in 1920. During that term, the Progressives split, with urban members supporting Nationalist Premier George Fuller's government and joining the Nationalist Party. Bruxner led the rural wing, which eventually became the Country Party.
Bruxner won the seat of Tenterfield in 1927, and held it until his retirement in 1962. He served as a minister from 1927 to 1930, and as Deputy Premier from 1932 to 1941. He was succeeded in 1962 by his son Tim Bruxner.
The younger Bruxner was appointed to Cabinet as a minister after the 1973 election. He became Deputy Leader of the National Country Party in 1975. In 1976 he lost his ministry when the Coalition government lost power. He retired in 1981 when Tenterfield was abolished in the redistribution.
The seat of Armidale had a very solid record of being held by the Country Party, although the ALP won the seat on two occasions, in 1953 and 1978.
Armidale was won in 1927 by David Drummond. Like the elder Bruxner, he had also been elected as one of the members for Northern Tablelands in 1920 for the Progressives and ended up in the Country Party. He served as state minister for Education from 1927 to 1930 and from 1932 to 1941. In 1949, he moved to the federal seat of New England, which he held until his retirement in 1963.
Davis Hughes won the seat for the Country Party at the 1950 by-election. He was re-elected at that year's general election, but lost in 1953 to the ALP's Jim Cahill. In 1956, Hughes defeated Cahill, and went on to hold the seat until 1973, when he resigned to take up the position of Agent-General for NSW in London.
The 1973 by-election was narrowly won by Country Party candidate David Leitch. He was re-elected in 1973 and 1976, but lost in the 1978 landslide to the ALP's Bill McCarthy.
When Armidale and Tenterfield were merged into Northern Tablelands in 1981, the seat was won by McCarthy. He held the seat until his death in 1987.
The 1987 Northern Tablelands by-election was won by the National Party's Ray Chappell. He served as a minister in the Coalition government from 1993 to 1995.
In 1999, Chappell was challenged by former Armidale mayor Richard Torbay, running as an independent. Torbay won a large victory, winning almost 60% of the two-party-preferred vote.
In 2003, Torbay increased his margin from 59% to 82%, which was slightly reduced to 80% in 2007. Following the 2007 election he was elected as Speaker of the Legislative Assembly, despite the ALP holding a solid majority in the House.
Candidates
Political situation
Richard Torbay's hold on this seat is very solid. He will find it hard to continue to hold such a massive majority, but he will be re-elected.
2007 result
| | | | | |
| --- | --- | --- | --- | --- |
| Candidate | Party | Votes | % | Swing |
| Richard Torbay | IND | 32,615 | 72.7 | +8.8 |
| Phillip Kelly | NAT | 7,951 | 17.7 | -2.1 |
| Phil Usher | ALP | 1,947 | 4.3 | -2.0 |
| Vanessa Bible | GRN | 1,418 | 3.2 | -0.7 |
| Isabel Strutt | CDP | 904 | 2.0 | 0.0 |
2007 two-candidate-preferred result
| | | | | |
| --- | --- | --- | --- | --- |
| Candidate | Party | Votes | % | Swing |
| Richard Torbay | IND | 34,420 | 80.2 | +0.3 |
| Phillip Kelly | NAT | 8,471 | 19.8 | -0.3 |
Booth breakdown
Booths in Northern Tablelands have been divided into five areas. Booths in the town of Armidale itself have been grouped together. Booths in Glen Innes Severn and Tenterfield local government areas have been grouped as Glen Innes. Booths in the Gwydir and Inverell council areas have been grouped by council area. The remainder of the seat, including Guyra, Uralla, Walcha and rural parts of Armidale Dumaresq have been grouped as "South".
Torbay's majority varied from 68% in Gwydir up to 86% in Armidale.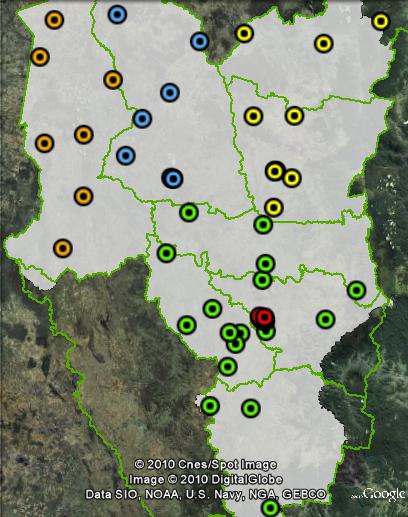 | | | | |
| --- | --- | --- | --- |
| Voter group | IND 2CP % | Total votes | % of votes |
| Armidale | 86.3 | 11,241 | 25.1 |
| Inverell | 82.8 | 7,416 | 16.5 |
| South | 78.7 | 7,327 | 16.3 |
| Glen Innes | 77.4 | 7,011 | 15.6 |
| Gwydir | 68.3 | 2,728 | 6.1 |
| Other votes | 77.7 | 9,112 | 20.3 |