LIB 0.5%
Incumbent MP
Danna Vale, since 1996.
Geography
Hughes covers parts of southern Sydney crossing the Georges River. The seat covers parts of Sutherland LGA west of the Illawarra train line, including Engadine, Woronora, Menai, Illawong and Alfords Point. It also covers eastern parts of Liverpool LGA, including the Liverpool CBD, Warwick Farm, Chipping Norton, Moorebank, Holsworthy and Wattle Grove. The seat now also crosses the Georges River into Bankstown, covering East Hills, Milperra, Panania and parts of Revesby.
Redistribution
The seat has changed to cover parts of Bankstown after previously exclusively covering Liverpool and Sutherland. The suburbs of Heathcote and Waterfall in southern Sutherland were transferred to Cunningham. Bonnet Bay, Como and parts of the Sutherland CBD were transferred to Cook. The western parts of the suburb of Liverpool was transferred to Fowler. In exchange the seat crossed the Georges River into Bankstown, taking in East Hills, Milperra, Panania and parts of Revesby. This saw the margin for the Liberal Party cut from 2.2% to 0.5%.
History
Hughes was first created in 1955 and has been held by the ALP for much of its history despite generally covering relatively affluent areas that would usually be thought of as more favourable to the Liberals. Its first MP was Les Johnson, who held the seat for Labor until he was defeated in the 1966 landslide by the Liberal Party's Don Dobie. Dobie transferred to the newly created seat of Cook in 1969, and Johnson regained Hughes for the ALP, going on to serve as a minister in the Whitlam government.
Johnson resigned in December 1983, and was succeeded at a by-election by Robert Tickner, who went on to serve a high-profile tenure as Minister for Aboriginal and Torres Strait Islander Affairs from 1990 until losing his seat when the Keating government lost office in 1996.
Danna Vale won the seat for the Liberals in 1996 and has held it ever since. Labor tried to regain the seat in 1998 with high-profile candidate David Hill, former boss of State Rail and the ABC. However, it was Hill's more recent role as head of Sydney Water which effectively derailed his campaign, following widespread criticism of that authority's handling of the water contamination crisis which occurred a few months prior to the election.
Vale served as Minister for Veterans Affairs during the Howard government's third term, gaining most notoriety for her misdirected 'stay brave and true' faxed message of support intended for broadcaster Alan Jones whilst he was facing investigation by broadcasting regulators.
In 2007 the ALP received a 6.4% swing to them, making it a marginal seat.
The highest vote ever for a non-major party candidate in Hughes came in 1977 when Ken Johnson of the Democrats gained 15.2% of the vote, one of the party's best ever results in NSW. The seat took in northern parts of the Illawarra at the time.
Candidates
Peter Bussa (One Nation)
Craig Kelly

(Liberal)

Susan Roberts

(Greens)

Stan Hurley (Family First)
Scott Nailon (Christian Democratic Party)
Don Nguyen (Liberal Democrats)
Brent Thomas

(Labor)
Political Situation
The retirement of the sitting MP, and the continuing shift of this seat into more strong Labor areas, makes it appear one of the strongest prospects for a Labor gain in NSW.
2007 result
| | | | | |
| --- | --- | --- | --- | --- |
| Candidate | Party | Votes | % | Swing |
| Danna Vale | LIB | 40,334 | 48.29 | -4.73 |
| Greg Holland | ALP | 35,087 | 42.01 | +8.26 |
| Jamie Paterson | GRN | 4,646 | 5.56 | -1.20 |
| John Vanderjagt | CDP | 2,419 | 2.90 | -0.07 |
| Julie Mezyed | FF | 1,033 | 1.24 | +1.24 |
2007 two-candidate-preferred result
| | | | | |
| --- | --- | --- | --- | --- |
| Candidate | Party | Votes | % | Swing |
| Danna Vale | LIB | 43,562 | 52.16 | -6.39 |
| Greg Holland | ALP | 39,957 | 47.84 | +6.39 |
Results do not take into account effects of the redistribution.
Booth breakdown
Booths have been divided between the three local government areas in the seat. About half the population lives in Sutherland with the remainder living in Liverpool and Bankstown. Bankstown is strongly Labor (although bear in mind that this has long been a relatively safe Labor seat with little Liberal competition. Only one booth (Picnic Point) was won by the Liberals. While the centre of Liverpool itself voted extremely strongly for the ALP, these booths were quite small while the Liberals won the bigger booths around Holsworthy, Moorebank, Wattle Grove and Chipping Norton by relatively small margins. This gives the ALP an overall majority in these booths, although not a large one. The Liberals won Sutherland solidly, although a few booths on the train line were won by the ALP.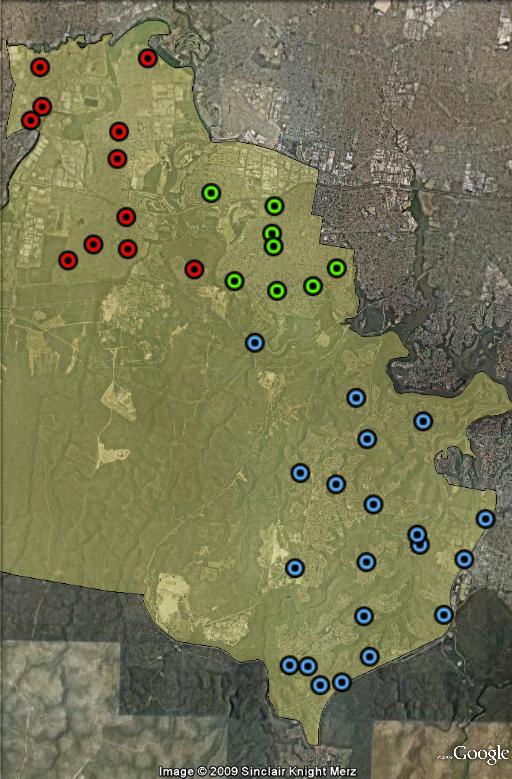 | | | | | |
| --- | --- | --- | --- | --- |
| Voter group | GRN % | LIB 2CP % | Total votes | % of ordinary votes |
| Sutherland | 5.49 | 56.27 | 36,230 | 50.31 |
| Liverpool | 4.29 | 47.24 | 20,112 | 27.93 |
| Bankstown | 5.46 | 42.87 | 15,672 | 21.82 |
| Other votes | 6.50 | 53.60 | 14,311 | |