ALP 9.1%
Incumbent MP
Melissa Parke, since 2007.
Geography
South-western Perth. The seat of Fremantle covers the City of Fremantle and the Town of East Fremantle, as well as most of the City of Cockburn and western parts of City of Melville. Suburbs include Fremantle itself as well as Cockburn, Coolbellup, Palmyra, Success, Atwell, Jandakot, Spearwood, Coogee, Beaconsfield and Hamilton.
Redistribution
No changes.
History
Fremantle is an original federation electorate. After alternating between parties up to 1934, and since then has always been held by the ALP. From 1934 to 2007 it was held by a series of senior Labor figures.
Fremantle was won in 1901 by Elias Solomon, a Free Trader who had been in the Western Australian Legislative Assembly since 1892.
In 1903, Solomon was defeated by the ALP's William Carpenter. Carpenter held the seat for one term, before losing in 1906. Carpenter went on to serve in Western Australian state politics.
Carpenter lost in 1906 to William Hedges, elected as the only representative of the Western Australian Party, a party formed from Anti-Socialists and Protectionists, but sat as an independent, before joining the new Commonwealth Liberal Party in 1909. He was re-elected in 1910 but lost in 1913.
He was replaced by the ALP's Reginald Burchell. He left the ALP over the conscription split and was re-elected as a Nationalist MP, serving as Member for Fremantle until his retirement in 1922.
Fremantle was won in 1922 by independent candidate William Watson. Former Liberal MP Hedges was pushed into third place behind the ALP. Watson held the seat until his retirement in 1928, when the seat was won by the ALP's John Curtin.
Curtin held the seat for one term, losing in 1931 to Watson, who had returned as the candidate for the United Australia Party. Curtin returned in 1934 after Watson again retired, and the ALP has held the seat ever since.
Curtin was elected leader of the Labor Party in 1935, and became Prime Minister in 1941, leading Australia through the Second World War. Curtin died in July 1945.
The 1945 Fremantle by-election was won by the ALP's Kim Beazley. Beazley was a prominent figure in the federal ALP through the 1950s and 1960s, and served as Education Minister in the Whitlam government from 1972 to 1975. He retired from Parliament in 1977. His son is Kim Beazley Jr, who served as Leader of the ALP from 1996 to 2001 and from 2005 to 2007.
The younger Beazley contested the ALP preselection for Fremantle in 1977, but lost to John Dawkins, who had previously held the marginal seat of Tangney from 1974 to 1975.
Dawkins joined the Labor frontbench in 1980. He served in the Hawke cabinet from 1983, and was appointed Treasurer in the Keating government in 1991 after Keating replaced Bob Hawke. He served in the role until he resigned in December 1993 after facing opposition within Cabinet to his budget.
The 1994 Fremantle by-election was won by Carmen Lawrence. Lawrence had been a state MP in Western Australia since 1986, and had served as Australia's first female Premier from 1990 until the ALP lost power in 1993.
Lawrence served as Minister for Health for the last two years of the Keating government. She served as a shadow minister in the Labor opposition from 1996 to 1997 and again from 2000 to 2002, having been forced to step down in 1997 due to allegations of perjury, for which she was later acquitted. She resigned from the frontbench in 2002 in protest at the party's asylum seeker policy.
Lawrence was elected as the ALP's first directly-elected National President in 2003, and served in the role in 2004. She retired from Parliament in 2007.
At the 2007 election, Fremantle was won by the ALP's Melissa Parke, a lawyer who worked for the United Nations from 1999 to 2007.
Candidates
Matt Taylor

(Liberal)

Kate Davis

(Greens)

Larry Parsons (Family First)
Scott Robertson (Christian Democratic Party)
Melissa Parke

(Labor)

Keith McEncroe (Democratic Labor Party)
Sanna Andrew (Socialist Alliance)
Political situation
Fremantle is relatively safe for the ALP, and short of a very large swing to the Liberal Party it should remain in Labor hands. The Greens managed to win the state seat of Fremantle at a 2009 by-election, but their vote in the larger federal seat indicates they are a long way from winning.
2007 result
| | | | | |
| --- | --- | --- | --- | --- |
| Candidate | Party | Votes | % | Swing |
| Melissa Parke | ALP | 36,102 | 45.18 | +0.60 |
| John Jamieson | LIB | 28,042 | 35.10 | -0.84 |
| Steve Walker | GRN | 11,645 | 14.57 | +2.79 |
| Bill Heggers | CDP | 1,376 | 1.72 | -0.38 |
| Andriette du Plessis | FF | 1,145 | 1.43 | +1.43 |
| Sue Bateman | ON | 988 | 1.24 | -1.08 |
| Sam Wainwright | SA | 361 | 0.45 | -0.03 |
| Paul Ellison | CEC | 242 | 0.30 | -0.80 |
2007 two-candidate-preferred result
| | | | | |
| --- | --- | --- | --- | --- |
| Candidate | Party | Votes | % | Swing |
| Melissa Parke | ALP | 47,253 | 59.14 | +1.38 |
| John Jamieson | LIB | 32,648 | 40.86 | -1.38 |
Booth breakdown
Booths in the City of Cockburn have been broken into western and eastern area. Booths in the Town of East Fremantle and the City of Melville have been grouped as 'north east', while booths in the City of Fremantle have been grouped.
The ALP won large majorities of 64-66% in Cockburn West and Fremantle, which make up a majority of the seat, while the ALP won much slimmer margins in the eastern parts of the seat. The Greens polled over 21% in the Fremantle area, and much less in the other parts of the seat.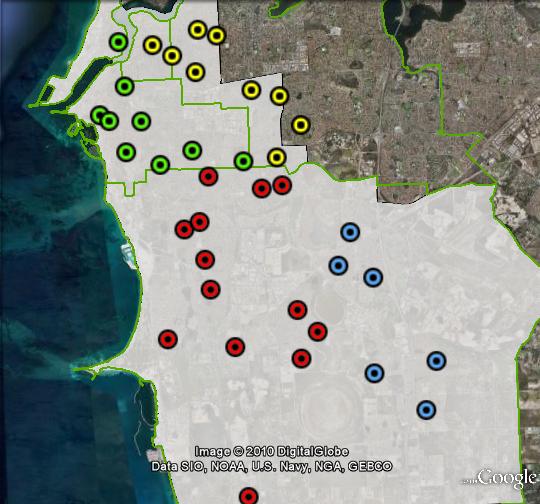 | | | | | |
| --- | --- | --- | --- | --- |
| Voter group | GRN % | ALP 2CP % | Total votes | % of votes |
| Cockburn West | 11.79 | 64.25 | 21,320 | 26.68 |
| Fremantle | 21.64 | 66.44 | 16,217 | 20.30 |
| North East | 14.06 | 51.97 | 14,846 | 18.58 |
| Cockburn East | 9.62 | 53.32 | 14,131 | 17.69 |
| Other votes | 16.25 | 56.26 | 13,387 | 16.75 |