ALP 6.8%
Incumbent MP
Laurie Ferguson, since 2010. Previously state Member for Granville 1984-1990, Member for Reid 1990-2010.
Geography
South-western Sydney. Werriwa covers northern parts of the City of Campbelltown and western parts of the City of Liverpool, as well as a small part of Camden council. Key suburbs include Casula, Glenfield, Macquarie Fields, Ingleburn, Minto, St Andrews, Hoxton Park, Prestons, Rossmore and Austral.
History
Werriwa is an original federation electorate, named after an indigenous name for Lake George, near the ACT. The seat originally covered parts of southern NSW including what became northern parts of the ACT. It gradually shifted northeast to the Illawarra, eventually reaching the Liverpool-Campbelltown area. The seat has been a safe Labor seat since the 1930s, and has been held by a number of prominent Labor figures, including a Prime Minister, a Treasurer and a Leader of the Opposition. The seat has seen a record number of five federal by-elections, which have all seen Labor retain the seat, in 1912, 1952, 1978, 1994 and 2005.
The seat was first won by Alfred Conroy of the Free Trade Party in 1901. Conroy was defeated by David Hall (ALP) in 1906. Hall was re-elected in 1910, but resigned in 1912 to return to state politics. Hall served as Minister for Justice then Attorney-General from 1912 to 1920. Hall was expelled from the ALP in 1916 for supporting conscription, along with Premier William Holman.
Werriwa was won by the ALP's Benjamin Bennett at the 1912 by-election, but retired at the 1913 election, when Conroy was re-elected for the Liberal Party. John Lynch gained the seat back from Conroy in 1914, and left the ALP in 1916 over conscription, becoming a Nationalist.
Lynch was re-elected as a Nationalist in 1917 but lost the seat to the ALP's Hubert Lazzarini in 1919. Werriwa began to strongly shift from the Southern Highlands into the Illawarra region at the 1922 redistribution, and over the next thirty years Lazzarini saw the seat shift into the Liverpool district and eventually lose the Illawarra.
Lazzarini followed NSW Premier Jack Lang out of the ALP in 1931, and was one of the Labor splitters who brought down the Scullin government, and lost Werriwa to Country Party candidate Walter McNicoll at that year's election.
Lazzarini regained Werriwa as a Lang Labor candidate in 1934, and returned to the ALP in 1936. Lazzarini served as a minister in the Curtin government and the first Chifley ministry in the 1940s, and held the seat until his death in 1952.
The 1952 by-election was won by ALP candidate Gough Whitlam. Whitlam ascended to the leadership of the Labor Party in 1967 and was elected Prime Minister in 1972. Whitlam was Prime Minister for three years, losing the 1975 election following the dismissal of his government. He remained Leader of the Opposition and led the ALP into the 1977 election, retiring in 1978.
The 1978 by-election was won by John Kerin, who had previously held the neighbouring seat of Macarthur from 1972 until his defeat in 1975. Kerin served as a minister for the entirety of the Hawke government, rising to the position of Treasurer after Paul Keating moved to the backbench in 1991, but a troubled period as Treasurer saw him move to the backbench just before Keating became Prime Minister, and he retired in 1994.
The 1994 by-election was won by Mayor of Liverpool and Whitlam protege Mark Latham. Latham quickly rose to the ALP frontbench following their 1996 election defeat, although he left the frontbench after the 1998 election because of conflicts with ALP leader Kim Beazley.
Latham returned to the frontbench following the 2001 election, when Simon Crean succeeded Kim Beazley as Leader of the Opposition, rising to the position of Shadow Treasurer before Crean resigned as Leader, and Latham was narrowly elected as Labor leader in December 2003.
Latham led the ALP to a defeat at the 2004 election and resigned in early 2005 as both Labor leader and Member for Werriwa. The ensuing by-election (at which the author stood as a candidate for the Greens) saw ALP candidate Chris Hayes safely elected, and he won re-election in 2007.
The 2010 redistribution saw the seat of Reid effectively abolished in its existing form, and this triggered a reshuffling of Labor MPs in Western Sydney. Laurie Ferguson moved from Reid to Werriwa. Hayes shifted north to Fowler.
Ferguson had been a state MP from 1984 to 1990 and had already served twenty years in federal Parliament when he shifted to Werriwa.
Hayes and Ferguson were both re-elected in their new seats, with Ferguson being hit by a large 8.3% swing.
Candidates
John Ramsay (Christian Democratic Party)
Michael Byrne (Democratic Labour Party)
Kent Johns

 (Liberal)

Marella Harris (One Nation)
Laurie Ferguson

 (Labor)

Daniel Griffiths

(Greens)

Katryna Thirup (Palmer United Party)
Kerryn Ball (Katter's Australian Party)
Assessment
Werriwa has traditionally been considered safe territory for Labor, but in current circumstances is considered vulnerable, thanks to a large swing in 2010 and poor performance by Labor in Western Sydney at recent state and local elections. Ferguson should benefit from more familiarity with the south-west compared to 2010, but the 6.8% margin is certainly vulnerable to the Liberal Party. If Labor lost Werriwa it would be a devastating result.
2010 result
| | | | | |
| --- | --- | --- | --- | --- |
| Candidate | Party | Votes | % | Swing |
| Laurie Ferguson | ALP | 36,582 | 48.57 | -10.13 |
| Sam Eskaros | LIB | 29,165 | 38.72 | +8.33 |
| Lauren Moore | GRN | 9,567 | 12.70 | +8.87 |
2010 two-candidate-preferred result
| | | | | |
| --- | --- | --- | --- | --- |
| Candidate | Party | Votes | % | Swing |
| Laurie Ferguson | ALP | 42,740 | 56.75 | -8.32 |
| Sam Eskaros | LIB | 32,574 | 43.25 | +8.32 |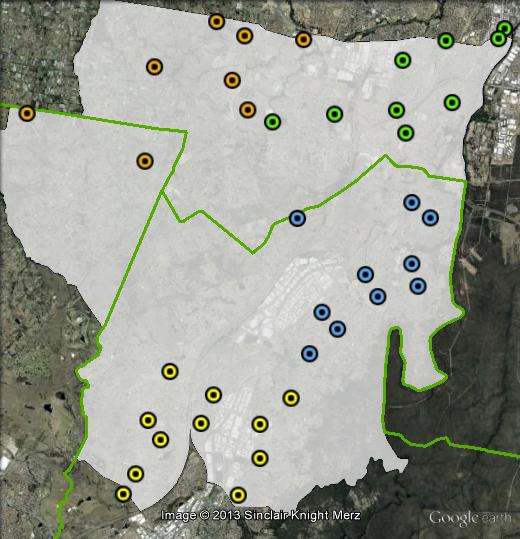 Booth breakdown
Booths have been divided into four areas. Two of these areas are totally contained in the City of Campbelltown, while the other two are predominantly in the City of Liverpool along with two polling places at the northern end of Camden Council. From north to south these are Hoxton-Rossmore, Liverpool-Prestons, Ingleburn-Glenfield and Minto-St Andrews.
The ALP won a majority in all four areas, varying from 50.8% in Hoxton-Rossmore to 59.4% in Minto-St Andrews.
The Greens vote varied from 13.3% in Minto-St Andrews to 10.1% in Hoxton-Rossmore.
| | | | | |
| --- | --- | --- | --- | --- |
| Voter group | GRN % | ALP 2PP % | Total votes | % of votes |
| Minto-St Andrews | 13.25 | 59.36 | 17,966 | 23.85 |
| Liverpool-Prestons | 11.72 | 59.10 | 17,434 | 23.15 |
| Ingleburn-Glenfield | 13.21 | 56.73 | 16,453 | 21.85 |
| Hoxton-Rossmore | 10.13 | 50.81 | 9,172 | 12.18 |
| Other votes | 14.28 | 54.43 | 14,289 | 18.97 |