LIB 14.9%
Incumbent MP
Malcolm Turnbull, since 2004.
Geography
Eastern suburbs of Sydney. Wentworth covers Woollahra and Waverley local government areas, as well as eastern parts of the City of Sydney and northern parts of Randwick LGA. Wentworth covers the southern shore of Sydney Harbour as far west as Woolloomooloo, and covers the east coast from South Head to Clovelly. Main suburbs include Bondi, Woollahra, Vaucluse, Double Bay, Darlinghurst, Kings Cross and parts of Randwick and Clovelly. Wentworth also covers Moore Park and Centennial Park.
History
Wentworth is an original federation electorate and has always existed roughly in the eastern suburbs of Sydney. It has always been held by conservative parties, including the Liberal Party since its foundation in 1944.
The seat was first won by William McMillan of the Free Trade party in 1901. He was elected deputy leader of his party but retired at the 1903 election. He was succeeded by William Kelly, also a Free Trader. Kelly joined the Commonwealth Liberal Party and served in Joseph Cook's ministry from 1913 to 1914.
Kelly retired in 1919 as a Nationalist and was succeeded by Walter Marks. Marks joined with other Nationalists, including Billy Hughes, to bring down the Bruce government in 1929, and was reelected as an independent. Marks joined the new United Australia Party in 1931, but was defeated in that year's election by Eric Harrison, another UAP candidate.
Harrison held the seat for twenty-five years for the UAP and the Liberal Party. He usually held the seat safely, although he only held on by 335 votes in 1943, when feminist campaigner Jessie Street (ALP) challenged Harrison. William Wentworth also polled 20%. He later joined the Liberal Party and was elected in Mackellar in 1949.
Harrison had served a number of brief stints as a minister under Joseph Lyons and Robert Menzies in the 1930s and early 1940s, and served as the first deputy leader of the Liberal Party from its foundation until his retirement in 1956. Harrison was a minister in the Menzies government from 1949 until 1956, when he retired.
Les Bury (LIB) won the seat at the 1956 by-election. He served as a minister from 1961 until 1971, serving as Treasurer under John Gorton and briefly as Treasurer and then Foreign Minister under William McMahon. Bury retired in 1974.
Robert Ellicott (LIB) was elected in 1974. He served as Attorney-General in the first Fraser Ministry and as Minister for Home Affairs from 1977 to 1981, when he resigned to serve on the Federal Court. The ensuing by-election was won by Peter Coleman. Coleman had previously served as Leader of the Opposition in the NSW Parliament, and lost his seat at the 1978 state election.
Coleman retired in 1987 and was succeeded by John Hewson. Hewson was elected leader of the Liberal Party following their 1990 election defeat. Hewson led the party into the 1993 election, where the party went backwards. He was replaced in May 1994 as leader by Alexander Downer, and he retired from Parliament in 1995.
Andrew Thomson won the following by-election. Thomson served briefly as a Parliamentary Secretary and junior minister in the first term of the Howard government. Thomson was defeated for preselection by Peter King in 2001.
King himself was defeated for preselection in a heated preselection campaign in 2004 by Malcolm Turnbull. The preselection saw a massive explosion in membership numbers for the Liberal Party in Wentworth. King ran as an independent and polled 18%, and Turnbull's margin was cut to 5.5%.
The redistribution after the 2004 election saw Wentworth extended deeper into the City of Sydney, and Turnbull's margin was cut to 2.5%. Turnbull managed to win the seat in 2007 with a 1.3% swing towards him, in the face of a national swing against the Liberals.
Turnbull had served as a minister in the final term of the Howard government, and ran for the Liberal leadership following the 2007 election, losing to Brendan Nelson. After serving as Nelson's Shadow Treasurer he was elected Leader of the Opposition in September 2008. After a rocky term as Leader of the Opposition, Turnbull was defeated by Tony Abbott by one vote in another leadership vote in December 2009. Turnbull has served as a shadow minister in the Abbott-led opposition for the last parliamentary term.
Candidates
Diane Smith

(Labor)

Marsha Foxman (Palmer United Party)
Malcolm Turnbull 

(Liberal)

Beresford Thomas (Christian Democratic Party)
Pat Sheil (Independent)
Matthew Robertson

(Greens)
Assessment
Wentworth is a safe Liberal seat.
2010 result
| | | | | |
| --- | --- | --- | --- | --- |
| Candidate | Party | Votes | % | Swing |
| Malcolm Turnbull | LIB | 51,634 | 59.57 | +9.20 |
| Steven Lewis | ALP | 18,265 | 21.07 | -9.41 |
| Matthew Robertson | GRN | 15,114 | 17.44 | +2.48 |
| Pat Sheil | IND | 515 | 0.59 | +0.29 |
| Malcolm Duncan | IND | 484 | 0.56 | +0.56 |
| Stuart Neil | CA | 389 | 0.45 | +0.45 |
| John August | SEC | 275 | 0.32 | +0.32 |
2010 two-candidate-preferred result
| | | | | |
| --- | --- | --- | --- | --- |
| Candidate | Party | Votes | % | Swing |
| Malcolm Turnbull | LIB | 56,219 | 64.86 | +11.01 |
| Steven Lewis | ALP | 30,457 | 35.14 | -11.01 |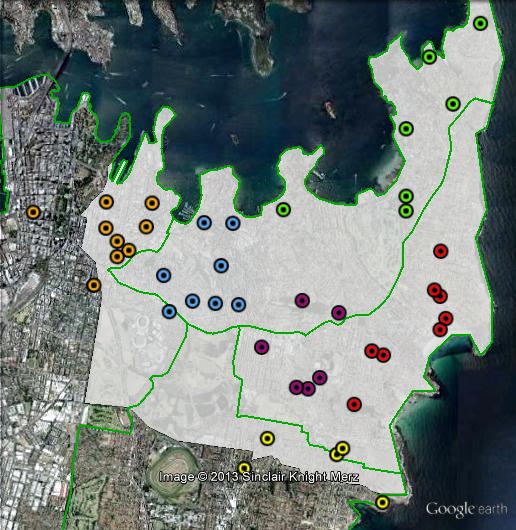 Booth breakdown
Wentworth has been divided into six areas. The Liberal Party won a majority in five out of six areas, ranging from 55% in Clovelly to 79.5% in Vaucluse. The ALP won a 51.2% in those booths in the City of Sydney.
The Greens candidate came third. The Greens vote varied from just under 10% in Vaucluse to 26.5% in Sydney.
| | | | | |
| --- | --- | --- | --- | --- |
| Voter group | GRN % | LIB 2PP % | Total votes | % of votes |
| Bondi | 20.54 | 60.90 | 14,531 | 16.76 |
| Paddington | 14.96 | 69.97 | 13,702 | 15.81 |
| Sydney | 26.48 | 48.82 | 9,866 | 11.38 |
| Bondi Junction | 15.47 | 67.39 | 9,223 | 10.64 |
| Vaucluse | 9.92 | 79.52 | 8,107 | 9.35 |
| Clovelly | 18.50 | 55.00 | 6,296 | 7.26 |
| Other votes | 16.31 | 67.49 | 24,951 | 28.79 |