ALP 2.7%
Incumbent MP
John Murphy, since 2010. Previously Member for Lowe 1998-2010.
Geography
Inner Western Sydney. Reid covers suburbs along the southern shore of Parramatta River from Drummoyne to Auburn. It covers the City of Canada Bay, most of Auburn council area and northern parts of Burwood and Strathfield council areas. Major suburbs are Drummoyne, Five Dock, Croydon, Auburn, Homebush, Strathfield and Burwood.
History
The seat of Reid was created for the 1922 election, while Lowe was created as part of the expansion of the Parliament in 1949. Reid has been held by either the ALP or Jack Lang's Labor breakaway parties for its entire history, while Lowe has a history of alternating between the ALP and Liberal Party.
The seat of Reid was first won in 1922 by Labor candidate Percy Coleman. Coleman was re-elected in 1925, 1928 and 1929, but at the 1931 election he was defeated by Joseph Gander, candidate for Jack Lang's breakaway NSW Labor Party. Gander was re-elected as a Lang Labor candidate in 1934 before rejoining the ALP when Jack Lang reconciled with the federal ALP.
Gander was re-elected as an official ALP candidate in 1937, but in 1940 Jack Lang again split away from the ALP, but with less of his former supporters in NSW following him. Gander followed Lang out of the ALP, but lost at the 1940 election to official ALP candidate Charles Morgan.
Morgan held the seat until the 1946 election, when Jack Lang himself ran in Reid and defeated Morgan. Lang was a former NSW Premier who had led a breakaway Labor party in NSW on a number of occasions.
The 1949 election saw the creation of the new seat of Blaxland, and Lang ran in that seat unsuccessfully. Morgan regained Reid in 1949, holding it until 1958.
Charles Morgan was defeated for ALP preselection by Tom Uren before the 1958 election. Morgan ran as an independent, but was defeated comfortably by Uren.
Uren served as Minister for Urban and Regional Development in the Whitlam government. He served as a Deputy Leader of the ALP from 1976 to 1977, and became the leading figure in the ALP's left in the late 1970s. He opposed Bob Hawke's leadership and thus was excluded from Cabinet when Hawke was elected Prime Minister in 1983. He served as a junior minister for four years before moving to the backbench in 1987.
Uren retired at the 1990 election, and was succeeded by Laurie Ferguson, who had been the state member for Granville since 1984. Ferguson has held Reid since 1990.
Lowe was first created for the 1949 election, when it was won by William McMahon (LIB). McMahon was elevated to Robert Menzies' ministry in 1951, serving in a variety of portfolios over the next fifteen years. Upon Menzies' retirement in 1966 McMahon became Treasurer in Harold Holt's cabinet.
When Harold Holt disappeared in December 1967 McMahon was the presumptive successor, but Country Party leader John McEwen refused to serve with McMahon as Prime Minister. McMahon withdrew and Senator John Gorton was elected leader and moved to the House of Representatives.
McMahon served as Gorton's Foreign Minister, but challenged Gorton for the leadership following the 1969 election unsuccessfully. In 1971 McEwen retired and Gorton's leadership was undermined by the resignation of Malcolm Fraser from the cabinet. Gorton called a party meeting, and the ballot was tied between Gorton and McMahon, which led to Gorton's resignation and McMahon's election as leader and Prime Minister.
McMahon led the Coalition into the 1972 election, and was defeated by Gough Whitlam's Labor Party. McMahon served in Billy Snedden's shadow cabinet up to the 1974 election, and then served as a backbencher until his retirement in 1982.
Lowe had been marginal for most elections during McMahon's service, particularly since the 1961 election. He had only held the seat with a 1.1% margin at the 1980 election, and a swing of 9.4% swing saw Labor candidate Michael Maher win the seat at the 1982 by-election, one year before Bob Hawke defeated Malcolm Fraser at the 1983 election. Maher was a state MP for Drummoyne from 1973 until the 1982 by-election.
Maher was reelected in 1983 and 1984, but was defeated in 1987 by Bob Woods (LIB). Woods was reelected in 1990, and defeated in 1993 by Mary Easson (ALP). Woods was appointed to the Senate in 1994 and served as a Parliamentary Secretary in the Howard government's first year before resigning from the Senate in 1997 following allegations of abuse of parliamentary privilege.
Easson only held Lowe for one term, losing her seat in the 1996 landslide to Liberal candidate Paul Zammit, who had been a state MP for first Burwood and then Strathfield from 1984 until 1996. Zammit resigned from the Liberal Party in protest at aircraft noise in 1998 and contested the 1998 election as an independent, polling 15%. The seat was won in 1998 by the ALP's John Murphy, who held the seat until 2010.
In 2010, John Murphy was re-elected in the redrawn seat of Reid, while former Member for Reid Laurie Ferguson moved to the seat of Werriwa.
Candidates
John Murphy

 (Labor)

Raymond Palmer (Australian Independents)
Pauline Tyrrell

(Greens)

Bishruel Izadeen (Katter's Australian Party)
Nadeem Ashraf (Palmer United Party)
Emily Dunn (Democratic Labour Party)
Craig Laundy

 (Liberal)

Bill Shailer (Christian Democratic Party)
Assessment
Reid is one of the most marginal Labor seats in Sydney, and it straddles the outer suburbs and the inner suburbs of Sydney. The seat includes wealthy harbour suburbs, multicultural areas around Auburn and Granville, and gentrified Greens-friendly areas. The seat wasn't considered so marginal recently, prior to an 8.2% swing against Murphy in 2010.
2010 result
| | | | | |
| --- | --- | --- | --- | --- |
| Candidate | Party | Votes | % | Swing |
| Peter Cooper | LIB | 34,328 | 43.11 | +7.42 |
| John Murphy | ALP | 33,051 | 41.51 | -11.35 |
| Adam Butler | GRN | 8,903 | 11.18 | +3.27 |
| Bill Shailer | CDP | 2,445 | 3.07 | +0.76 |
| Carolyn Kennett | SEP | 901 | 1.13 | +1.13 |
2010 two-candidate-preferred result
| | | | | |
| --- | --- | --- | --- | --- |
| Candidate | Party | Votes | % | Swing |
| John Murphy | ALP | 41,949 | 52.68 | -8.16 |
| Peter Cooper | LIB | 37,679 | 47.32 | +8.16 |
Booth breakdown
Booths have been divided into five areas. Booths in Auburn, Strathfield and Burwood local government areas have been grouped together. Booths in Canada Bay council area have been divided between Drummoyne in the east and Concord in the west.
The ALP won a large majority of 61.9% in the Auburn area, 57.9% in Burwood, and a slim majority of 50.8% in Strathfield. The Liberal Party won a majority of 52-53% in Concord and Drummoyne.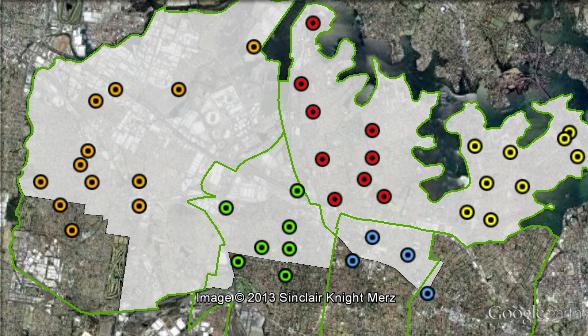 | | | | | |
| --- | --- | --- | --- | --- |
| Voter group | GRN % | ALP 2PP % | Total votes | % of votes |
| Drummoyne | 11.35 | 47.44 | 17,716 | 22.25 |
| Auburn | 11.53 | 61.91 | 17,509 | 21.99 |
| Concord | 9.55 | 46.65 | 16,402 | 20.60 |
| Strathfield | 10.79 | 50.84 | 6,849 | 8.60 |
| Burwood | 11.21 | 57.93 | 4,283 | 5.38 |
| Other votes | 12.38 | 53.88 | 16,869 | 21.18 |