LIB 14.1%
Incumbent MP
Joe Hockey, since 1996.
Geography
Lower North Shore of Sydney. The seat covers the north shore of Sydney Harbour from Hunters Hill to Kirribilli and extends as far north as Chatswood. Main suburbs are North Sydney, Willoughby, Lane Cove, Chatswood and Hunters Hill. The seat covers the entirety of Hunters Hill and Lane Cove local government areas, almost all of Willoughby (except for a part of northern Chatswood) and a majority of the City of North Sydney (except for Neutral Bay and Cremorne).
History
North Sydney is an original federation electorate, and has never been held by the ALP, being held by the Liberal Party and its predecessors with the exception of two terms when it was held by an independent.
The seat originally extended much further than the immediate lower north shore of Sydney. The original seat covered all of the north shore and extended further north to cover the Central Coast and reached Morisset on Lake Macquarie. The seat rapidly retreated back to Pittwater by the 1906 redistribution. The 1922 redistribution saw the creation of Mackellar covering Manly and the Northern Beaches, and North Sydney retreated to most of the area it covers today around North Sydney, Chatswood and Lane Cove.
The seat was first won by Dugald Thompson, originally of the Free Trade Party and then the Commonwealth Liberal Party. Thompson served as a minister in George Reid's government from 1904 to 1905, and retired in 1910. The seat was won in 1910 by George Edwards, who, like Thompson, had moved from the Free Trade party to the Liberal party. Edwards had previously held the seat of South Sydney from 1901 to 1906.
Edwards died in 1911, and the seat was won by Granville Ryrie (LIB). Ryrie was a Boer War veteran, and was promoted to Brigadier-General at the beginning of the First World War and served in battle at Gallipoli and in Sinai and Palestine. Ryrie continued to serve as Member for North Sydney and became a minister under Billy Hughes in 1920. Ryrie moved to the new seat of Warringah in 1922 and remained in Parliament until 1927.
North Sydney was won in 1922 by then-Prime Minister Billy Hughes. Hughes had previously served as Labor member for West Sydney from 1901 to 1917, when he became the Nationalist member for Bendigo. Hughes had become Prime Minister in 1915 and had left the ALP in 1916 over the issue of conscription, and created the new Nationalist party with the support of fellow ALP defectors and his former conservative opponents.
At the same election when Hughes moved to North Sydney, his party lost its overall majority in the House of Representatives. The Country Party decided to support the Nationalists, but animosity between Hughes and Country Party leader Earle Page saw Hughes resign as Prime Minister and Stanley Bruce take over.
Hughes went to the backbenches and remained there until 1929, when he crossed the floor and brought down the Bruce government. He served as an independent for two years before joining with his former party and another group of Labor rebels, led by Joseph Lyons, to form the United Australia Party.
Hughes served as a minister once more from 1934 to 1937, after first becoming a minister in 1904. He became leader of the United Australia Party in 1941 and led the party, barely, into the 1943 election. Hughes held the seat of North Sydney until the 1949 election, when he moved to the new seat of Bradfield, and stayed in Parliament until his death in 1952.
The ensuing by-election was won by William Jack, who remained a low-profile, yet locally popular, backbencher until his retirement in 1966.
The seat was won in 1966 by Bill Graham, another Liberal who had previously held the marginal seat of St George from 1949 to 1954 and from 1955 to 1958. Graham remained in North Sydney until 1980.
Graham was succeeded by John Spender, who was defeated at the 1990 election by Ted Mack, an independent who had previously been Mayor of North Sydney and member for the state seat of North Shore. Mack had previously been a member of state Parliament from 1981 until 1988, when he resigned just before he qualified for a parliamentary pension in protest against excesses of public office. He retired at the 1996 election for similar reasons.
The seat was won in 1996 by Joe Hockey, and he has held it ever since. Hockey was a junior minister in the Howard government from 1998 to January 2007, when he was elevated to Cabinet as Minister for Workplace Relations.
At the 2007 election the ALP targetted the seat and ran former ABC weatherman Mike Bailey. He gained a 4.7% swing and achieved the highest two-party preferred result for the ALP since 1961, reducing the margin to 5.4%.
Hockey became a senior member of the Opposition frontbench following the 2007 election and became Shadow Treasurer in February 2009. He was considered a possible leadership contender in December 2009, but came third in the leadership ballot behind Malcolm Turnbull and Tony Abbott, and has continued as Shadow Treasurer under Abbott, including for the entirety of the current parliamentary term.
Candidates
Raheam Khan (Palmer United Party)
Joe Hockey 

(Liberal)

Alison Haines

(Greens)

Angus McCaffrey (Democratic Labour Party)
Peter Hayes

(Labor)

Maureen Guthrie (Christian Democratic Party)
Assessment
North Sydney is a safe Liberal seat.
2010 result
| | | | | |
| --- | --- | --- | --- | --- |
| Candidate | Party | Votes | % | Swing |
| Joe Hockey | LIB | 51,179 | 59.71 | +7.94 |
| Leta Webb | ALP | 18,961 | 22.12 | -13.15 |
| Andrew Robjohns | GRN | 13,314 | 15.53 | +5.97 |
| Daniel Pearce | DEM | 1,275 | 1.49 | +1.45 |
| Daniel Le | FF | 980 | 1.14 | +0.64 |
2010 two-candidate-preferred result
| | | | | |
| --- | --- | --- | --- | --- |
| Candidate | Party | Votes | % | Swing |
| Joe Hockey | LIB | 54,901 | 64.06 | +8.55 |
| Leta Webb | ALP | 30,808 | 35.94 | -8.55 |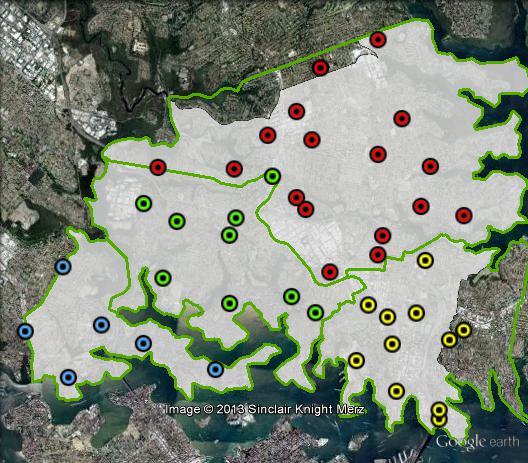 Booth breakdown
North Sydney covers all of Lane Cove and Hunters Hill council areas, and a majority of North Sydney and Willoughby council areas. Polling places have been split into these four areas.
The Liberal Party won a majority of over 60% in all four areas, ranging from 61.1% in North Sydney to 67.6% in Hunters Hill.
The Greens candidate came third, with the Greens vote ranging from 12% in Hunters Hill to 18% in North Sydney.
| | | | | |
| --- | --- | --- | --- | --- |
| Voter group | GRN % | LIB 2PP % | Total votes | % of votes |
| Willoughby | 14.74 | 64.81 | 25,848 | 30.16 |
| North Sydney | 17.98 | 61.08 | 16,961 | 19.79 |
| Lane Cove | 15.94 | 63.58 | 14,484 | 16.90 |
| Hunters Hill | 12.00 | 67.61 | 6,489 | 7.57 |
| Other votes | 15.35 | 64.73 | 21,927 | 25.58 |