NAT 23.3%
Incumbent MP
John Forrest, since 1993.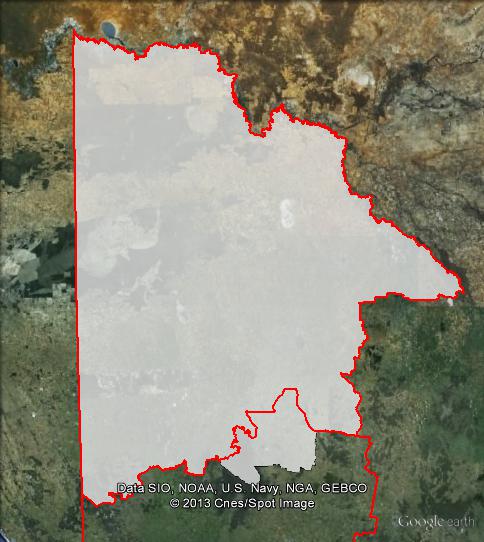 Geography
North-western Victoria. Mallee covers a large area in the corner of Victoria, bordering New South Wales and South Australia. Mallee covers Gannawarra, Buloke, Hindmarsh, Horsham, Mildura, Northern Grampians, Swan Hill, West Wimmera and Yarriambiack council areas. Mallee includes the centres of Mildura, Ouyen, Swan Hill, St Arnaud, Warracknabeal, Stawell and Horsham.
Redistribution
Mallee previously only covered part of the Northern Grampians council area. The recent redistribution saw Mallee gain the remainder of the council area, including the town of Stawell, from the seat of Wannon.
History
Mallee was created at the redistribution before the 1949 election as part of the expansion of the House of Representatives. It has always been held by the Country Party and its successor National Party.
The seat was won in 1949 by the Country Party's Winton Turnbull. Turnbull had stood for office for the Country Party before the Second World War, but was captured in the fall of Singapore and was a prisoner of war for over three years. Turnbull won Wimmera in 1946, and moved to the new seat of Mallee in 1949.
Turnbull held Mallee for the next two decades, and retired at the 1972 election.
Mallee was won in 1972 by Peter Fisher, who held Mallee for another two decades, until he retired in 1993.
Mallee was won in 1993 by John Forrest, also of the National Party. Forrest has been re-elected at every election since 1993.
Candidates
Chris Crewther

(Liberal)

Mark Cory (Palmer United Party)
Amy Mulcahy (Sex Party)
Vince Cirillo (Katter's Australian Party)
Chris Lahy (Citizens Electoral Council)
Allen Ridgeway (Independent)
Jan Macallister

(Greens)

Tim Middleton (Rise Up Australia)
Neil Buller (Family First)
Andrew Broad 

(Nationals)

Michael Coldham (Country Alliance)
Lydia Senior

(Labor)
Assessment
On paper Mallee is the safest Coalition seat in the country. There is no danger of Labor challenging the Nationals' hold. However, the Nationals will be facing a challenge from the Liberals, for the first time since 1993. In 1993, the race between John Forrest and his Liberal challenger came down to 736 votes after preferences. This seat will definitely be a seat to watch.
2010 result
| | | | | |
| --- | --- | --- | --- | --- |
| Candidate | Party | Votes | % | Swing |
| John Forrest | NAT | 54,399 | 66.79 | +2.85 |
| Bob Scates | ALP | 16,198 | 19.89 | -1.96 |
| Helen Healy | GRN | 6,400 | 7.86 | +3.69 |
| Carl Carter | FF | 4,456 | 5.47 | -1.06 |
2010 two-candidate-preferred result
| | | | | |
| --- | --- | --- | --- | --- |
| Candidate | Party | Votes | % | Swing |
| John Forrest | NAT | 60,611 | 74.41 | +3.14 |
| Bob Scates | ALP | 20,842 | 25.59 | -3.14 |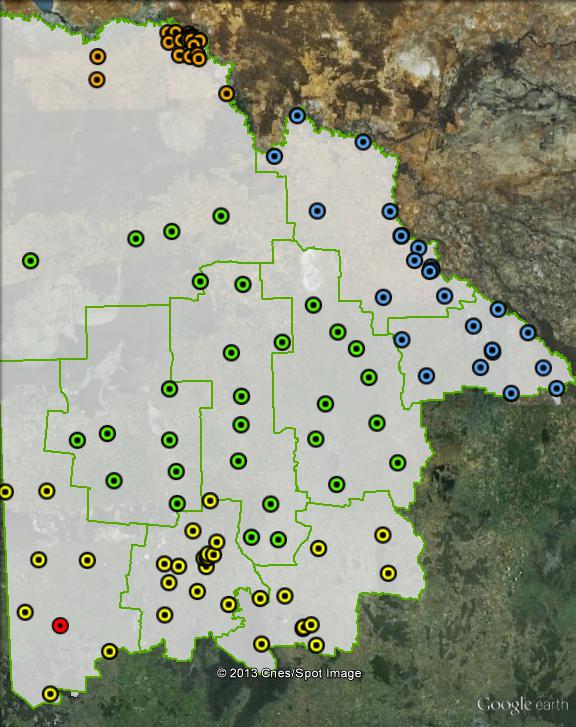 Booth breakdown
Booths have been divided into four areas. Booths in Buloke, Hindmarsh and Yarriambiack council areas, as well as those in the southern parts of the Mildura council area, have been grouped as "Central". Those in Gannawarra and Swan Hill have been grouped as "East". Those in Horsham, Northern Grampians and West Wimmera have been grouped as "South". The booths in the main urban centre of Mildura, as well as some nearby booths close to the Murray River, have been grouped as "Mildura".
The Nationals won a two-party-preferred majority in all four areas, ranging from 67.8% in the south to 78.3% in the east.
For the purposes of this table and the following maps, two-party-preferred votes for the Liberal candidate for Wannon in the area around Stawell are treated as Nationals votes.
| | | | | |
| --- | --- | --- | --- | --- |
| Voter group | GRN % | NAT 2PP % | Total votes | % of votes |
| Mildura | 10.98 | 70.69 | 19,289 | 31.41 |
| South | 6.60 | 67.75 | 16,097 | 26.21 |
| East | 5.39 | 78.33 | 14,073 | 22.92 |
| Central | 5.65 | 76.99 | 11,947 | 19.46 |
| Other votes | 8.26 | 74.83 | 24,397 | |