LIB 9.0%
Incumbent MP
Sophia Mirabella, since 2001.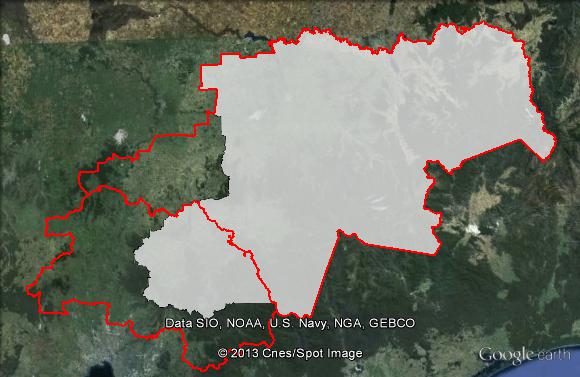 Geography
North-eastern Victoria.  Indi runs along the Murray River and stretches inland to cover Wodonga, Wangaratta, Towong, Mansfield, Murrindindi, Indigo, Benalla and Alpine council areas, and a part of Moira council area. The major cities in the seat are Wodonga and Wangaratta.
Redistribution
Changes were made to Indi's western, boundary, losing Strathbogie council area to Murray, and gaining Murrindindi council area from McEwen. This reduced the Liberal margin from 9.9% to 9.0%.
History
Indi is an original federation electorate. Apart from four elections when the ALP won the seat, Indi has almost always been won by the Coalition parties and their predecessors.
The seat was first won in 1901 by Protectionist candidate Isaac Isaacs. Isaacs was a radical member of the Protectionist party and did not get along with most of his party. He was appointed Attorney-General in Alfred Deakin's government in 1905, but in 1906 he was appointed to the High Court. Isaacs served on the High Court for 24 years. In 1930 he was appointed Chief Justice by Labor Prime Minister James Scullin. Shortly after, Scullin decided to break with tradition by appointing an Australian-born Governor-General, and chose Isaacs. Isaacs served as Governor-General until 1936.
Indi was won in 1906 by Anti-Socialist candidate Joseph Brown, a former Victorian state MP. Brown joined the merged Liberal Party in 1909, although he was a fierce critic of Alfred Deakin. He lost Indi in 1910 to the ALP's Parker Moloney.
Moloney held Indi until the 1913 election, when he lost to the Liberal Party's Cornelius Ahern, but Moloney won it back in 1914. Moloney lost Indi again in 1917. He went on to move across the border to the neighbouring NSW seat of Hume, which at the time covered Albury. He held Hume from 1919 to 1931, and served as a minister in the Scullin government.
The Nationalist Party's John Leckie, a Victorian state MP, won Indi in 1917. He lost the seat in 1919 to Robert Cook of the Victorian Farmers' Union, which became the Country Party.
Cook retained Indi at the 1922 and 1925 elections, but lost the seat in bizarre circumstances in 1928, when he failed to lodge his nomination papers. The seat instead was won by the ALP's Paul Jones.
Jones was re-elected in 1929, when Cook attempted to retain his seat, before he lost Indi to the United Australia Party's William Hutchinson in 1931. Jones went on to serve in the Victorian Legislative Council from 1938 and 1958, and left the ALP as part of the split in 1955, ending up in the Democratic Labor Party.
Hutchinson held Indi for two terms. In 1937 he moved to the new seat of Deakin, which he held until his retirement in 1949.
Indi was won in 1937 by the Country Party's John McEwen, who had previously won the seat of Echuca in 1934. He served as a minister in the Liberal/Country governments from 1937 to 1941.
McEwen left Indi to take the new seat of Murray in 1949, and he joined Robert Menzies' cabinet in the new government. He was elected Country Party leader in 1958, and when Robert Menzies retired in 1966 he became the most senior figure in the government, with tremendous influence over the Country Party's larger ally, the Liberal Party. When Prime Minister Harold Holt disappeared in late 1967, McEwen briefly served as Acting Prime Minister, and he vetoed the choice of the Treasurer, William McMahon, leading to Senator John Gorton moving to the House of Representatives and becoming Prime Minister. McEwen retired in 1971.
Indi was won in 1949 by Liberal candidate William Bostock. Bostock held the seat until the 1958 election, when he lost to the Country Party's Mac Holten. Holten was a former footballer, and he served as Minister for Repatriation from 1969 to 1972.
In 1977, Holten was challenged by the Liberal Party's Ewen Cameron. Despite topping the poll on primary votes, Holten lost when Cameron overtook him on Labor preferences.
Cameron held Indi until his retirement in 1993. He was succeeded in 1993 by the Liberal Party's Lou Lieberman, a former Victorian state MP and minister. Lieberman served on the Liberal backbench until his retirement at the 2001 election.
In 2001, Indi was won by Sophie Panopoulos (now Mirabella). Mirabella served on the backbench for the entirety of the Howard government, serving as a prominent member of the hard-right faction of the Liberal Party. She was promoted to serve as a Parliamentary Secretary in the Opposition after the 2007 election, and became a Shadow Minister in 2008.
Candidates
Robert Dudley (Rise Up Australia)
Cathy McGowan (Independent)
Rick Leeworthy (Family First)
Sophia Mirabella 

(Liberal)

Helma Aschenbrenner (Sex Party)
William Hayes (Bullet Train For Australia)
Robyn Walsh

(Labor)

Jenny O'Connor

(Greens)

Phil Rourke (Katter's Australian Party)
Robert Murphy (Palmer United Party)
Jennifer Podesta (Independent)
Assessment
Indi is a safe Liberal seat on paper. Reports suggest that independent Cathy McGowan has the potential to buck the trend and win the seat off Mirabella, possibly with the assistance of Labor and Greens preferences.
2010 result
| | | | | |
| --- | --- | --- | --- | --- |
| Candidate | Party | Votes | % | Swing |
| Sophie Mirabella | LIB | 44,555 | 52.62 | -1.76 |
| Zuvele Leschen | ALP | 23,034 | 27.20 | -4.92 |
| Jenny O'Connor | GRN | 8,000 | 9.45 | +1.87 |
| Alan Lappin | IND | 4,945 | 5.84 | +5.84 |
| Robert Cavedon | FF | 3,190 | 3.77 | -0.05 |
| Mark Carey | DEM | 947 | 1.12 | -0.57 |
2010 two-candidate-preferred result
| | | | | |
| --- | --- | --- | --- | --- |
| Candidate | Party | Votes | % | Swing |
| Sophie Mirabella | LIB | 50,755 | 59.94 | +0.75 |
| Zuvele Leschen | ALP | 33,916 | 40.06 | -0.75 |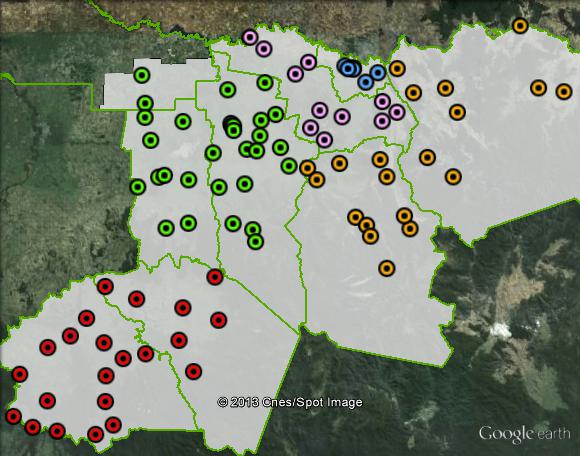 Booth breakdown
Booths have been divided into five areas. Polling places in Wodonga and Indigo council areas have been grouped along council boundaries. The remainder were split into East, South and West.
The Liberal Party won a majority of the vote in all five areas, varying from 54.5% in Indigo to 62.8% in the east.
| | | | | |
| --- | --- | --- | --- | --- |
| Voter group | GRN % | LIB 2PP % | Total votes | % of ordinary votes |
| West | 8.67 | 60.04 | 15,949 | 28.56 |
| Wodonga | 8.56 | 56.44 | 13,050 | 23.37 |
| South | 10.79 | 56.33 | 10,236 | 18.33 |
| East | 9.91 | 62.75 | 8,810 | 15.77 |
| Indigo | 12.53 | 54.53 | 7,807 | 13.98 |
| Other votes | 9.33 | 61.61 | 30,471 | |