ALP 0.3%
Incumbent MP
Darren Cheeseman, since 2007.
Geography
South-western Victoria. Corangamite covers suburbs on the southern fringe of Geelong and then extends as far west as Colac. As well as parts of Greater Geelong, Corangamite covers all of Surf Coast, Colac Otway and Queenscliff councils, as well as a majority of Golden Plains Council. The main towns outside of Geelong are Ocean Grove, Torquay, Colac and Winchelsea.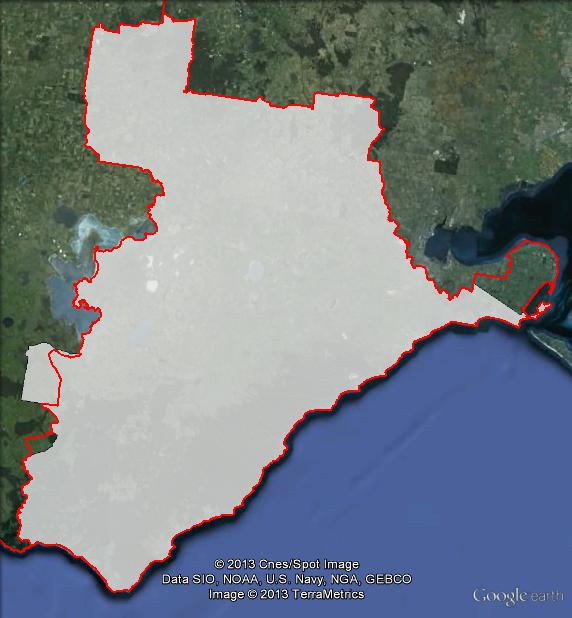 Redistribution
Corangamite underwent relatively minor changes. Corangamite's western boundary was aligned with the western boundary of Colac Otway Shire. Corangamite lost sparsely populated ares on the northern side of the Barwon peninsula to Corio.
History
Corangamite was an original federation division, and a seat which changed hands often in early years, before becoming a solid conservative seat in the latter half of the 20th century.
It's first member was Chester Manifold of the Protectionists, but he retired due to ill-health at the 1903 election and the seat was won by Grafton Wilson for the Free Traders. Wilson was defeated in 1910 by the ALP's James Scullin, who held the seat for one term before being defeated by former member Manifold, who returned to contest the seat for the Liberals. Manifold, whose son, Sir Chester, was a state MP and a famed horse-breeder and racing administrator, held the seat until he died at sea in 1918.
The December 1918 by-election saw the first use of preferential voting for the federal parliament. Scullin returned to contest the seat for the ALP, and topped the primary vote, but was comfortably defeated on preferences by the Victorian Farmers Union's William Gibson. Scullin would subsequently win the seat of Yarra in 1922 and serve as Prime Minister from 1929-32.
Gibson held the seat for the Country Party, serving as Postmaster-General and Minister for Works and Railways until his defeat in 1929 by Labor's Richard Crouch, who had previously been a Protectionist/Liberal MP for Corio from 1901-1910. Crouch then lost to Gibson in 1931, who served one more term before winning election to the Senate in 1934.
Geoffrey Street of the UAP, who would serve as Defence Minister in Menzies' first government, won Corangamite in 1934 and held it until his death, along with two other ministers, in a plane crash in 1940.
Allan McDonald, a former state MP, won the seat for the UAP in 1940, and quickly became a minister in the Menzies government. He unsuccessfully contested the UAP leadership in 1941 and 1943, and remained on the backbench when the Liberals returned to power in 1949. He died in 1953, and was succeeded by Daniel Mackinnon, who had previously been MP for Wannon.
Mackinnon retired in 1966, and was succeeded by Tony Street, son of the former member Geoffrey, who served as a minister in various portfolios in the Fraser government and subsequently retired in early 1984.
Stewart McArthur won the seat in 1984, and held it until defeated by the ALP's Darren Cheeseman in 2007. A seat significantly impacted by changing demographics, McArthur's 44.70% was the lowest primary vote for the conservative major party in the seat since 1934.
The Liberal vote barely rebounded in 2010. A swing of 0.44% to the Liberal Party halved Cheeseman's margin, and made Corangamite the most marginal seat in the country.
Candidates
Lloyd Davies

(Greens)

Helen Rashleigh (Rise Up Australia)
Alan Barron (Australian Christians)
Adrian Whitehead (Independent)
Darren Cheeseman 

(Labor)

Peter Wray (Family First)
Jayden Millard (Sex Party)
Warren Jackman (Country Alliance)
Buddy Rojek (Palmer United Party)
Andrew Black

(Nationals)

Sarah Henderson 

(Liberal)

Nick Steel (Australian Protectionist Party)
Assessment
Corangamite is a very marginal Labor seat, and Labor will struggle to maintain it in the current political environment.
2010 result
| | | | | |
| --- | --- | --- | --- | --- |
| Candidate | Party | Votes | % | Swing |
| Sarah Henderson | LIB | 42,155 | 44.99 | +0.29 |
| Darren Cheeseman | ALP | 37,043 | 39.53 | -2.38 |
| Mike Lawrence | GRN | 10,713 | 11.43 | +3.46 |
| Ann Wojczuk | FF | 1,850 | 1.97 | -1.59 |
| Sally-Anne Brown | IND | 1,418 | 1.51 | +1.51 |
| Nathan Timmins | LDP | 529 | 0.55 | +0.36 |
2010 two-candidate-preferred result
| | | | | |
| --- | --- | --- | --- | --- |
| Candidate | Party | Votes | % | Swing |
| Darren Cheeseman | ALP | 47,235 | 50.41 | -0.44 |
| Sarah Henderson | LIB | 46,464 | 49.59 | +0.44 |
Booth breakdown
Booths have been divided into five areas. Booths in the Surf Coast, Colac Otway and Golden Plains local government areas have been grouped by LGA. Booths in the Greater Geelong and Queenscliff local government areas have been split into two parts. Booths in the Geelong urban area have been grouped as Geelong. Booths on the Bellarine peninsula (including Queenscliff) have been grouped as Ocean Grove.
The ALP won majorities in four out of five areas, varying from 51.8% in Geelong to 54.7% in Surf Coast. The Liberal Party won over 54% of the two-party vote in Colac Otway. The Greens vote peaked at 16% in the Surf Coast area.
| | | | | |
| --- | --- | --- | --- | --- |
| Voter group | GRN % | ALP 2PP % | Total votes | % of ordinary votes |
| Geelong | 10.33 | 51.84 | 24,711 | 39.25 |
| Surf Coast | 16.04 | 54.70 | 11,745 | 18.66 |
| Ocean Grove | 14.53 | 53.15 | 10,696 | 16.99 |
| Colac Otway | 7.38 | 45.42 | 9,237 | 14.67 |
| Golden Plains | 9.02 | 54.09 | 6,563 | 10.43 |
| Other votes | 11.59 | 46.48 | 27,196 | |