ALP 6.9%
Incumbent MP
Robert McClelland, since 1996.
Geography
St George district of Sydney and inner south-western suburbs. Barton covers the entirety of the City of Rockdale, as well as eastern parts of Kogarah council area, a small part of Hurstville council area and southeastern parts of the City of Canterbury. Main suburbs include Rockdale, Kogarah, Ramsgate, Sans Souci, Brighton-le-Sands, Bexley, Arncliffe, Kingsgrove, Earlwood and parts of Beverly Hills.
History
Barton was created for the 1922 election, and has always covered parts of the St George district. The seat was traditionally a marginal seat between the ALP and the major conservative party, although this has changed over the last twenty years.
The seat was originally a notionally Nationalist seat, but was won in 1922 by ALP candidate Frederick McDonald, who defeated Hector Lamond, the sitting Nationalist Member for Illawarra since 1917. The seat of Illawarra had been abolished before the 1922 election.
McDonald lost to Nationalist candidate Thomas Ley at the 1925 election by a bare 60 votes. McDonald challenged the result in court, before he disappeared in mysterious circumstances. It is believed that Ley was responsible for McDonald's presumed murder.
Ley, who had been a state MP for Hurstville 1917-20 and St George 1920-25, held the seat for one term before losing to ALP candidate James Tully in 1928. Ley went on to move back to England and in 1945 was convicted of killing a barman who he suspected of having an affair with his mistress, and ended up spending the rest of his life in an insane asylum. While it was never proven, he was suspected in the death of McDonald and Hyman Goldstein, who was a rival of Ley's and state member for Coogee when he fell to his death in 1927.
Tully held the seat for the ALP with a massive margin in 1929. In 1931 Tully was challenged by John Eldridge, the sitting member for the neighbouring seat of Martin. Eldridge had been an ALP member but had joined Jack Lang's breakaway party. Both Tully and Eldridge lost to UAP candidate Albert Lane.
Lane was reelected in 1934 and 1937, but never by comfortable margins. In 1940, he was defeated by former High Court judge H.V. Evatt, who retired from the judiciary at the age of 46 to run for federal politics. He was elected with a massive majority, which he maintained at the 1943 and 1946 elections.
Evatt served as a minister in the Curtin and Chifley governments, including as Minister for External Affairs. He played a significant role in the creation of the United Nations and served as President of the UN General Assembly in 1948-9.
Evatt held the seat at the 1949 election, when the Liberal Party defeated the Chifley Labor government, and Evatt became Leader of the Opposition. Evatt held Barton by slim margins in 1949, 1951, 1954 and 1955 elections, and moved to the safer seat of Hunter at the 1958 election, which was his last as Labor leader, retiring in 1960.
ALP candidate Leonard Reynolds won Barton in 1958, never holding it by large margins. He lost the seat to Liberal candidate William Arthur in 1966, but won it back in 1969. Reynolds held the seat until his retirement in 1975.
In 1975 the seat was won by James Bradfield (LIB), who held the seat for the entirety of the Fraser government, losing to ALP candidate Gary Punch in 1983.
Punch joined the Hawke ministry in 1988 before resigning from Cabinet in 1989 at protest over decisions about Sydney Airport. He returned to the ministry after the 1993 election, when he increased his margin to 9.4%.
Punch retired in 1996, and was succeeded by Robert McClelland. McClelland joined the ALP Shadow Ministry in 1998, and became Attorney-General upon the election of the Rudd government in 2007. McClelland was demoted from Attorney-General in late 2011 and then dropped from the ministry in early 2012.
Candidates
Edward Caruana (Palmer United Party)
Nick Varvaris 

(Liberal)

Michael Nagi (Independent)
Perry Theo (One Nation)
Steve McMahon

(Labor)

Kylie French (Christian Democratic Party)
Jackie Brooker

(Greens)

Rod Wyse (Katter's Australian Party)
Assessment
Barton has traditionally been a strong area for Labor, and would have been considered safe. However after an 8.1% swing in 2010, the loss of the sitting member, and an expected swing to the Liberal Party in NSW, the ALP will be fighting hard to hold on. The change to Kevin Rudd may have secured this seat for Labor.
2010 result
| | | | | |
| --- | --- | --- | --- | --- |
| Candidate | Party | Votes | % | Swing |
| Robert McClelland | ALP | 38,149 | 48.48 | -8.80 |
| John La Mela | LIB | 31,998 | 40.67 | +9.76 |
| Simone Francis | GRN | 8,536 | 10.85 | +2.61 |
2010 two-candidate-preferred result
| | | | | |
| --- | --- | --- | --- | --- |
| Candidate | Party | Votes | % | Swing |
| Robert McClelland | ALP | 44,742 | 56.86 | -8.08 |
| John La Mela | LIB | 33,941 | 43.14 | +8.08 |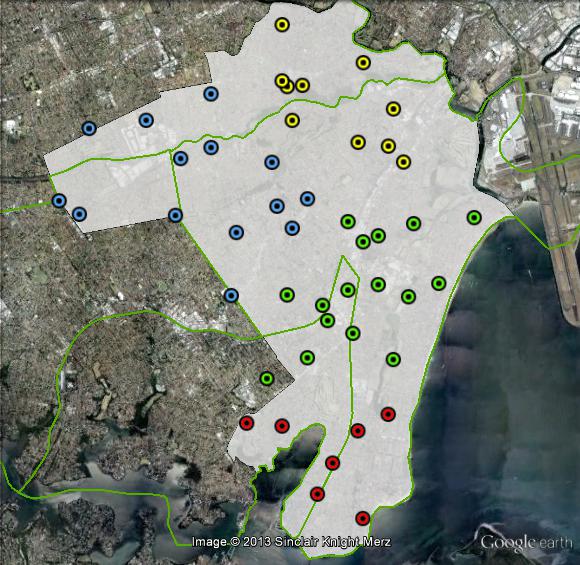 Booth breakdown
Booths have been divided into four areas:
Central – Brighton-Le-Sands, Carlton, Kogarah, Rockdale
North East – Arncliffe, Earlwood
North West – Beverly Hills, Bexley, Kingsgrove
South – Ramsgate, Sans Souci
The ALP won a majority in three areas, varying from 56.9% in the north-west to 60.2% in the centre. The Liberal Party won a 53.3% majority in the south.
The Greens vote varied from 8.2% in the south to 12.7% in the north-east.
| | | | | |
| --- | --- | --- | --- | --- |
| Voter group | GRN % | ALP 2PP % | Total votes | % of votes |
| Central | 10.11 | 60.21 | 21,633 | 27.49 |
| North West | 10.06 | 56.88 | 16,940 | 21.53 |
| North East | 12.74 | 59.03 | 14,627 | 18.59 |
| South | 8.23 | 46.70 | 10,179 | 12.94 |
| Other votes | 12.70 | 56.80 | 15,304 | 19.45 |