ALP 7.5%
Incumbent MP
Kate Ellis, since 2004.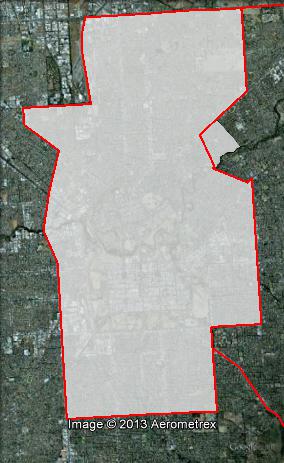 Geography
Central Adelaide. The seat of Adelaide includes the Adelaide CBD as well as the surrounding suburbs including Unley, North Adelaide, Norwood, St Peters, Prospect, Croydon Park, Hindmarsh and Blair Athol.
Redistribution
Adelaide expanded west, gaining a small area around Vale Park from Sturt. This slightly reduced the Labor margin from 7.7% to 7.5%.
History
Adelaide is an original South Australian electorate, having been created for the 1903 election, the first at which single-member electorates were used in South Australia for a federal election. While the ALP has held the seat for a majority of its existence, it has been held by conservative parties for much of this period, including eleven years in the 1990s and 2000s.
Adelaide was first won in 1903 by Protectionist candidate Charles Kingston. Kingston was a former liberal Premier of South Australia who was elected one of South Australia's seven MPs in 1901 before winning Adelaide in 1903. He was Australia's first Minister for Trade, but resigned from the ministry in 1903. He was re-elected to Adelaide in 1906 before dying of a stroke in 1908.
The ensuing by-election was won by the ALP's Ernest Roberts. Roberts served as a minister in Andrew Fisher's government and was re-elected in 1910 and 1913 before dying suddenly later in 1913. Another by-election in Adelaide was held in early 1914 and was won by the ALP's Edwin Yates.
Yates was re-elected at the 1914 and 1917 elections, but was defeated in 1919 by Nationalist candidate Reginald Blundell, who had previously been a state MP and minister in the state Labor government before the split over conscription and continued in a conservative government until its defeat in 1918. Blundell only held Adelaide for one term, losing to Yates in 1922. Yates held the seat again for the ALP until 1931.
In 1931 Yates was defeated by United Australia Party candidate Fred Stacey. Stacey held the seat for the UAP until 1943, when an ALP landslide win swept Stacey aside, and Adelaide was won by ALP candidate Cyril Chambers. Chambers served as Ben Chifley's Minister for the Army following the 1946 election until Chifley's defeat in 1949.
Chambers remained in Parliament in opposition, although criticism of HV Evatt's leadership saw him expelled for a year in 1957-8, and by the time he was readmitted it was too late to be preselected for the 1958 election, and he was replaced by the ALP's Joe Sexton.
Sexton held Adelaide until 1966, when he was defeated by Andrew Jones of the Liberal Party, who was 22 at the time and one of the youngest people ever elected to Australia's federal parliament. Jones held the seat for one term but lost it in 1969 when the political balance swung back from the Liberal landslide of 1966.
The ALP's Chris Hurford won the seat in 1969, and held the seat for eighteen years. He served as a minister in the first two terms of the Hawke government before retiring at the end of 1987 to take up the position of Consul-General to New York. His retirement triggered a third Adelaide by-election in February 1988, where a large swing saw the seat lost to Liberal candidate Mike Pratt.
Pratt only held Adelaide for two years, losing to the ALP's Bob Catley at the 1990 election. Catley lost the seat in 1993 to Trish Worth, who held the seat for the Liberal Party for over a decade. She held the seat at the 1996, 1998 and 2001 election, but lost in 2004 to the ALP's Kate Ellis, going against the trend of a strong national result for the Liberal Party.
Ellis was re-elected in 2007 and 2010, and has served as a minister in the Labor government since the 2007 election.
Candidates
Assessment
Adelaide's 7.5% margin will probably be enough for Kate Ellis to hold on, but in current circumstances it is possible the Liberal Party could gain enough of a swing.
2010 result
| | | | | |
| --- | --- | --- | --- | --- |
| Candidate | Party | Votes | % | Swing |
| Kate Ellis | ALP | 38,162 | 43.89 | -4.37 |
| Luke Westley | LIB | 32,673 | 37.57 | -0.86 |
| Ruth Beach | GRN | 11,901 | 13.69 | +3.94 |
| Suzanne Neal | FF | 1,900 | 2.18 | +0.15 |
| Marie Nicholls | DEM | 819 | 0.94 | -0.59 |
| Gemma Weedall | SA | 786 | 0.90 | +0.90 |
| Christopher Steele | LDP | 716 | 0.82 | +0.82 |
2010 two-candidate-preferred result
| | | | | |
| --- | --- | --- | --- | --- |
| Candidate | Party | Votes | % | Swing |
| Kate Ellis | ALP | 50,164 | 57.69 | -0.84 |
| Luke Westley | LIB | 36,793 | 42.31 | +0.84 |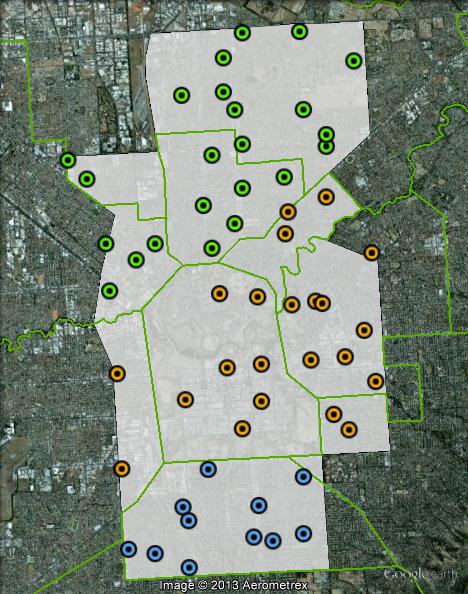 Booth breakdown
Booths have been divided into three areas. Adelaide covers parts of nine local government areas, and they are divided between the three areas in this way:
Central – Adelaide, Burnside, Norwood Payneham and St Peters, Walkerville and West Torrens.

North – Charles Sturt, Port Adelaide Enfield and Prospect.
South – Unley.
The ALP won a majority in all three areas, varying from 52.7% in the centre to 65.4% in the north. The Greens vote varied from 12.3% in the north to 14.7% in the centre.
| | | | | |
| --- | --- | --- | --- | --- |
| Voter group | GRN % | ALP 2CP % | Total votes | % of ordinary votes |
| North | 12.28 | 65.35 | 27,158 | 39.35 |
| Central | 14.67 | 52.66 | 26,080 | 37.79 |
| South | 13.37 | 54.55 | 15,777 | 22.86 |
| Other votes | 14.24 | 55.42 | 19,555 | |