LIB 6.0%
Incumbent MP
Andrew Robb, since 2004.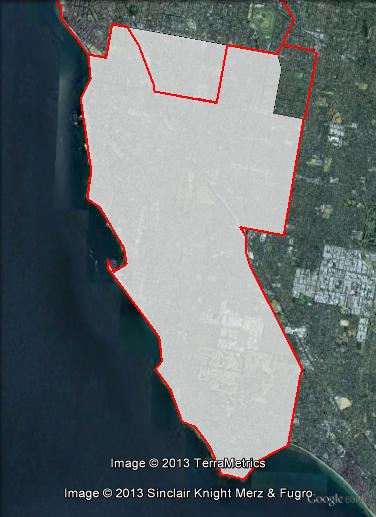 Geography
Inner southern suburbs of Melbourne. Goldstein covers the entirety of Bayside council area and parts of Glen Eira. Key suburbs include Sandringham, Brighton, Hampton,  Beaumaris, Ormond and Bentleigh.
Redistribution
Goldstein's northern boundary was adjusted, gaining Gardenvale from Melbourne Parts and losing Carnegie to Higgins. This reduced the Liberal margin from 6.5% to 6.0%.
History
Goldstein was  first created in 1984, but is considered a successor to the previous Division of Balaclava, which existed from the first federal election in 1901 until its abolition in 1984. The two seats have a perfect record of having never been won by the Labor Party, and they have been held continously by the Liberal Party and its predecessors since the two non-Labor parties merged in 1909.
Balaclava was first won in 1901 by Protectionist candidate George Turner. Turner had been Premier of Victoria from 1894 to 1899 and again from 1900 until early in 1901, and was the state MP for St Kilda. Turner was Treasurer in Edmund Barton's first federal government. He won re-election as a Protectionist in 1903 but he accepted the role of Treasurer in George Reid's Free Trade government in 1904, which effectively saw him switch parties. Turner retired in 1906.
Balaclava was won in 1906 by Independent Protectionist candidate Agar Wynne. Wynne was a former minister in Victorian colonial governments. He joined the newly created Commonwealth Liberal Party in 1909 and served in Joseph Cook's government from 1913 to 1914. Wynne did not run for re-election in 1914, although he returned to Victorian state politics from 1917 to 1920 and briefly served as a state minister.
Balaclava was won in 1914 by Liberal candidate William Watt. Watt had been Premier of Victoria from 1912 to 1914, and became a federal minister in 1917 as part of the new Nationalist government led by former Labor prime minister Billy Hughes. Watt was appointed Treasurer in 1918 and served as Acting Prime Minister when Hughes traveled to the Versailles peace conference in 1919.
Watt, however, fell out with Hughes upon his return. He was appointed as a representative of the Australian government at a conference on reparations, but Hughes' constant meddling led him to resign as Treasurer and return to Australia as a backbencher.
Watt was one of a small group of rebel Liberals who ran as the Liberal Union party in 1922, and won re-election. They rejoined the Nationalists after Hughes was replaced by Stanley Bruce, and Watt became Speaker, serving in the role until 1926. He retired from Balaclava in 1929.
Watt's retirement triggered a by-election, which was won by Nationalist candidate Thomas White. White served as a minister in the Lyons government from 1933 to 1938, and served as a minister from the election of the Menzies government in 1949 until his resignation in 1951.
Balaclava was won at the 1951 by-election by Liberal candidate Percy Joske. He held the seat until his resignation in 1960, when he was appointed as a judge on the Commonwealth Industrial Court. The 1960 by-election was won by Ray Whittorn, also from the Liberal Party. He held the seat until his retirement at the 1974 election.
Balaclava was won in 1974 by Ian Macphee, who served as a minister in the Fraser government from 1976 to 1983. In 1984, the seat of Balaclava was abolished and replaced by the seat of Goldstein, and Macphee won the new seat.
Macphee was a Liberal moderate, and took Andrew Peacock's side in his conflict with John Howard throughout the 1980s. Macphee served as a shadow minister under Peacock, but was sacked in 1987 by Howard. He was defeated for preselection before the 1990 election by right-wing candidate David Kemp.
Kemp won Goldstein in 1990, and immediately went onto the opposition frontbench. Kemp joined the ministry upon the election of the Howard government in 1996, and served as a minister until three months before his retirement in 2004.
Goldstein was won in 2004 by the Liberal Party's Andrew Robb, who had been the party's Federal Director at the 1996 election. Robb quickly found his way onto the frontbench, appointed as a Parliamentary Secretary in early 2006, and was appointed to the ministry in 2007, holding office until the defeat of the Howard government later that year.
Robb has been a prominent frontbencher since the 2007 federal election. He stepped down from the frontbench in 2009 due to mental health issues, but returned as Shadow Finance Minister in early 2010.
Candidates
Assessment
Goldstein should be comfortably retained by the Liberal Party.
2010 result
| | | | | |
| --- | --- | --- | --- | --- |
| Candidate | Party | Votes | % | Swing |
| Andrew Robb | LIB | 44,436 | 52.55 | -0.37 |
| Nick Eden | ALP | 25,227 | 29.83 | -3.86 |
| Neil Pilling | GRN | 13,708 | 16.21 | +5.84 |
| Anthony Forster | FF | 1,187 | 1.40 | +0.26 |
2010 two-candidate-preferred result
| | | | | |
| --- | --- | --- | --- | --- |
| Candidate | Party | Votes | % | Swing |
| Andrew Robb | LIB | 47,747 | 56.47 | +0.42 |
| Nick Eden | ALP | 36,811 | 43.53 | -0.42 |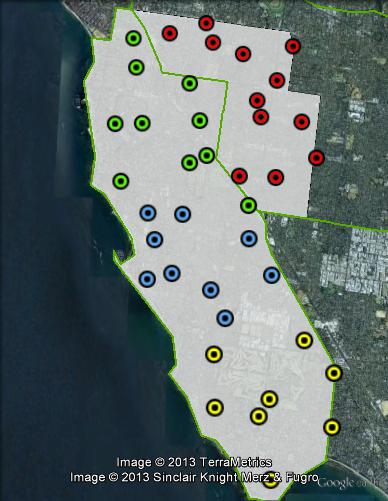 Booth breakdown
Booths have been divided into four areas. Polling places in Bayside City have been split into three areas. From north to south, these are Brighton, Sandringham and Beaumaris. Booths in Glen Eira council area have been grouped together.
The Liberal Party won a majority in three areas, varying from 51.1% in Sandringham to 63.4% in Brighton. The ALP won a 51.3% majority in Glen Eira.
The Greens vote ranges from 14.6% in Beaumaris to 18.9% in Sandringham.
| | | | | |
| --- | --- | --- | --- | --- |
| Voter group | GRN % | LIB 2PP % | Total votes | % of ordinary votes |
| Glen Eira | 16.52 | 48.68 | 22,480 | 33.38 |
| Brighton | 14.64 | 63.66 | 17,896 | 26.58 |
| Sandringham | 18.87 | 51.11 | 15,337 | 22.78 |
| Beaumaris | 14.58 | 59.87 | 11,624 | 17.26 |
| Other votes | 15.75 | 59.43 | 21,334 | |