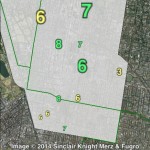 Prahran has been the stand-out seat in terms of late counting for the Victorian state election. While every other seat has now been decided, Prahran remains too close to call – with three different candidates still in the running.
At first glance, it appears that Liberal MP Clem Newton-Brown is narrowly leading Labor candidate Neil Pharoah after preferences by 41 votes. While that is extremely close, most votes have now been counted on a 'two-party-preferred' basis between Labor and Liberal, so this in normal circumstances would have put Newton-Brown in a strong position to win.
But Pharoah is only 426 votes ahead of the Greens' Sam Hibbins on primary votes, and is in serious danger of falling behind the Greens based on preferences from minor parties.
In terms of primary votes counted, it appears that most votes have been counted. A Greens scrutineer told me that they expect approximately 100 more votes to be added to the count. It is worth noting that on Sunday another sixteen Greens votes were found, which will narrow the Labor lead over the Greens slightly further.
With a gap of 410 votes, there are then another batch of votes for candidates other than Labor, Liberal or Green. At the time of writing, there are 1,669 votes cast either for the Animal Justice Party, Family First or one of three independents. Almost half of these votes are for the Animal Justice Party, who preferenced the Greens.
The Greens have had a large team of scrutineers covering the count, with a more limited presence from Labor and Liberal. The Greens have tracked preferences from those minor candidates, and believe that they will gain enough preferences to overtake Labor.
If the Greens overtake Labor, there will be a lot more uncertainty about the result, since the VEC has not been undertaking an indicative Liberal-Green count in the way they have for Liberal-Labor. The Greens will need to gain about 83% of preferences from Labor and the minor candidates, which is a big ask, but evidence from scrutineers suggests that the Greens have a chance of winning.
Later today, the VEC will be undertaking the distribution of preferences, which will determine who out of Labor or the Greens will come second and challenge the Liberal MP for the seat. It's certainly worth watching.
If the Greens manage to win despite coming third on primary votes, it will be a rare result without many precedents. In recent years, the only examples I am aware of were the 2009 Frome by-election in South Australia and Denison at the 2010 federal election – in both cases an independent won from third place. Prahran would also be the first time in Australia that the Greens have won a seat off the Liberal Party.
In the meantime, continue reading below the fold for some analysis of the booth results in Prahran.
There are fourteen booths in Prahran. Twelve of these booths were used for Prahran in 2012. I should note that for my pre-election analysis I transferred Toorak Central from Prahran into the neighbouring seat of Malvern due to the redistribution. Toorak Central has been used again, but a substantial number of voters in the area who voted at that booth in 2010 would now be in Malvern.
I've split booths into the same three areas as I used in the pre-election guide: central, north and south.
| | | | | | | | |
| --- | --- | --- | --- | --- | --- | --- | --- |
| Voter group | LIB % | ALP % | GRN % | LIB swing | ALP swing | GRN swing | Total |
| North | 51.85 | 22.24 | 22.29 | -3.72 | -2.27 | 6.12 | 9,072 |
| Central | 41.24 | 26.72 | 26.90 | -1.41 | -4.80 | 5.94 | 5,090 |
| South | 31.67 | 30.91 | 32.70 | -3.69 | -1.88 | 6.57 | 4,701 |
| Other votes | 45.83 | 26.15 | 23.22 | 0.22 | -2.03 | 2.69 | 17,848 |
Overall, the Greens have gained a swing at every booth, ranging from 3.3% at Orrong to 8.2% at Prahran. At some booths, this mostly came from Labor while the Liberal vote held up well or increased (Hawksburn Central, Prahran) while in others the Liberal vote dropped and Labor stayed steady (Alma, Balaclava, Fawkner Park, Hawksburn) and in a few others the Greens swing came at the expense of both parties. I think this suggests that the Greens gained votes from both parties, but it's impossible to be sure.
Overall, the Greens swing was reasonably steady between the three areas, but much weaker on the special vote. Labor was particularly hit hard in the centre of the electorate, with the Liberal Party suffering larger swings in the north and south.
The following charts show the primary vote for the three main candidates and the swings for their parties on the primary vote.