I was looking the boundaries of the federal seat of Grayndler earlier today when I noticed that all five state electorates that overlap with Grayndler are held by female MPs, along with a number of other neighbouring seats. I thought it would be interesting to get an idea of how the gender balance in the Legislative Assembly is distributed geographically.
There are 25 women in the NSW Legislative Assembly, out of a total of 93 MLAs. Each party has the following gender balances:
Labor – 17/51 – 33.3%
Liberal – 5/23 – 21.7%
National – 1/13 – 7.7%
Independent – 2/6 –  33.3%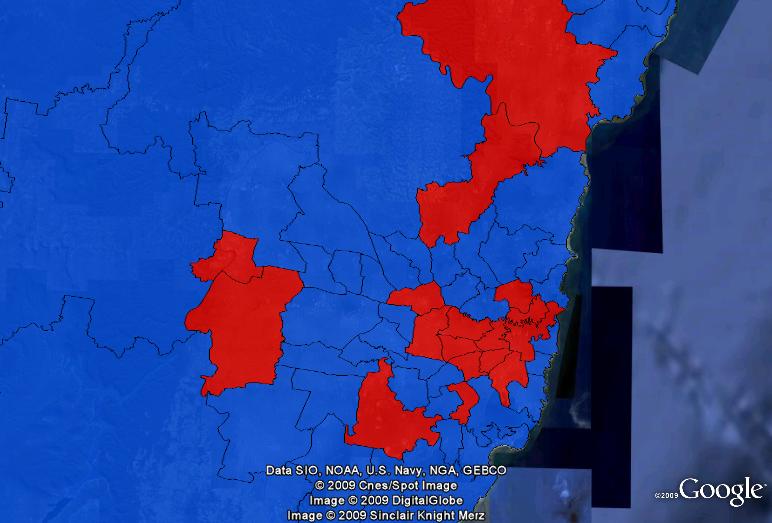 As you can see in Sydney, there is a large concentration of female MPs representing central Sydney. 11 out of 25 female MLAs hold seats in that contiguous area which stretches from Parramatta in the west to Willoughby in the north and Heffron in the south. One of these seats is held by independent Clover Moore, and the seats of North Shore and Willoughby are held by Liberals, while the other 8 are all Labor seats. In addition, there are two women Labor MPs in southern sydney, in Kogarah and Menai, and two more western Sydney seats in Penrith and Mulgoa.
There are also two more female MPs in the Greater Sydney region, one Liberal MP in Hornsby and a Labor MP in Gosford.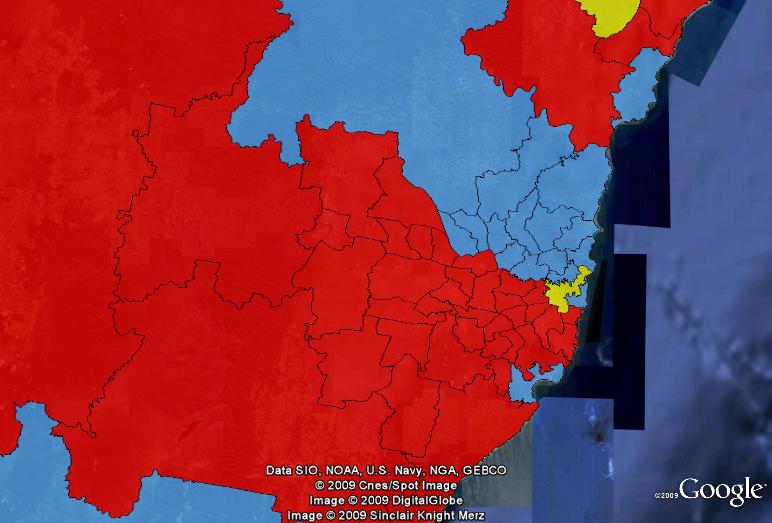 Let's limit the analysis to the 35 Labor MPs in Sydney. Labor controls every seat in a region that covers a majority of the territory in Sydney, including everything south of the Harbour and the Hills district, with the exception of Vaucluse, Sydney and Cronulla. Excluding the Illawarra seats and Bathurst, which are part of the same contiguous block of Labor seats, there are 35 MPs in this area, making up two thirds of the Labor caucus and the base of their electoral support. In contrast, Labor holds less than one-third (16/58) of the seats outside of this zone. In Sydney, Labor has 12 female MPs and 23 male MPs, which is about the same proportion amongst the entire Labor caucus.
It gets interesting when you divide this area in half, into the 18 westernmost seats and the 17 easternmost seats. In the eastern area, that goes as far west as Auburn, Bankstown and Sutherland, there are actually a majority of women amongst Labor MPs with nine women amongst 17 MPs. Indeed, if you include non-Labor MPs in this area, you have an exactly even split of 10 men and 10 women, remarkable when you consider the overall proportion of women across the state.
When you leave Sydney, the proportions greatly fall, particularly in the north of the state. One of the four seats on the Central Coast is held by a woman. Out of the eight seats in the lower Hunter, two seats are held by women, both seats being in inner Newcastle. There are no women holding seats further north than Wallsend, just outside of Newcastle. The eight Nationals MPs in the area north of Newcastle are all male, as are the three independent MPs.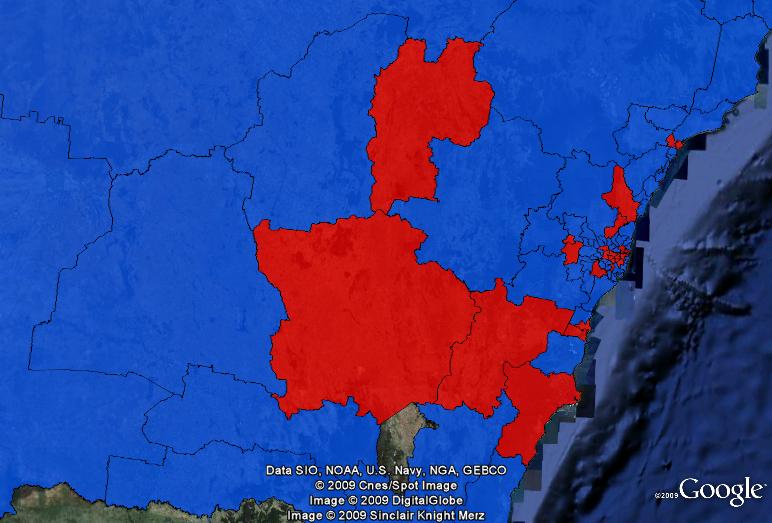 The seats south of Sydney have much higher representation by women. There are five Labor seats in the Illawarra area, a sixth Labor seat in Monaro and three Liberal seats to the south of Sydney. Out of these, there are two women in Wollongong and Shellharbour, and two women in Goulburn and South Coast. This produces a ratio of 4 women out of nine.
Western NSW is also strongly dominated by men. The two Liberal seats in southern NSW are both held by men, as is the sole Labor seat in Bathurst. There are five Nationals MPs in western NSW, one of whom is a woman. The sole independent MP in this region is also a woman (Dawn Fardell in Dubbo).