10:52pm – My last comment is about the Legislative Council. As it currently stands, the Legislative Council will include 14 Liberals and 2 Nationals, 13 Labor MLCs, five Greens, three Shooters and one member each for Family First, Country Alliance and the Democratic Labour Party.
I will return tomorrow with a focus on the upper house, but for now it's worth noting that, while the ALP will hold a majority in the lower house, they will face a very difficult upper house. Labor will need to gain eight additional votes. Unless they win over the Coalition, they will need the Greens plus three of the small right-wing MLCs – which could either be the Shooters or all three of the other right-wingers. The six right-wingers are not enough on their own, nor are the Greens. Have a good night.
10:46pm – You'll find here maps of the Victorian electoral map (both regional and metropolitan) – seats that have changed hands are shown in darker colours, and the three undecided seats are in white.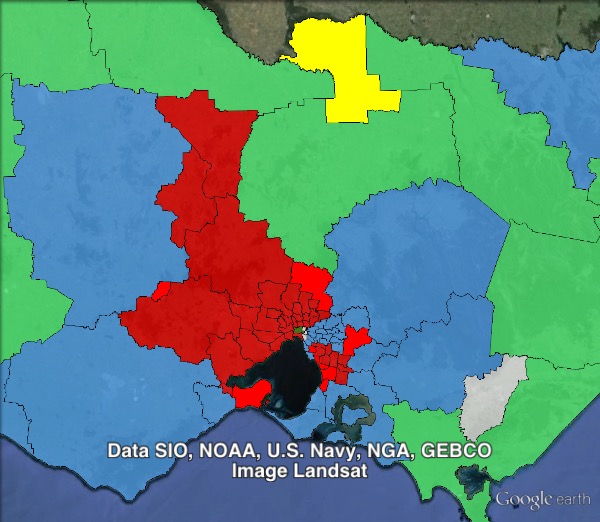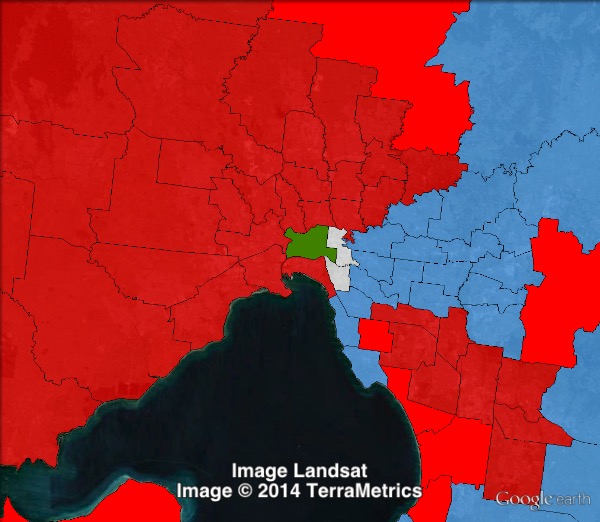 9:56pm – This adds up to 46 Labor seats, 37 Coalition seats, 1 Green, 1 Independent and three undecided seats.
9:52pm – I'd like to quickly revisit the Legislative Assembly. Despite a close race, it looks like Labor has retained Brunswick. In South Barwon, the Liberal Party has held on, and they look likely to win Ripon, which was Labor-held but notionally Liberal. This leaves three seats undecided: Morwell, Richmond and Prahran.
9:50pm – In Western Victoria, the Coalition and Labor have each retained two seats, with the final seat looking likely to go to a minor party – with the most likely winner being the Shooters. There's a small chance for either the Greens, Palmer United, Vote 1 Local Jobs or the DLP.
9:49pm – In Western Metropolitan, the ALP has retained two seats and the Liberal Party has retained one seat. Tom at Geeklections gives the DLP and the Greens both a good chance to win, but Labor has a chance of winning a third seat instead of one of those two parties.
9:42pm – In South Metropolitan, the Liberal Party has won two seats, and probably three seats, and Labor has won one seat. The final seat is a race between Labor, the Greens and the Sex Party.
9:37pm – In South Eastern Metropolitan, the Labor and Liberal parties have each won two seats. The final seat is a race between Labor, the Greens and the Sex Party.
9:35pm – In Northern Victoria, the Coalition has held on to two seats and Labor one, with the final two seats a race between Labor, Coalition and the Country Alliance with chances for the Sex Party or the Shooters and Fishers.
9:29pm – In Northern Metropolitan, the ALP has retained two seats, with the Liberal Party and the Greens retaining one seat each. The final seat is a race between Labor, Liberal, Family First and the Sex Party.
9:27pm – In Eastern Victoria, the Shooters and Fishers are in a strong position to win one seat off the Liberal/National coalition. The ALP is likely to retain both of their seats, but could lose one of their seats to the Greens.
9:19pm – I'm trying to understand what's going on in the Legislative Council now but unfortunately I can't get ABC Elections to work. So I'm looking at Geeklections. In East Metro, the Liberal Party is likely to retain their three seats and the ALP is in a race with the Greens for one of their two seats.
9:14pm – The Greens are now 25 votes ahead of Labor in Prahran.
9:00pm – Here's a quick summary of the current situation. Labor has held on to the five seats where the redistribution flipped a Labor seat into a notional Liberal seat – these five seats are Bellarine, Monbulk, Ripon, Yan Yean and Wendouree. Labor has also gained Bentleigh, Carrum, Mordialloc and Frankston in south-eastern Melbourne. The Greens have gained one Labor seat in Melbourne and has a chance of gaining Richmond and Brunswick from Labor. The Liberal Party looks likely to lose Prahran, but there is an extremely close race between Labor and Greens for second place, which will determine who wins.
7:57pm – For the Greens, they are looking very good to win in Melbourne, with possibilities in Prahran, Northcote and Brunswick, but there appears to be a swing against the Greens in Richmond.
7:50pm – I'm confident in calling that Labor has won the election. At the moment, Labor is on track to win Bellarine, Bentleigh, Carrum, Frankston, Mordialloc, Prahran and Wendouree, and is ahead in another six seats. While Labor is in danger of losing some seats to the Greens, they would still be on track to win a majority.
7:37pm – I count seven seats where Labor is definitely in the lead which are notional Liberal seats: Bentleigh, Mordialloc, Carrum, Monbulk, Bellarine, Wendouree and Yan Yean. If Labor can hold on in five of these seats they will win (excluding any losses to the Greens).
7:34pm – The Greens are currently ahead in Brunswick, but it's far too early. I should point out that the very large swing to the Greens on primary votes is mostly due to the absence of independent candidate Phil Cleary, who ran for Brunswick in 2010 but is running for the upper house in 2014.
7:32pm – Labor is in a very strong position to win.
7:24pm – Independent Suzanna Sheed is on 33% off a substantial number of booths in Shepparton – the ABC is projecting a safe Nationals win but I'm not sure about that.
7:20pm – Big swing against the Liberal Party in Prahran – about 2/3s to Greens and 1/3 to Labor. The Greens targetted Prahran despite being in third place – if the swings in these first two booths is maintained, the Greens will gain ground but still come third.
7:17pm – Substantial swing to Labor in marginal seats of Bentleigh, Wendouree, Yan Yean, Carrum, Mordialloc, Monbulk and Bellarine. Those six seats would be enough to put Labor in power.
7:12pm – There's a big swing to Labor in Eildon in northern Victoria.
7:10pm – At the moment the ALP is up about 3% on the two-party-preferred vote – that's easily enough for Labor to win if it is a uniform swing.
7:08pm – The ABC has given away a large number of seats but none of them particularly marginal.
6:31pm – We're getting the usual early figures in, but nothing that tells us anything interesting.
6:00pm – Polls have just closed in Victoria's state election. We should start getting some solid results around 6:45pm.