ALP 11.1%
Incumbent MP
Andrew McDonald, since 2007.
Geography
Southwestern Sydney. Macquarie Fields covers northern suburbs of the City of Campbelltown and southwestern parts of the City of Liverpool. Suburbs include Macquarie Fields, Glenfield, Denham Court, Casula, Lurnea, Prestons, Horningsea Park, Hoxton Park and Austral.
History
The seat of Macquarie Fields was first established at the 1988 election. It was a successor to the seat of Ingleburn, which was the first seat created between the seats of Liverpool and Campbelltown when it was created in 1981. The 1988 election shifted the seat north, and renamed the seat to reflect the change. In 1991, the seat moved deeper into Liverpool, and was renamed Moorebank. The changes were partly reversed in 1999, when the seat was again named Macquarie Fields. It has had that name ever since. This seat, whatever its name, has always been held by the ALP. The seat was held continuously by the Knowles family from 1981 to 2005.
Ingleburn was first won in 1981 by Liverpool deputy mayor Stan Knowles. He was re-elected in 1984 and 1988, the last time in the renamed seat of Macquarie Fields. Knowles resigned in 1990, and the ensuing by-election was won by his son Craig, a former Mayor of Liverpool.
Knowles was re-elected in the renamed Moorebank in 1991 and 1995, before his seat was again named Macquarie Fields in 1999. He joined the ministry upon Labor winning government in 1995, and after the 2003 election held a large ministerial brief. His position was damaged by his tenure as Minister for Health, and while he had once been considered a possible successor to Bob Carr as Premier, by the time of Carr's retirement in 2005 Knowles was no longer considered a contender. Knowles retired at the same time as Carr and his deputy, Andrew Refshauge.
The 2005 by-election was won by Campbelltown city councillor Steven Chaytor. He was opposed at the Macquarie Fields by-election by former nurse and whistleblower Nola Fraser, running for the Liberals. The ALP suffered a 12% swing in the by-election.
At 29, Chaytor was considered an up-and-comer in the party. This was cut short barely a year later, when he faced charges of assault against his partner from an incident in December 2006. With the impending election, Chaytor was suspended from the ALP. He was found guilty in January 2007, after which he was expelled from the ALP and a new candidate was found. The ALP now preselected Dr Andrew McDonald, a doctor with previous involvement with Campbelltown Hospital around the time of the issues which had affected Knowles as Minister for Health and had led to Nola Fraser's political involvement.
Chaytor's conviction was later overturned on appeal, and he served out his term on Campbelltown City Council, retiring in September 2008.
At the 2007 election, McDonald held off against Fraser, with a similar 12% swing to that in the 2005 by-election.
Candidates
Political situation
Macquarie Fields is traditionally a very strong area for the ALP. Scandals have hit the ALP hard in the area, suffering a 12% swing in 2007. This has put Macquarie Fields within reach of a Liberal win, but this still seems unlikely. It seems more likely that much of the damage hitting the ALP elsewhere has already hit Macquarie Fields. It will be a disaster for the ALP to lose such a seat, but the current margin puts it within reach.
2007 result
| | | | | |
| --- | --- | --- | --- | --- |
| Candidate | Party | Votes | % | Swing |
| Andrew McDonald | ALP | 21,918 | 53.0 | -10.2 |
| Nola Fraser | LIB | 13,678 | 33.1 | +11.0 |
| Peter Butler | GRN | 2,092 | 5.1 | +0.3 |
| Hany Gayed | CDP | 1,806 | 4.4 | +1.2 |
| Frank Corrigan | AAFI | 1,160 | 2.8 | +1.0 |
| Mick Allen | IND | 703 | 1.7 | +0.9 |
2007 two-candidate-preferred result
| | | | | |
| --- | --- | --- | --- | --- |
| Candidate | Party | Votes | % | Swing |
| Andrew McDonald | ALP | 23,359 | 61.1 | -12.2 |
| Nola Fraser | LIB | 14,860 | 38.9 | +12.2 |
Booth breakdown
Macquarie Fields has been divided into three areas. Booths in the City of Campbelltown in the south of the seat have been grouped as 'Glenfield'. Those in the northeast have been grouped as Casula, and those in the northwest as Hoxton Park.
The ALP's majority was over 63% in Casula, and around 60% in the other parts of the seat.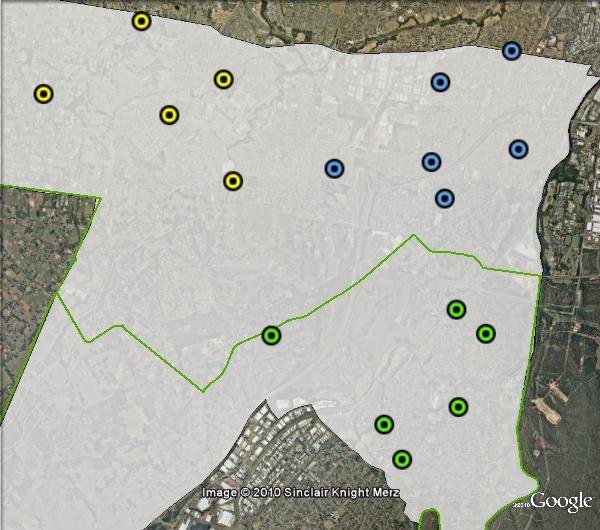 | | | | | |
| --- | --- | --- | --- | --- |
| Voter group | GRN % | ALP 2CP % | Total votes | % of votes |
| Casula | 4.4 | 63.2 | 14,910 | 36.1 |
| Glenfield | 5.0 | 59.2 | 10,180 | 24.6 |
| Hoxton Park | 4.8 | 60.9 | 9,324 | 22.5 |
| Other votes | 7.0 | 59.8 | 6,943 | 16.8 |