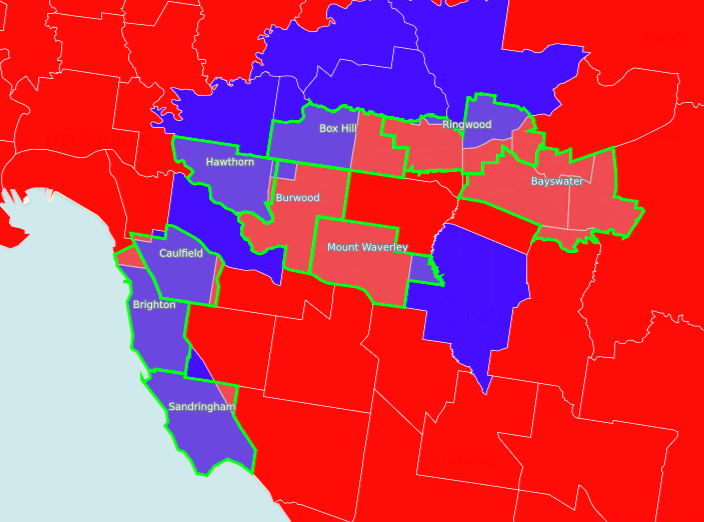 9:52pm – I'm going to close down this brief liveblog, but I will be back in the morning with further analysis, including a focus on the Legislative Council.
9:51pm – Let's revisit the Greens races. Lidia Thorpe in Northcote has fallen further behind, trailing by 1100 votes. The ABC is projecting that the Greens' Tim Read is leading in Brunswick, but either way it looks very close.
The Greens have widened their gap on the Liberals in Prahran. It is worth noting, though, that the 2PP count is between Liberal and Green, not Labor and Green. Presumably Liberal preferences will favour Labor, which could see Labor win there.
9:47pm – There are currently four rural seats where independents are in play, in addition to Shepparton where Susanna Sheed has been re-elected.
In Benambra, Jacqui Hawkins is on 30.5% of the primary vote, behind sitting Liberal MP Bill Tilley but well ahead of Labor, who are on 18%. Tilley is on less than 38%. We have no Liberal vs Independent 2CP count, but if Hawkins gains every Labor and Greens preference she will make a majority – and that's ignoring another 9.5% of the vote with other candidates. It's worth noting that Benambra overlaps with the federal seat of Indi, held by independent MP Cathy McGowan.
Labor's Mark Richards has a big primary vote lead in Morwell. He's on 36.7%, followed by sitting independent Russell Northe on 18%, and a further 22% between the Liberal and National candidates. We don't have a Labor vs Independent preference count, but it seems clear that the Nationals won't regain t his seat.
Independent Ali Cupper is on 32% in Mildura, which puts her in second place. The ABC is currently estimating a narrow win for her, but it's not clear if this is based on real preference data.
Independent candidate Tammy Atkins is on 20% in the Nationals seat of Ovens Valley. This is just behind Labor's Kate Doyle on 20.4%, with sitting MP Tim McCurdy leading on 44.3%. Atkins would need to overtake Labor either on primary votes or thanks to minor candidate preferences. It's hard to see her winning but she has a chance.
9:38pm – Following on my previous point, this map shows (in the underlying colours) the results of the 2002 state election, when Labor won 62 seats.
You can see that they held on to a core of inner south-east Melbourne. The green overlay shows seats which Labor is currently on track to gain off the Liberals.
9:05pm – Let's discuss what is happening in the Liberal heartland of Melbourne.
The last Labor landslide was in 2002, when a precarious first-term Labor government was re-elected with 62 seats. But a lot of the seats that have changed hands tonight were not ones gained by Labor.
In particular it's worth noting Labor gains in Bass, Box Hill, Caulfield, Nepean and Sandringham, along with possible gains in Hawthorn and Brighton – all seven of these seats stayed in Liberal hands in 2002. Apart from Bass and Nepean, these seats are in the inner-city strip of Liberal heartland.
On the other hand, Labor did not pick up Evelyn, Ferntree Gully, Forest Hill, Gembrook and Hastings – all more suburban seats Labor gained in 2002.
I'll leave it to tomorrow to analyse why this is the case, but this trend does remind me of the backlash we saw in Wentworth.
8:49pm – There are five seats where the Greens had hopes. They appear to have retained Melbourne with basically no swing, and are narrowly behind in Northcote, which they won in last year's by-election, trailing by 800 votes. They are also less than 500 votes behind Labor in Brunswick.
Despite expectations that the Liberal Party sitting out Richmond would help the Greens win, Labor has increased their two-party-preferred margin from 1.9% to 7.6%.
And then there's Prahran. On a two-candidate-preferred basis, the Greens' Sam Hibbins has gained a a swing of almost 12% against the Liberal Party. But it's not clear if he'll make the final two. At the moment Labor is leading with 31.3% of the primary vote, followed by Sam Hibbins on 30.6%, and the Liberal Party on 30.1%. If Hibbins falls into third, Prahran will be another gain for Labor. We will be unlikely to know this seat for a week.
8:42pm – I'm sure you've all seen by now, but Labor has comfortably won an increased majority in the Victorian state election. At this time the ABC predicts that Labor has gained Bass, Bayswater, Box Hill, Burwood, Caulfield, Mount Waverley, Nepean, Ringwood, Ripon, Sandringham and South Barwon. This gives Labor at least 56 seats, up from 45 before the election.
6:00pm – Polls have just closed in Victoria. I won't be updating this post regularly tonight as I have another commitment, but will occasionally post summaries. Feel free to use the comments section as an open thread to discuss the results.
If you want to follow the results can I suggest one of these options: