I've been thinking recently about the Local Government Areas in Sydney. With the exception of the City of Sydney, which has grown and contracted over time, and Canada Bay, which was formed by a merger of Drummoyne and Concord in 2000, local government in Sydney has remained largely intact since a massive round of mergers in 1948-49, which saw many of Sydney's councils merged into larger units. Is it time to rethink local government in Sydney?
Prior to 1948, Sydney suburbs such as Glebe, Newtown, Annandale, Balmain, Alexandria, Vaucluse, St Peters, Petersham, Erskineville, Darlington, Macdonaldtown, Granville, Mulgoa and Ingleburn formed their own councils.
Today's local councils largely reflect the population distribution of the immediate post-war period, with Western Sydney councils covering much more land and residents than those in the eastern half of the region. Populations vary from about 13000 residents in Hunter's Hill to over 290,000 residents in Blacktown. The following map shows the various populations of each Sydney LGA: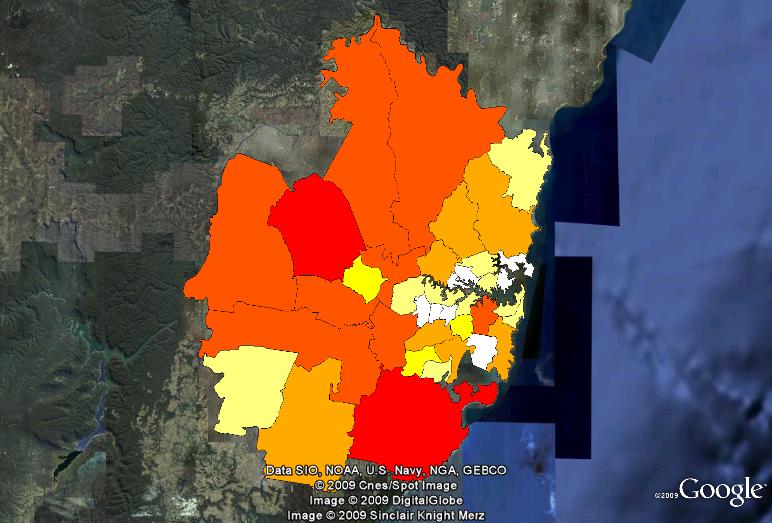 The colour code represents:
Red – 200,000+ residents
Dark orange – 150-200,000
Orange – 100-150,000
Yellow – 75-100,000
Light yellow – 50-75,000
White – Less than 50,000 residents
It becomes clear that almost all Western Sydney councils have over 150,000 residents, with the exceptions of Campbelltown (which falls just below the threshold), Camden (which is about to begin growing rapidly) and Holroyd. In contrast, the Eastern Suburbs, Inner West and Lower North Shore have much smaller populations, and this translates into more councils covering a smaller population. Western Sydney has over 1.8 million residents covered by 11 councils. In contrast, the Inner West, inner city and Eastern Suburbs have a population of about 750,000 residents covered by another 11 councils.
Of course, there isn't a strict injustice in such malapportioned local government areas in the same way that there would be if electoral districts were so skewed. Indeed, there can be benefits to both large and small councils. Smaller councils tend to be closer to the local population and often form an important part of a local community. In contrast, larger councils can be more efficient, hold more political clout and tend to result in more attention from local media, who tend to ignore local government and help contribute to the lack of engagement many have with their local councillors and local elections.
While you can argue about the proper size of local government areas in terms of population, I would argue that there is a big problem in having a large city having such massive differences in population in local government areas between east and west. I would argue that the main reason there has been no change through sixty years of massive population growth is the inertia that comes in handing control over local government boundaries to the very councillors and council officials whose power relies upon the maintenance of existing boundaries. In large councils, powerful mayors and councillors generally will oppose any breakup of council areas that would reduce their power, while mergers of small councils undoubtedly reduce the number of councillors, mayors and senior executives.
In contrast, the few attempts by state governments to intervene and overrule councils have proven to be unpopular and generally have shown little interest in respecting local democracy.
So my idea would involve a number of ideas. First of all, there would need to be a re-examination of what areas we want local government to cover. In particular, local government authority over planning would need to be strengthened, in my opinion, but this post isn't about determining what powers rightfully belong to local government. I would think this could be part of a process of redrawing local government boundaries and re-examining numbers of councillors on each council. At the end of this process, the powers and rights of local government could be embedded in the NSW Constitution by a referendum across the state.
I'm suggesting that all local governments in Sydney should at least cover 100,000 residents. The following map shows how I would redraw council boundaries. All of these involve merging existing councils, it might make sense to redraw boundaries completely. and such a map might look a bit different. On this map, I have reduced the number of councils in Sydney from 38 to 26. I have not touched Hawkesbury, Camden, Wollondilly or the Blue Mountains, as they are on the edge of Sydney, likely to grow, and don't make sense to merge with any others. In the case of Camden, I considered merging it with Campbelltown but, considering Camden's imminent population explosion, I determined that in the long run Camden would quickly rise to the population levels I imposed on all other Sydney LGAs.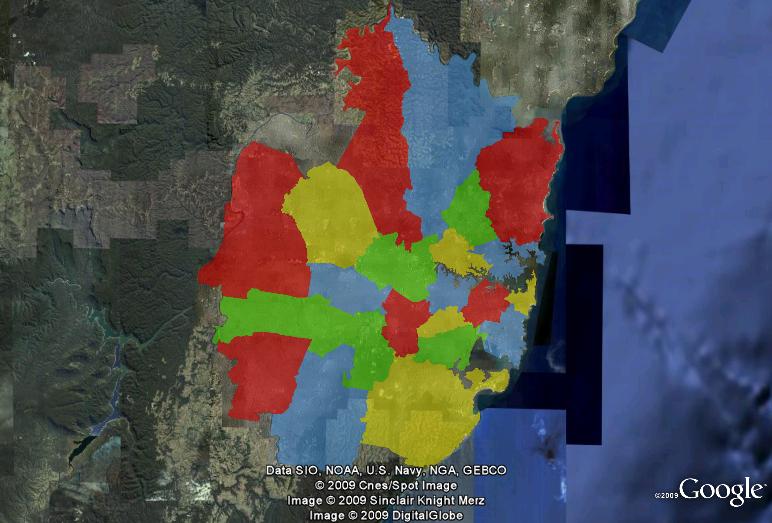 I made the following mergers:
Sydney – Sydney, Marrickville and Leichhardt
Waverley – Waverley and Woollahra
Randwick – Botany Bay and Randwick
North Sydney – Manly, Mosman, North Sydney and Willoughby
Ryde – Lane Cove, Hunter's Hill and Ryde
Northern Beaches – Warringah and Pittwater
St George – Kogarah, Hurstville and Rockdale
Inner West – Burwood, Strathfield, Ashfield and Canada Bay
Parramatta – Parramatta, Holroyd and Auburn
This also creates a siituation where the two cities in Sydney that have Lord Mayors, Sydney and Parramatta, become the two largest LGAs, each having a population of over 300,000. Amongst other things, it would add to the significance of the role of the Lord Mayor. At the moment this position is given tremendous power and prestige for a Mayor who covers less residents than six other councils. I also considered that Leichhardt and Marrickville have a common community with residential suburbs in the City of Sydney like Glebe and Erskineville.
The other element, in addition to clarifying the powers of local government and increasing the population of eastern Sydney councils, would be a change in the governance structure. In the United Kingdom, local unitary authorities in big cities, which tend to have similar populations to large Sydney LGAs, have much larger numbers of councillors. The City of Wolverhampton, part of Greater Birmingham, has a population of 236,000, similar in scale to the current Blacktown and Sutherland and many of the proposed councils, but has 60 councillors, which is similar to many similar councils.
I'm not suggesting we go that large, but I'm suggesting a formula that ties councillor numbers to population. I'm thinking one councillor for every  10,000 residents plus 10. This formula would result in small councils like Wollondilly having 14 councillors (+5 from current numbers). It would give the new Parramatta and Sydney councils over 40 seats on their councils, down to 21 on Ku-ring-gai Council (which would not gain any territory under this proposal). This would mean that, while the number of councils would shrink, the overall number of councillors would grow and, for most of the Sydney region, there would be an increase in local representation. This formula would increase the number of councillors across Greater Sydney from 488 to 699.