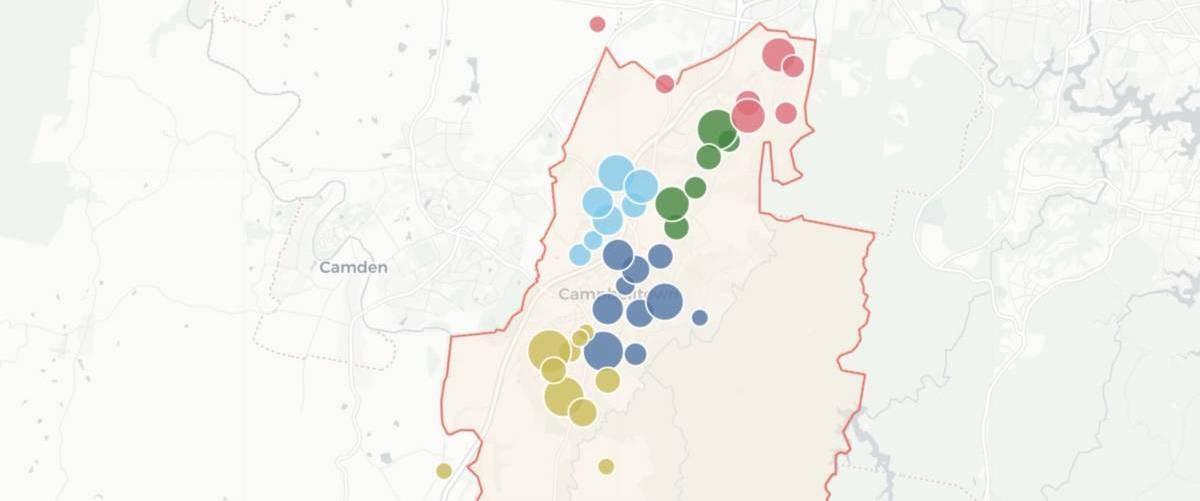 The City of Campbelltown covers suburbs in the outer south-west of Sydney, including Campbelltown, Glenfield, Macquarie Fields, Ingleburn, Minto, St Andrews, Raby, Eagle Vale, Kearns, Claymore, Woodbine, Leumeah, Glen Alpine, Bradbury, Ambarvale and Rosemeadow.
The City of Campbelltown has a population of approximately 170,000 people (as of 2019), which makes it the seventeenth most populous council in New South Wales.
Wards
The City of Campbelltown has no wards.
| | | |
| --- | --- | --- |
| George Brticevic (Labor) | George Greiss (Liberal) | Ben Moroney (Greens) |
| Margaret Chivers (Labor) | Karen Hunt (Labor) | Warren Morrison (Ind) |
| Masood Chowdhury (Labor) | Paul Lake (Independent) | Meg Oates (Labor) |
| Ralph George (Liberal) | Darcy Lound (Labor) | Ted Rowell (Liberal) |
| Ben Gilholme (Labor)1 | Rey Manoto (Labor) | Bob Thompson (Ind) |
1Ben Gilholme was elected at a by-election on 18 March 2017 after the death of independent councillor Fred Borg.
History
The City of Campbelltown has traditionally leaned towards Labor, but the voting system has made it impossible for Labor to win majorities in recent decades. A council of 15 members with no wards means that the quota is approximately 6.25%, and this has allowed a number of independents to hold seats over a long period with a low vote spread across the council area. From at least 1991 until 2012, Labor shared the mayoralty with a small group of independents.
In the 1991-1995 term, Labor's Meg Oates held the mayoralty for one term, with three other independents each having the mayoralty for a year. One of these councillors was Russell Matheson, a former local Australian rules football star who had been elected on the ticket of Jim Kremmer, an independent with a history in the Labor Party.
Oates served as mayor for two years in the 1995-1999 term, with independents Matheson and Paul Sinclair each holding the job for one year.
The 1999 election produced a result of five Labor councillors, one Liberal, one Green and one One Nation, along with seven independents. Labor's Meg Oates held the mayoralty from 1999 until 2000, followed by independent Jim Kremmer, and then Russell Matheson. Labor's Brenton Banfield became mayor in late 2002, with the election postponed until early 2004. During this term, the Greens' David Hawkins left the party, while pro-environment independent councillor Verlie Fowler joined the Greens.
At the 2004 election, Labor's position improved substantially, winning seven seats. The Liberal Party, led by Jai Rowell, won two seats. The Greens' Julie Bourke won one seat, while the other five seats were won by independents.
Jim Kremmer retired, and Russell Matheson's Community First ticket won enough votes to elect his running mate Paul Lake. The other three seats were won by independents running on their own tickets. Bob Thompson (formerly of One Nation) won a second term, while longstanding councillors Fred Borg and Sue Dobson were re-elected.
Labor's dominant position let them hold the mayoralty for all but one year in that 2004-2008 term. Banfield served until September 2005, retiring after three years (and after an aborted push to move him into the federal seat of Werriwa). Matheson held the mayoralty until 2006, when he was succeeded by Labor's Aaron Rule.
Rule held the mayoralty for two years, until the 2008 election.
Labor went backwards in 2008, losing their seventh seat. The Liberal Party won a third seat. The Greens held their one seat, and the Matheson/Lake ticket maintained their two seats, with the three other independents Borg, Dobson and Thompson all holding on. The existing alliance was maintained, with Russell Matheson serving his final term as mayor from 2008 until 2009, followed by one last term for Aaron Rule.
Matheson was preselected as the Liberal candidate for the federal seat of Macarthur in 2010, and went on to win the seat, although he continued to sit as an independent on the council. His ally Paul Lake became mayor in 2010, followed in 2011 by Anoulack Chanthivong.
The 2012 election saw a break to the long-term pattern of Labor governing in alliance with independents. Labor lost another seat, dropping to five seats, while the Liberal Party won four seats. The Greens did not stand in the election, while the Liberal Democratic Party won a seat. Fred Borg's Totally Locally Committed party won two seats, while independents Lake, Dobson and Thompson were re-elected.
The LDP's Clinton Mead, along with independents Lake, Dobson and Thompson, all sided with the Liberal Party to form a new governing alliance, while Borg and his ally Lound sided with Labor. Lound joined the ALP before the next election. Sue Dobson took the mayoralty in the first year, followed by Mead from 2013 until 2014. Lake was mayor from 2014 until 2015, and the Liberal Party's Paul Hawker became the first Liberal mayor of Campbelltown in recent history in 2015.
Labor surged back in 2016, winning a sixth and seventh seat. The Greens also returned to council with a single seat. The Liberal Party dropped one seat. Liberal allies Dobson (IND) and Mead (LDP) were both defeated, while Lake and Thompson were re-elected.
Fred Borg was re-elected along with Warren Morrison, the running mate on his Totally Locally Committed Party. Borg leaned towards supporting Labor, as did the Greens, giving ten votes for a working majority.
This arrangement was very brief, however, as Borg died in December 2016. The subsequent by-election in March 2017 was a vote of the entire council area and Labor easily won the vacant seat, giving Labor an absolute majority on the council. Labor's George Brticevic has led the council as mayor since the 2016 election.
There are eight groups running. Four of them are headed up by an incumbent councillor, with a fifth affiliated with a retiring councillor.
All eight incumbent Labor councillors are running for re-election. Only one of three Liberal councillors is running.
Greens councillor Ben Moroney is running for a second term, as is Cr Warren Morrison of the Totally Locally Committed party.
Paul Lake of the Community First party is retiring but his party is running a ticket with new candidates. Bob Thompson is retiring and doesn't appear to have a designated successor.
The Animal Justice Party is also running, along with independent tickets headed by Anne Parnham and Masud Khalil.
The full candidate list is at the end of this guide.
Assessment
Labor is very strong in the City of Campbelltown but the electoral system makes it hard for a single ticket to win a majority – Labor would need close to 50% of the vote to win eight seats. But they have won seven at a general election twice in the last two decades – in 2004 and 2016 – so it is possible that a slightly higher vote could give them an eighth seat.
Regardless of whether Labor can win a majority, they are in a strong position to be the dominant party and have a working majority, with the Greens usually winning one seat and some other small parties winning seats. One factor that may shake things up is the absence of Fred Borg, who died shortly after the 2016 election. Borg generally allied with Labor and won two seats at the last two elections, polling 9.9% at each election. It seems unlikely that his party can do anywhere near as well in his absence, and some of that vote may flow back to Labor in such a way that opens the door to an eighth seat.
| | | | | |
| --- | --- | --- | --- | --- |
| Party | Votes | % | Swing | Seats won |
| Labor | 34,254 | 43.29 | +12.6 | 7 |
| Liberal | 13,019 | 16.45 | -11.1 | 3 |
| Totally Locally Committed | 7,865 | 9.94 | +0.0 | 2 |
| Community First | 7,049 | 8.91 | +1.7 | 1 |
| Greens | 3,892 | 4.92 | +4.9 | 1 |
| Bob Thompson Team | 3,891 | 4.92 | -0.7 | 1 |
| Christian Democrats | 2,842 | 3.59 | +0.4 | |
| Other independents | 2,272 | 2.87 | -2.7 | |
| Sue Dobson Team | 2,152 | 2.72 | -2.6 | |
| Liberal Democrats | 1,885 | 2.38 | -2.4 | |
| Informal | 6,697 | 7.80 | | |
Since there are no wards in the City of Campbelltown, I have split booths into five arbitrary divisions:
Central – Leumeah, Woodbine, Campbelltown, Ruse, Airds, Kentlyn and Bradbury
North – Macquarie Fields and Glenfield
North Central – Minto and Ingleburn
South – Rosemeadow, St Helens Park, Ambarvale and Glen Alpine
West – Raby, St Andrews, Kearns, Eagle Vale, Eschol Park and Claymore
Labor topped the primary vote in every area, ranging from 39% in the south to 52% in the north.
The Liberal Party came second in each area, with a vote ranging from 15% in North Central to 17.6% in the south.
Fred Borg's vote was highest in the centre and south, while Paul Lake's vote was highest in the south and west.
| | | | | | |
| --- | --- | --- | --- | --- | --- |
| Voter group | ALP % | LIB % | Borg % | Lake % | Formal votes |
| Central | 40.3 | 15.3 | 12.5 | 8.5 | 16,379 |
| South | 38.9 | 17.6 | 12.4 | 10.6 | 13,143 |
| West | 44.1 | 16.4 | 8.8 | 9.7 | 12,160 |
| North Central | 49.9 | 15.0 | 7.3 | 5.7 | 10,156 |
| North | 51.8 | 17.5 | 4.9 | 6.0 | 8,938 |
| Pre-poll | 40.1 | 16.5 | 11.3 | 11.7 | 14,152 |
| Other votes | 43.5 | 18.5 | 8.0 | 8.0 | 4,193 |
Election results at the 2016 City of Campbelltown election
Toggle between primary votes for Labor, the Liberal Party, Totally Locally Committed and Community First.
Candidates
A –

Liberal

Cr George Greiss
Marian George
Riley Munro
John Chew
Binod Paudel
Christopher Formosa
Gypshouna Paudel
Marcus Uren
Liberty Estrella

B –

Labor

Cr George Brticevic
Cr Meg Oates
Cr Darcy Lound
Cr Margaret Chivers
Cr Rey Manoto
Cr Masood Chowdhury
Cr Karen Hunt
Cr Ben Gilholme
Todd Steele
Ashmita Kharel

C –

Independent

Anne Parnham
Sandy Bartlett
Diana Welch
Maureen Thorpe
Russell Murko
Sue-Ann Collings
Kasha Fitton
Alexis Bowen
Maria Scattergood

D –

Independent

Masud Khalil
Khalid Halabi
Sajjan Karki
Bellal Jaber
Morsheda Khan
Md Sofiuzzaman
Khurshida Hossain
Sultana Nasrin
Sharmin Sultana
Afzal Chowdhury

E –

Animal Justice

Matt Stellino
Hailey Tiernan
Jeanette Nappa
Lisa Bicknell
Matthew Twaddell
Lana Mueller
Samantha Cause
Pauline Thurston

F –

Totally Locally Committed

Kevin Dillon
Tammy Hatch
Mathew Borg
Dean Choma
Lauren Carbone
Paul Borg
Nicholas Borg
Stanley Abnes

G –

Community First

Abul Sarker
Ian Kelly
Fabian Yu
Erica Parcio-Cooke
Stephen Carroll
Stephan Rochecouste
Justin Noble
Katie Delauney
Zian Faavae-Eli

H –

Greens

Michelle Callard
Jayden Rivera
Lee McKerracher
Phillip Hall
Jordanna Moroney
Neil Grill
Coral Ison

Ungrouped

Mukesh Chand (

Independent

)
Mick Allen (

Independent

)