ALP 4.4%
Incumbent MP
Julie Owens, since 2004.
Geography
Western Sydney. The seat of Parramatta covers the centre of Parramatta and surrounding suburbs, including Granville, Holroyd, Merrylands, Wentworthville, Westmead, Toongabbie, Carlingford, Dundas and Rydalmere.
History
Parramatta is an original Federation electorate. The seat has long been a marginal seat, focused on the Parramatta CBD. The seat has shrunk substantially from its original boundaries, when it covered most of what is now northwestern Sydney and stretched as far as Lithgow.
The seat was first won in 1901 by Joseph Cook, a former minister in George Reid's Free Trade colonial government. Cook held the seat for the first twenty years of Federation, successively for the Free Trade Party, Anti-Socialist Party, Commonwealth Liberal Party and the Nationalists.
Cook served as Leader of the Anti-Socialist Party following George Reid's retirement in 1908, and agreed to merge with Alfred Deakin's Protectionists in 1909 to form the Commonwealth Liberal Party. He served as Defence Minister in Deakin's final government and became Liberal leader after Deakin's defeat at the 1910 election.
Cook won the 1913 election, becoming Prime Minister, but with a Labor majority in the Senate his government was stifled, and he called a Double Dissolution in 1914, which he lost.
In 1916, Labor Prime Minister Billy Hughes left the ALP over the issue of conscription, and Cook agreed to merge his Liberals with the Labor rebels to form the Nationalist Party, with Cook as Hughes' deputy. He retired in 1921 to serve as High Commissioner in London.
The ensuing by-election was won by Herbert Pratten. Pratten moved to the new seat of Martin in 1922, and was replaced in Parramatta by fellow Nationalist Eric Bowden. Pratten held Martin until his death in 1928, while Bowden held Parramatta until 1929, when he lost the seat.
Labor candidate Albert Rowe won in 1929, but only held it for one term, losing it to United Australia Party candidate Frederick Stewart in 1931. Stewart went on to serve in a variety of ministerial roles in the Lyons and Menzies governments, and retired in 1946.
Parramatta was won in 1946 by Liberal candidate Howard Beale. Beale served as a minister in the Menzies government from its election in 1949 until his retirement in 1958, when he became Ambassador to the United States.
The seat was won in 1958 by prominent barrister Garfield Barwick, who held the seat for the Liberals until 1964, when he was appointed Chief Justice of the High Court of Australia.
The 1964 by-election was held by Liberal candidate Nigel Bowen. Bowen joined Harold Holt's cabinet following the 1966 election and remained there until the election of the Whitlam government. He left Parliament in 1973 to serve on the NSW Supreme Court.
The 1973 by-election was a key contest during the Whitlam government. Bowen had held on by a slim margin in 1972, but Liberal candidate Philip Ruddock managed a 7% swing and won the seat.
Ruddock was re-elected in 1974 and 1975, but moved to the new seat of Dundas in 1977. He held Dundas until its abolition in 1993, when he moved to Berowra, which he still holds today. He served as Minister for Immigration then Attorney-General in the Howard government.
Parramatta was won in 1977 by the ALP's John Brown. Brown served as a junior minister for the first two terms of the Hawke government, and was promoted to Cabinet in 1987, but was forced to resign as a minister in 1988 after misleading the House, and retired in 1990.
Brown was succeeded by former Mayor of Parramatta Paul Elliott, also an ALP member. Elliott served as a Parliamentary Secretary in the final term of the Labor government, and lost Parramatta to Liberal candidate Ross Cameron in 1996.
Cameron was appointed a Parliamentary Secretary after the 2001 election, and continued in similar roles until the 2004 election, where he was one of the few Liberal MPs to lose their seat, with Labor candidate Julie Owens winning the seat. The 2007 redistribution pushed Parramatta north and made it notionally Liberal, but a big swing saw Owens retain the seat. Owen's margin was cut in half from 9.9% to 4.4% in 2010.
Candidates
Assessment
Parramatta is a marginal Labor seat with a recent history of being held by the Liberal Party. Labor will struggle to retain the seat.
2010 result
| | | | | |
| --- | --- | --- | --- | --- |
| Candidate | Party | Votes | % | Swing |
| Julie Owens | ALP | 34,818 | 44.46 | -8.94 |
| Charles Camenzuli | LIB | 31,889 | 40.72 | +6.14 |
| Phil Bradley | GRN | 6,237 | 7.96 | +2.66 |
| Alex Sharah | CDP | 2,404 | 3.07 | -0.22 |
| Kalpesh Patel | IND | 1,436 | 1.83 | +1.83 |
| Chris Gordon | SEP | 1,203 | 1.54 | +1.38 |
| Duncan Roden | SA | 330 | 0.42 | -0.14 |
2010 two-candidate-preferred result
| | | | | |
| --- | --- | --- | --- | --- |
| Candidate | Party | Votes | % | Swing |
| Julie Owens | ALP | 42,583 | 54.37 | -5.49 |
| Charles Camenzuli | LIB | 35,734 | 45.63 | +5.49 |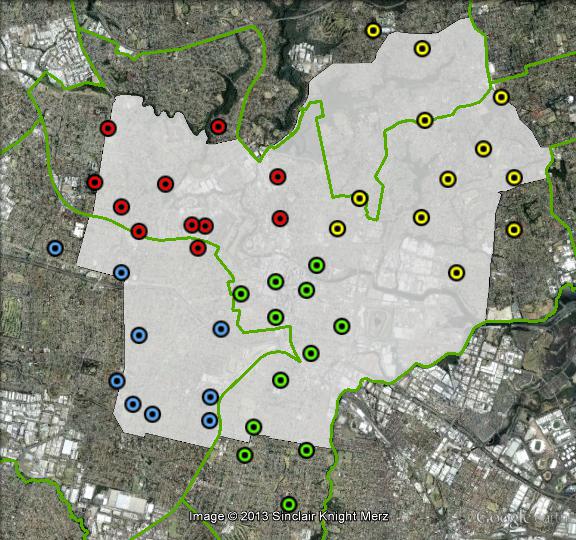 Booth breakdown
Booths have been divided into four areas:
North-East – Carlingford, Dundas, Oatlands, Rydalmere.

North-West – Westmead, North Parramatta, Constitution Hill, Wentworthville.
South-East – Parramatta CBD, Granville, Harris Park, Rosehill.
South-West – Merrylands, South Wentworthville, Holroyd.
The north-east has the largest proportion of the voting population, with the other three being a roughly even split.
The ALP won a majority in three of these four areas, with the Labor vote varying from 54.6% in the south-west to 60% in the south-east. The Liberal Party won a slim 51.7% majority in the north-east.
| | | | | |
| --- | --- | --- | --- | --- |
| Voter group | GRN % | ALP 2PP % | Total votes | % of votes |
| North-East | 7.40 | 48.26 | 20,530 | 26.21 |
| North-West | 8.42 | 56.58 | 13,939 | 17.80 |
| South-East | 8.46 | 60.00 | 13,574 | 17.33 |
| South-West | 6.13 | 54.62 | 12,832 | 16.38 |
| Other votes | 9.22 | 55.25 | 17,422 | 22.27 |