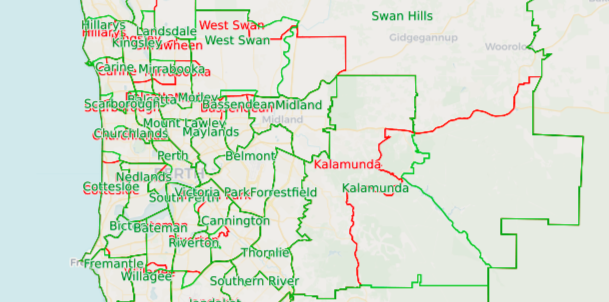 I managed to overlook a new electoral development amongst a rush of moving house at the end of last year: the final boundaries for the next Western Australian state election were confirmed at the end of November.
There is very little in the way of changes from the draft boundaries. I tracked down two extremely small changes which don't appear to have affected any actual voters.
The two real changes were in names of seats. The electorates of Girrawheen and Mirrabooka had been scrambled in the first draft, with the southern seat taking the name "Girrawheen" despite taking in more of Mirrabooka. That has been reversed, with that southern seat now called Mirrabooka. North of this seat was a new seat named Kingsway, a name confusingly similar to a nearby seat called Kingsley. This new seat is now called Landsdale.
Apart from these two name changes, the description of the new boundaries I gave in my August post on this topic is still valid. And you can check out Poll Bludger for the margins. I'm planning to calculate my own margins sometime soon.
Antony Green has also published his own detailed analysis for the WA parliamentary library.
And here is the map showing the boundary changes: