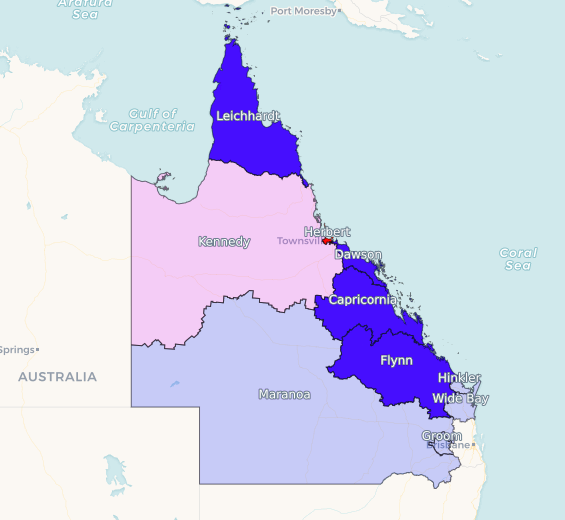 There are ten seats in Queensland outside of the south-eastern corner, including central and northern Queensland plus a handful of seats further inland. The Liberal National Party holds eight of these seats, along with one Labor and one seat held by Katter's Australian Party, but a number of these LNP seats are in play at this election.
There are five marginal seats I'm paying attention to in this post.
Each of these five seats is predominantly made up of one of the main cities of central and north Queensland (Gladstone, Rockhampton, Mackay, Townsville and Cairns) while also covering nearby rural areas.
Liberal National MP Ken O'Dowd holds Flynn by 1%. This seat covers Gladstone and rural areas between Gladstone and Rockhampton.
The LNP's Michelle Landry holds Capricornia by a 0.6% margin. The electorate sits immediately to the north of Flynn, covering the city of Rockhampton and rural areas between Rockhampton and Mackay.
The seat of Dawson covers Mackay and rural areas between Mackay and Townsville, and is held by the LNP's George Christensen by a 3.4% margin.
Labor holds the Townsville-area seat of Herbert by the slimmest of margins. Labor's Cathy O'Toole won in 2016 by just 37 votes, and her re-election bid is far from guaranteed. It's entirely possible that this could be one of the only Labor seats to fall while Labor makes gains elsewhere.
The Liberal National Party's Warren Entsch holds Leichhardt in far north Queensland by a 3.9% margin. Entsch has won Leichhardt at all but one election since 1996 (barring 2007, when he did not run). The seat's main population centre is Cairns, but it also covers the Cape York Peninsula.