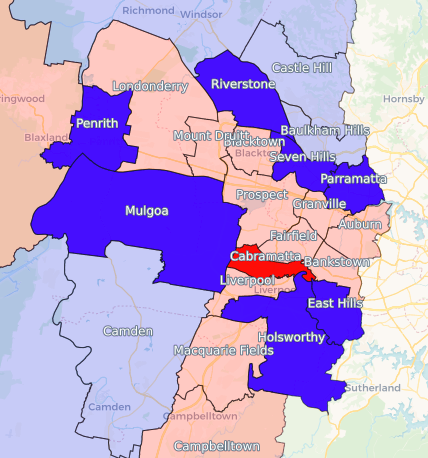 Over the next few weeks I will be running regular blog posts analysing various parts of the NSW state election. This will include summaries of the race in six geographic regions, starting today with the western half of Sydney.
Western Sydney has become a cliche when it comes to Australian elections. The mythical home of the swing voter, where major parties look to decide their key policies.
The reality is a bit different. The region does contain a number of marginal seats, but it also contains a large number of safe seats, mostly held by Labor. The region is very diverse, including the most multicultural suburbs in Australia while also contained mostly white suburban fringe seats.
I have defined the region as covering 25 seats, stretching to the Blue Mountains, Wollondilly and Hawkesbury on the city's western fringe, while also being bordered by the Hills district, Parramatta, Auburn, Bankstown, East Hills, Holsworthy and the Campbelltown area. This makes up almost half of the seats in Sydney, with another 29 loosely defined as eastern Sydney.
Twelve of these seats are held by the Liberal Party, while another 13 are held by Labor.
Six of Labor's seats are held by margins of over 10%, with Labor's margin peaking at 20.9% in Liverpool. They hold seats by margins of over 5% in four other seats, while Granville and Prospect are more marginal, held by margins of 2.1% and 3.4% respectively.
Five Liberal seats are held by margins of over 15%. This includes Camden and Wollondilly on Sydney's south-western fringe, and Castle Hill, Baulkham Hills and Hawkesbury at the northern end of the region.
There are seven other Liberal seats held by smaller margins, and I will run through each of those seats individually. I'll also mention one Labor seat which could be interesting.
This region looked very different when Labor was last in power. Labor held twenty-two out of twenty-five seats in this region at the 2007 state election, only missing out in the Liberal heartland of Hawkesbury and the Hills district. They then lost Penrith on a swing of almost 26% (two-party-preferred) in 2010, before losing a string of other seats in 2011.
They won some of these seats back in 2015, but other seats are still Liberal-held with sizeable margins. In addition to the seven seats I'll discuss below, the Liberals hold Wollondilly and Camden by margins of 17.3% and 18.3% respectively, despite only winning them when Labor's vote collapsed in 2011. Apart from the super-marginal seat of East Hills, the margins in the other key seats in this region are all quite substantial and will require larger swings than you would normally expect would be necessary for a party to form government.
This map shows the eight seats I am profiling, and I'll run through each seat below the fold:
East Hills is the most marginal seat in the state. This was also true after the 2011 election, when sitting Labor MP Alan Ashton lost to Liberal candidate Glenn Brookes by 494 votes. With Labor regaining ground in 2015, this seat was expected to be one of the first to flip, but instead Brookes held on with barely any change, defeating Labor candidate Cameron Murphy by 372 votes (0.4%), following a nasty whispering campaign based on false rumours.
If you check out the booth map of East Hills you'll notice a clear divide. The Liberal Party wins all of the booths at the southern end of the seat near the Georges River, while Labor won booths further north. This same divide can be seen in all of the state and federal seats along the river, with Liberal support growing in the wealthy riverfront suburbs and Labor still strong in the typical Western Sydney suburbs further north.
Liberal minister Stuart Ayres holds Penrith by a 6.2% margin. It is the seventh most marginal Coalition seat in the state, with the government needing to lose six seats to lose their majority. Labor held Penrith by a 9.2% margin after the 2007 election, so there is plenty of capacity for the Liberals to lose further ground. Ayres has been most famous recently as the minister responsible for the government's stadiums policy. Labor would be particularly targeting Penrith and its neighbour Mulgoa with its promise to reintroduce the cashback for the M4 toll.
The electorate of Holsworthy was a new name for the seat of Menai at the 2014 redistribution. The name change was necessitated because the seat shifted towards Liverpool and away from Sutherland, so most of the seat's population is now in the Liverpool area.
Liberal MP Melanie Gibbons has held the seat since 2011, and currently holds it by a 6.7% margin. Labor candidate Charishma Kaliyanda is running for a second time, after winning a seat on Liverpool City Council in the intervening period.
There is a stark divide in the voting map, with Labor winning a majority in nearly every booth west of the Georges River while the Liberal Party continued to win sizeable majorities in booths east of the river. Labor will need to make inroads in suburbs like Holsworthy, Moorebank and Chipping Norton if they are to win.
Seven Hills straddles the Blacktown and Parramatta areas, just at the southern tip of the Hills district. It was a new name for Toongabbie when the last redistribution shifted the seat further north. Toongabbie was won in 2007 by Labor's Nathan Rees, who went on to briefly serve as Premier. He only barely held on in 2011, and the seat was redrawn with an 8.8% Liberal margin before the 2015 election.
Mark Taylor now holds the seat by an 8.7% margin, which will likely be too much for Labor but could be a stretch goal. Labor's vote is strongest in the south-west of the seat, while the Liberal two-party-preferred vote exceeds 60% along the north-eastern boundary.
Mulgoa covers southern parts of the City of Penrith, as well as some semi-rural areas in Penrth, Fairfield and Liverpool councils. Liberal MP Tanya Davies won Mulgoa with a 23% swing in 2011, and was re-elected against a 3% swing in 2015. She now holds the seat by a 9.7% margin.
This is another seat where Labor would win easily if they recovered most of the swing they lost in 2011, so it will be a test of how much Labor has recovered since they lost power.
Labor lost Riverstone in 2011 with a shocking 30% swing, upon the retirement of John Aqualina after twenty years in the seat. The Liberal Party's Kevin Conolly's margin was trimmed by 8% in 2015, leaving him with a 12.2% margin.
This seat covers northern parts of the City of Blacktown, which are some of the fastest-growing suburbs in Sydney. Some of these areas are set to benefit from the state government's construction of the north-west rail link, which is due to open later this year.
In normal circumstances you'd expect a government to easily hold on to a seat with a 12% margin. Considering the rapid change in this area, I suspect that the Liberal Party will hold on comfortably, with Labor a long way away from regaining this seat, but it will be worth keeping an eye on.
Parramatta is another fascinating seat. Labor's Tanya Gadiel lost to Liberal candidate Geoff Lee in 2011, and he was re-elected with a slight swing towards him in 2015. He holds the seat by a 12.9% margin.
The Parramatta city centre has been changing quickly, thanks to large amounts of government investment in new jobs and transport infrastructure, as well as other features like a new football stadium. There has been substantial housing construction in the Parramatta CBD and neighbouring areas.
The federal seat of Parramatta is a much stronger seat for Labor. This is partly explained by the boundaries – state Parramatta mostly includes suburbs to the north of the CBD, while federal Parramatta leans more to the south – but the overlapping suburbs do also demonstrate a big difference, with Labor doing much better at the federal level.
This could hint at potential for a big anti-Liberal swing in 2019, but it seems unlikely in a seat which has seen so much state government spending in recent years.
Finally I wanted to mention one Labor seat: Cabramatta. On paper this is a safe seat, held by Labor's Nick Lalich with a 17.2% margin, but former Liberal candidate Dai Le is standing this time as an independent, and is worth watching. Le stood at the 2008 by-election and again in 2011, but has since distanced herself from the Liberal Party. She was elected to Fairfield Council as a Liberal in 2012 before leaving the party to run with the ex-Labor mayor in 2016.
It's hard to pick which seats could be vulnerable to a strong independent, but Cabramatta could be more interesting than expected.