The results from Saturday's Sydney state by-election were decisive. It was a clear victory for independent candidate Alex Greenwich, and for Clover Moore's political machine that supported his campaign.
The result was a slap in the face to the Liberal Party, who passed legislation forcing Clover Moore out of state Parliament and who ran a serious campaign to gain the seat after coming close to winning Sydney in 2011.
The result was a modest but positive result for the Greens, who increased their vote but were pushed aside by a strong progressive independent, as they have been in Sydney in state and local elections for the last decade.
There are numerous ways to interpret these results. Alex Greenwich gained a 12.2% swing on primary votes and an 11.8% swing on two-candidate-preferred votes, compared to Clover Moore in 2011. Is this a judgement that voters preferred a new independent to Clover? Are they voting for Greenwich as a surrogate for his mentor, or is it a signal to the Liberals that voters didn't appreciate Clover being removed mid-term and an unnecessary by-election being forced upon them? It's likely a combination of those things.
Certainly the swings towards Greenwich and the Greens are greater than they would have been if the ALP had stood, but the absence of the ALP doesn't explain the swing against the Liberals. Collectively the Greens and the independent gained a swing of 17.2% on primary votes, substantially more than the 11.3% vote recorded by the ALP. It's also worth remembering that not all Labor voters would have cast a ballot for one of the other progressive candidates.
You can also compare like with like by looking at the 2CP vote, which was between a Liberal and an independent in both 2011 and 2012. After Clover Moore held on with a slim margin of 3.1% in 2011, this margin has now been expanded to 14.9%.
The real test now will be how Greenwich performs. There is a history of retiring independents successfully transferring their seat to a chosen successor for one term, but for their successors to be less capable of holding onto the seat in the long run. Now that Greenwich is the Member for Sydney he will be judged on his own agenda and his own achievements. Clover Moore isn't going anywhere, but will Greenwich be able to win future terms in Parliament as the 'Clover Moore party' candidate?
After the fold I have posted some detailed breakdowns of vote by geographic areas, and maps.
I have broken Sydney into four geographic areas: the same areas I used for my guide to the seat at the 2011 state election and for my guide to this by-election. You can compare my analysis here to my analysis of the 2007 and 2011 election results at those links.
These four areas are named after the key suburb in each of the areas: Sydney, Darlinghurst, Surry Hills and Paddington. I haven't attempted to analyse the results for the 'other votes' (absentee, postal, prepoll, ivote, declaration) as most of these have yet to be counted.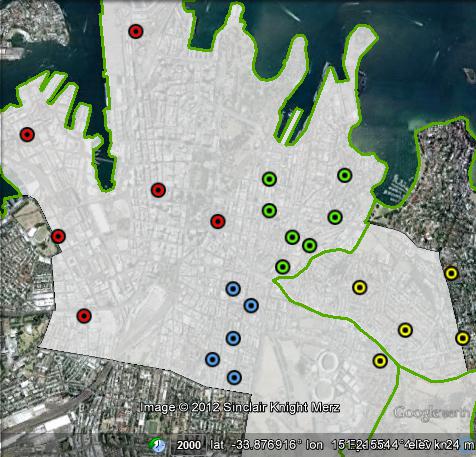 | | | | | | | |
| --- | --- | --- | --- | --- | --- | --- |
| Area | GRN % | IND 2PP % | GRN sw | 2PP sw | Total votes | % of ordinary votes |
| Sydney | 17.88 | 59.50 | 6.89 | 6.59 | 8,846 | 32.19 |
| Darlinghurst | 17.80 | 68.38 | 3.05 | 12.87 | 8,083 | 29.42 |
| Paddington | 15.73 | 56.56 | 5.65 | 10.05 | 5,798 | 21.10 |
| Surry Hills | 19.82 | 76.08 | 6.02 | 8.71 | 4,752 | 17.29 |
I have posted above the percentage of the vote for Alex Greenwich on a two-candidate-preferred vote. You can calculate the percentage for Shayne Mallard by subtracting the Greenwich number from 100. I have also included the two-candidate-preferred swing to Greenwich (and thus away from Mallard), and the primary vote percentage and swing for the Greens.
The swing to Greenwich was largest in Darlinghurst, where he polled 12.9% higher than Moore in 2011. However Surry Hills, where he gained a more modest 8.7% swing, was still the strongest area for Greenwich. He polled 76% in Surry Hills, 68% in Darlinghurst and under 60% in Sydney and Paddington.
The Greens vote peaked at just under 20% of the primary vote in Surry Hills, polling 17.8% in Darlinghurst and Sydney, and 15.7% in Paddington.
Greenwich won a majority of the 2CP vote in all but one booth. Mallard won the St Joseph's Edgecliff booth at the eastern edge of the seat. St Joseph's is the second smallest booth in the seat, and Mallard won with a modest 54.4% majority.
Alex Greenwich (compared to Clover Moore) gained a positive swing at every single booth on both a primary vote and two-candidate basis. Primary vote swings varied from 1% at St Joseph's in Edgecliff to 17% at Reginald Murphy Hall in Potts Point. 2CP swings varied from 0.2% at Unitarian Church Hall in East Sydney to 16% at Reginald Murphy Hall in Potts Point.
Mallard's vote declined at all but one booth on primary votes, and at all booths on a two-candidate basis. Primary vote swings varied from -12.9% at St Columba in Woollahra to +3% at Unitarian Church Hall in East Sydney.
The vote for the Greens' Chris Harris increased at all but one booth. The Greens vote declined by 0.7% at the Unitarian Church Hall, compared to a 15.5% swing to the Greens at Ultimo Public School.
Ultimo was one of five booths where the Greens outpolled the Liberal Party on primary votes. All of these booths were in the Surry Hills or Sydney parts of the seat. Alex Greenwich came first on primary votes in all but four booths. The Liberal Party came first in three booths at the eastern edge of the seat, as well as one booth in Pyrmont. Greenwich won three of these four booths on a 2CP basis thanks to Greens preferences.