IND vs NAT 21.5%
Incumbent MP
Tony Windsor, since 2001. Previously state Member for Tamworth
Geography
The New England region of northern NSW. The main towns include Tamworth, Armidale and Glen Innes. New England covers Armidale Dumaresq, Glen Innes Severn, Gunnedah, Guyra, Inverell, Liverpool Plains, Tamworth, Tenterfield, Uralla and Walcha council areas.
History
New England is an original federation electorate, and has been mostly won by conservative parties. The seat was held by the Country Party and National Party from 1920 until 2001, when it was won by independent Tony Windsor.
The seat was first won in 1901 by Protectionist candidate William Sawers, who had previously been a state MP since 1885. In 1903 he was defeated by Free Trade candidate Edmund Lonsdale, who himself was defeated in 1906 by ALP candidate Francis Foster.
Foster is the only Labor candidate to ever win New England, and was reelected in 1910 before losing the seat in 1913 to Liberal candidate Percy Abbott. Abbott was a serving AIF officer at the time, and served as a Lieutenant Colonel at Gallipoli in 1915 while serving as a member of the House of Representatives. He retired from the House of Representatives in 1919. He later ran for the Senate for the Country Party in 1922 and held a Senate seat from 1925 to 1929.
The seat was won in 1919 by Alexander Hay. Like Abbott, Hay was supported by the Farmers and Settlers Association, and when they formed the Country Party in 1920 he became one of their first MPs. Hay's time with the Country Party was unhappy and he was expelled in 1922 for voting against the party. He stood at the 1922 election as an independent, losing to official Country Party candidate Victor Thompson.
Thompson held New England for a long period, serving as a minister in conservative federal governments from 1937 to 1940, but lost his seat at the 1940 election, when he was challenged by two other Country Party candidates, and was defeated by Joe Abbott.
Joe Abbott served as a minister in Robert Menzies and Arthur Fadden's wartime governments, and held the seat until his retirement in 1949. He was succeeded by David Drummond, who had been a state MP since 1920. He held the seat until his retirement in 1963.
The seat was won in 1963 by Ian Sinclair. Sinclair joined Robert Menzies' ministry in 1965 and served as a minister right up until the election of the Whitlam government in 1972. He returned to the ministry in 1975 and served for the entirety of the Fraser government, barring a period in 1979 and 1980 when he stepped down due to allegations of forgery in relation to his father's will.
Following the defeat of the Fraser government National Country Party leader Doug Anthony resigned in 1984, and Sinclair succeeded him. In 1989, he was replaced as leader by Charles Blunt, and he went to the backbench. He remained there until 1998, when he served briefly as Speaker in the final months of the first term of the Howard government, before retiring in 1998.
In 1998, New England was won by Nationals candidate Stuart St Clair, whose time in the seat was short-lived. He was defeated in 2001 by independent candidate Tony Windsor, who had held the state seat of Tamworth as an independent since 1991, when he had been deselected as a Nationals candidate. Windsor has held New England ever since.
Windsor held the seat with margins over 70% at the 2004, 2007 and 2010 elections.
After the 2010 election, Windsor found himself in the balance of power, and decided to support Julia Gillard's minority Labor government.
Candidates
Sitting independent MP Tony Windsor is not running for re-election.
Phillip John Girle (Palmer United Party)
Brian Dettmann (One Nation)
Pat Schultz

(Greens)

Rob Taber (Independent)
Jamie McIntyre (Independent)
Barnaby Joyce 

(Nationals)

Richard Witten (Citizens Electoral Council)
Stephen Hewitt

(Labor)

Aaron Michael Evans (Christian Democratic Party)
Assessment
Now that Tony Windsor has announced he will not run, Barnaby Joyce should be comfortably elected.
2010 result
| | | | | |
| --- | --- | --- | --- | --- |
| Candidate | Party | Votes | % | Swing |
| Tony Windsor | IND | 56,145 | 61.88 | +5.13 |
| Tim Coates | NAT | 22,991 | 25.22 | -0.32 |
| Greg Smith | ALP | 7,414 | 8.13 | -2.77 |
| Pat Schultz | GRN | 3,252 | 3.57 | +0.26 |
| Brian Dettmann | ON | 794 | 0.87 | -0.29 |
| Richard Witten | CEC | 306 | 0.34 | +0.08 |
2010 two-candidate-preferred result
| | | | | |
| --- | --- | --- | --- | --- |
| Candidate | Party | Votes | % | Swing |
| Tony Windsor | IND | 65,203 | 71.52 | -2.89 |
| Tim Coates | NAT | 25,969 | 28.48 | +2.89 |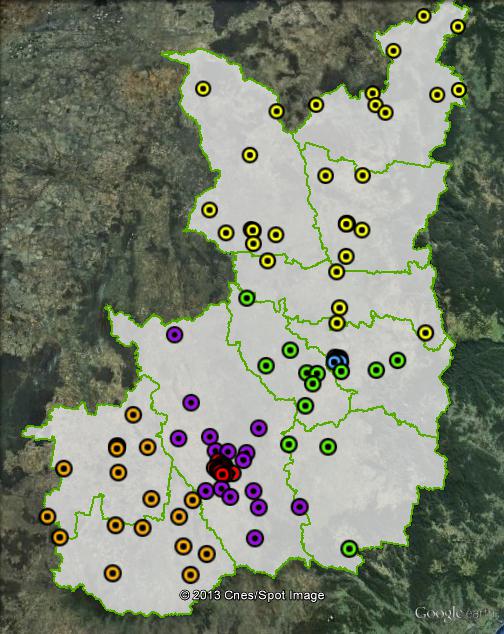 Booth breakdown
Booths have been divided into six areas. The two main urban areas of Armidale and Tamworth have been grouped together, separately from rural booths in the surrounding areas.
Regional areas have been split into four areas. Booths in Tamworth Regional Council outside of the Tamworth urban area have been grouped as 'South Central'. Booths in Gunnedah and Liverpool Plains LGAs have been grouped as 'South West'. Booths in Armidale-Dumaresq, Uralla and Walcha (apart from the Armidale urban area) have been grouped as 'South East'.
Booths from Guyra to the northern boundary have been grouped as 'North'.
Tony Windsor's two-candidate-preferred majority varied in 2010 from 66.8% in the north to 77.9% in Armidale.
| | | | | |
| --- | --- | --- | --- | --- |
| Voter group | ALP % | IND 2CP % | Total votes | % of votes |
| Tamworth | 7.24 | 72.19 | 19,206 | 21.07 |
| North | 8.76 | 66.81 | 16,726 | 18.35 |
| Armidale | 10.50 | 77.89 | 10,652 | 11.68 |
| South West | 10.16 | 71.05 | 9,553 | 10.48 |
| South Central | 6.07 | 70.41 | 8,256 | 9.06 |
| South East | 6.77 | 74.33 | 4,827 | 5.29 |
| Other votes | 7.48 | 71.42 | 21,952 | 24.08 |