I'm now in Brisbane, and to kill time on the plane up I took a map of Queensland and flipped the seats I thought would fall. Of course, predictions are always fraught and I'm sure I'll make plenty of mistakes. I'm gonna run through the predictions over two posts, but here is the overall prediction:
ALP – 42 (-17)
LNP – 42 (+17)
Ind – 5 (+1)
ON – 0 (-1)
GRN – 0 (-)
Now I know this looks very symetrical, with the ALP and LNP stuck on the same number, but that's mostly coincidence. Also there are some similarities to William Bowe's predictions at Pineapple Party Time, but that's probably unsurprising.
I'm working off the redistribution figures, so in the case where a party changes hands under the redistribution (such as Burdekin, Glass House and Clayfield) I'm counting them as notional seats post-redistribution. So I'm predicting that Tim Nicholls will hold Clayfield, but I count that as an ALP loss and an LNP gain.
The make-up of the seat changes are:
20 seats going from the ALP to LNP.
1 seat going from the LNP to ALP
1 seat going from the Greens to the LNP
1 seat going from the LNP to an Independent
A 42-42 tie would produce a likely LNP government, with Copeland and Cunningham very likely to support an LNP government, and an overall anti-Labor sentiment likely giving them government.
So let's go through them by region:
Brisbane:
The map below shows a predicted election result. Light blue seats are those that I predict the LNP will win off other parties. In Brisbane I predict that the LNP will gain five seats off the ALP and one seat off the Greens. LNP Shadow Treasurer Tim Nicholls  will overcome the redistribution and hold his seat, and I expect that the ALP will lose Aspley, Chatsworth, Cleveland and Springwood. I considered Redlands and Redcliffe but I leant against those seats falling, although it is very possible, as it is possible that safer ALP seats such as Everton could fall. This prediction comes from a 5-6% swing across Brisbane.
I also predict that the LNP will win Indooroopilly off Greens MP Ronan Lee. This would have been an easy prediction if the ALP was not preferencing the Greens, but I believe this will come down to the line. However the fact remains that Lee was not able to come first on primary votes in 2006 when he was an ALP member during a landslide election. If Scott Emerson manages an underwhelming 3% primary vote swing, that puts him on 45%, and I can't see enough ALP voters preferencing Lee to give him the seat in that situation.
In the Sunshine Coast there is only one remaining Labor MP, in the seat of Pumicestone, straddling the Sunshine Coast and Brisbane. I predict that seat will fall. I'm predicting a 5% swing in the Sunshine Coast, but pretty much any swing to the LNP would produce an ALP wipeout.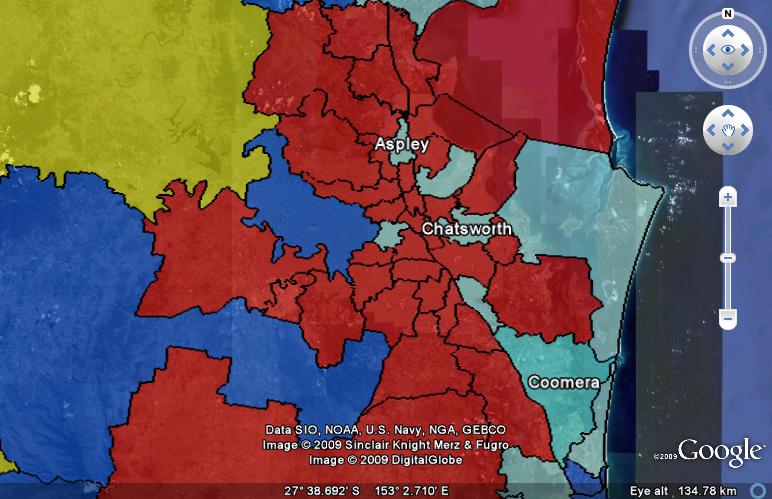 Gold Coast
There are ten electorates the ECQ classifies as being part of the Gold Coast, and following the redistribution only four of these ten seats were held by the LNP. While the LNP has caused itself a lot of local trouble over funding for the new Gold Coast AFL stadium, I still think they will net a lot of the seats they need to form government. As you can see below on this map, I predict that the LNP will gain a further five seats, with the ALP only holding on to the seat of Albert, straddling the Logan area in the northwest of the Gold Coast region. This would happen on a predicted swing of 9%.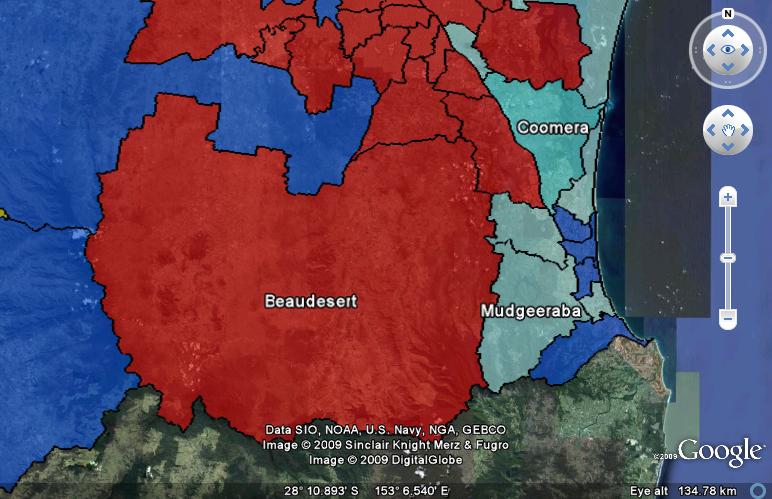 Inland South-East Queensland
In spite of my prediction of a swag of LNP seats falling, I predict the LNP will lose two seats in South-East Queensland. I'm making an entire reckless prediction that former LNP MP Stuart Copeland will defeat the official LNP candidate. I also predict that, while she has no chance of winning, Pauline Hanson will perform surprisingly well in Beaudesert on the back of a sympathy vote over the supposed nude photos in News Limited papers as well as a general anti-major-party swing. I believe this will largely eat up the usual anti-Labor vote, and should push the LNP, whose campaign has been very shoddy in the electorate, down below the ALP.
I also predict that, outside of those two seats, there will be a swing in South-East Queensland large enough to topple the ALP in Toowoomba North.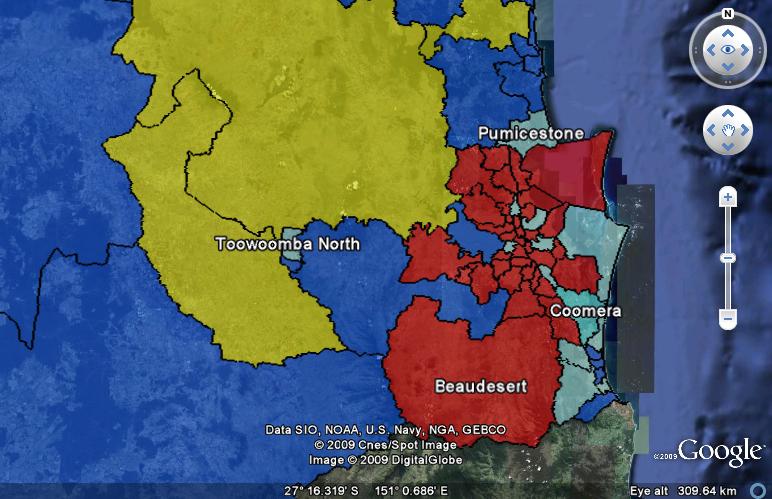 Tomorrow: my predictions in Western Queensland, North Queensland and Central Queensland.
Update: Stuart Copeland, independent candidate for Condamine, says in comments:
Thanks for the reckless prediction – hope you are right. I think you are the first and only person to predict a Copeland victory.
Well, you can't win if you don't play.