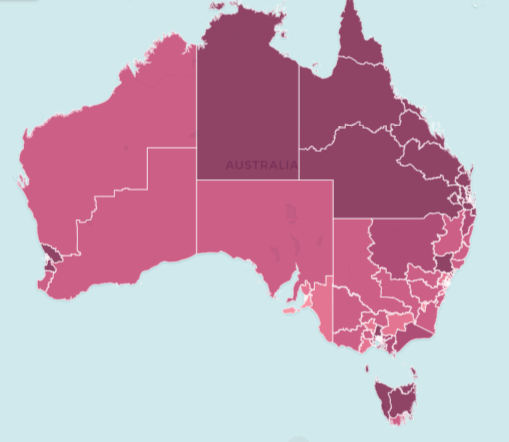 Clive Palmer's United Australia Party is running a big campaign in this federal election, with a big-budget national advertising campaign. It's hard to know how well they will perform, but it'd be silly to ignore a party with such a big campaign.
In one sense the party is new, but it's actually a successor to Palmer's United Australia Party, who ran in the 2013 federal election. That campaign was similar, with a big-budget campaign spread over the whole country.
One thing I have noticed about Palmer's campaign, both in 2013 and 2019, is the seeming lack of targetting in the spending of money. While I don't have any solid data, Palmer appears to be spending his large budget fairly indiscriminately. While that partly makes sense if they are prioritising a Senate vote, but it does mean we have to look elsewhere to have a sense of where they may do best.
So I decided to map out how PUP performed in 2013.
Of course there has been changes to the electoral map since 2013. The changes have been minor in Tasmania, Queensland and the Northern Territory, but changes have been more dramatic in the other five jurisdictions.
The map shows the PUP Senate vote in 2013, although you can also see the House vote by toggling. The party did slightly better in the House.
Palmer's party polled 4.9% in the Senate and 5.5% in the House nationally.
The vote was highest in Queensland, where he polled just under 10% in the Senate and 11% in the House.
The party also did relatively well in Tasmania, with over 6%, and just over 5% in Western Australia. In contrast the party polled under 4% in the other three states.
When you zoom in on the map you will see the party polled best in outer-suburban and regional electorates, and a lot worse in the more urban seats.
The only area where Palmer cracked 10% in the primary vote was in the south-eastern Queensland region. Apart from a block of nine seats in the Brisbane area, he polled over 10% in every seat from Hinkler to the Gold Coast.
It's entirely possible that the pattern will be different in 2019 – presumably some of that Tasmanian vote will instead prefer Jacqui Lambie's own party, and Palmer does appear to be sitting further to the right than he did in 2013 – but it does give a sense of where his campaign has the most potential to pay off.