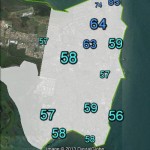 LNP-turned-independent Queensland MP Scott Driscoll resigned from Parliament earlier this week, facing the threat of expulsion from the Parliament.
His seat of Redcliffe will go to the polls in early 2014 – meaning we now have two expected by-elections due in early 2014 in Brisbane – the state Redcliffe by-election and the federal Griffith by-election, triggered last week by the resignation of Kevin Rudd.
Redcliffe was Labor-held until 2012, when Scott Driscoll won the seat with a 10% margin, following a swing of over 15%.
The seat's territory proved to be very close at the recent federal election, and the seat could swing either way at a by-election early in the new year.