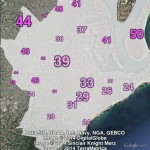 Yesterday's twin by-elections in the Hunter region of New South Wales saw Labor regain two seats it had lost at the 2011 election – seats traditionally considered to be heartland Labor territory.
The results were never in significant doubt, but the results in the two seats are quite interesting.
In Newcastle, Labor is expected to win, but currently sits on less than 37%. Most of the remaining vote is split between an independent Liberal and a Greens candidate, and preferences are not expected to flow. On election night, a preference count was conducted between Labor and the Greens, but independent candidate Karen Howard came second, so a new count will need to be undertaken to confirm Labor's victory.
In Charlestown, immediately south of Newcastle, the Labor result was much clearer. Labor won 49.7% of the primary vote, with the Greens second on 14.1%. After the distribution of preferences, Labor has won 70.4% of the two-candidate-preferred vote, an easy win.
Charlestown was an easy win, but it's hard to compare that result to a general election due to the absence of a candidate to pick up the Liberal mantle. In Newcastle, Karen Howard appears to have won most of the Liberal vote from 2011, so it is possible to run a comparison. In Newcastle, the Labor vote increased by 6.3%, and the Greens vote increased by 5%. Karen Howard polled 10.4% less than the Liberal Party. If you assume Howard is a stand-in for the Liberal Party, the by-election points to Labor improving its position since the last state election, but not by enough to win the next state election. It should be noted, however, that by-elections are not good measures of statewide performance – last year's Miranda by-election produced a much more emphatic swing to Labor. Polls suggest that Newcastle was more in line with statewide performance, but a by-election is not the best way to measure that performance.
In this post, I will break up the votes in each electorate into sub-areas, and post a series of maps illustrating the result, all over the fold.