With the recent death of former Labor Prime Minister Gough Whitlam, discussion has already started about the possibility of creating a federal electorate bearing his name. With a federal redistribution due for New South Wales in 2015, there appears to be a real possibility that an electorate bearing the name 'Whitlam' could be contested for the first time at the 2016 federal election.
Most Westminster parliamentary systems use geographic descriptors to name their electorates. Australian state electorates in most cases take the name of a key suburb in their electorate, and names tend to change often as suburbs shift between seats. New Zealand electorates follow a similar model. Constituencies in the United Kingdom and Canada also use geographic names, but often pair two or more geographic names together if a seat has more than one major centre (eg. Pitt Meadows—Maple Ridge—Mission in Canada, or Houghton and Sunderland South in the UK).
Australian federal electorates have followed a different naming convention, often using names that are not tied to a particular geographic area and can maintain their 'identity' even while some of the suburbs within the seat may change. A majority of federal electorates are named after prominent Australians. There are a number of electorates that still carry the names of geographic areas, but most of these are holdovers from an earlier era, and in most cases are named after major centres (eg. Sydney, Melbourne, Newcastle, Fremantle).
The Australian Electoral Commission issues guidelines for naming divisions, which indicates a preference for naming new divisions after prominent deceased Australians, and in particular suggests naming seats after Prime Ministers. It also looks to protect seats with indigenous names, or with names that date to the first federal Parliament in 1901, and discourages the use of geographic names or duplicating the name of a state electorate.
There is a federal division carrying the surname of every Prime Minister to serve before Gough Whitlam (it's unclear to me whether the seat of Cook in southern Sydney is solely named for Captain James Cook, or also for former Liberal prime minister Joseph Cook, but there is a seat with the name).
There has been wide variation in how quickly the AEC has acted to create a seat named after a Prime Minister following their death.
John Gorton – died 2002, seat of Burke renamed Gorton for 2004 election. Gorton is in the outer western suburbs of Melbourne, whereas John Gorton represented Higgins in the eastern suburbs.
William McMahon – died 1988, seat of Prospect renamed McMahon for 2010 election. McMahon is in the western suburbs of Sydney, whereas William McMahon represented Lowe in the inner west. At the 2009 redistribution, the seat of Lowe was renamed Reid, with the seat of Reid effectively abolished.
Frank Forde – died 1983, new seat of Forde created in 1984 when Queensland was given five additional electorates. Forde covers the southern fringe of Brisbane around the Logan area, whereas Frank Forde represented Capricornia in central Queensland.
John McEwen – died 1980, new seat of McEwen created in 1984 when Victoria was given five additional electorates. McEwen covers rural areas to the north of Melbourne, while John McEwen represented Murray and Indi, both in northern Victoria.
Robert Menzies – died 1978, new seat of Menzies created in 1984. Menzies covers parts of Eastern Melbourne, and is adjacent to Robert Menzies' former seat of Kooyong.
Arthur Fadden – died 1973, new seat of Fadden created in 1977. Fadden was first drawn to cover southern Brisbane, but now covers northern parts of the Gold Coast. Arthur Fadden first represented the Darling Downs in southern rural Queensland, and then McPherson, which at the time covered the southern Gold Coast and large areas further west but has since contracted into the Gold Coast.
Harold Holt – presumed dead 1967, new seat of Holt created in 1969. Holt is on the south-eastern fringe of Melbourne, whereas Harold Holt represented Higgins in the inner east of Melbourne.
Looking at the five most recent examples, we see some broad trends. Firstly, most Prime Ministers tend to get seats named after them not long after they died – it was less than five years in five out of seven cases. In the case of Robert Menzies, the seat was created six years after his death. Billy McMahon's case is the only exception – a seat was not created for 21 years after his death.
In the case of the three Prime Ministers who died in the late 1970s and early 1980s, it was relatively easy for the Electoral Commission to name seats after them in the 1984 redistribution, which was triggered by the addition of over twenty new seats to the House of Representatives. A large number of prominent Australians were honoured with electorate names, including three Prime Ministers (the longest-serving PM, and two of the shortest-serving PMs).
In the two most recent cases, seats were renamed, rather than a new seat being created. This is likely to be the same in the case of Whitlam.
There is also a trend in terms of what areas are graced with the name of a former Prime Minister. In all cases, the former Prime Minister's seat lies in the state they represented in the Parliament, but often does not cover the same area. The seats of Menzies, McEwen and Fadden cover roughly similar areas. McMahon is a little bit further away, while Holt, Forde and Gorton cover wildly different areas. You can also see this with earlier Prime Ministers – Edmund Barton represented the Hunter region, but his seat lies in southern Sydney. Billy Hughes represented central Sydney, northern Sydney and briefly Bendigo, but his seat covers parts of south-western Sydney and the Sutherland Shire.
The AEC has also never paid any consideration to giving Prime Ministers' names to seats that their party now represents – many seats named after Prime Ministers are very safe seats for the opposing party.
So what are the options for a seat named 'Whitlam'? I think it's safe to assume that the seat will lie in New South Wales, where Whitlam lived much of his life and where he served as an MP. Conveniently, New South Wales is due for a redistribution next year, due to the NSW population not keeping up with the rest of the country, which will necessitate a reduction of NSW seats in the Parliament from 48 to 47. Unfortunately there is no prospect of New South Wales gaining additional seats in the near future, so a new seat of Whitlam will have to be a new name for an existing seat.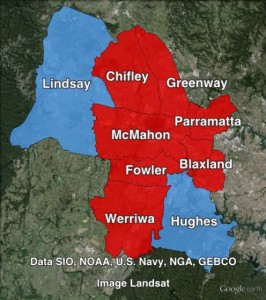 I also think the best option for a seat of Whitlam lies in Western Sydney, which he represented in Parliament and is particularly seen as connected to the Whitlam legacy. There are a large number of seats in Western Sydney, many of which have good reasons why the AEC would not want to replace the existing name with 'Whitlam':
Werriwa – the seat Gough Whitlam represented from 1952 to 1978. The seat has an indigenous name, and is an original Federation electorate, which may see it saved. On the other hand, 'Werriwa' is a reference to Lake George in southern NSW, which was contained in the electorate in 1901. It bears little relevance to the south-western Sydney area that the seat now covers, and Whitlam may make more sense as a seat name.
Fowler – immediately north of Werriwa, covering much of the areas that lay in Werriwa when Whitlam sat in Parliament. The seat is named after Lilian Fowler, who was the first female Mayor in Australia when she served as Mayor of Newtown, and then went on to sit as a Lang Labor MP in the NSW state Parliament in the late 1940s. There are very few seats named after women, but she is much less prominent a figure than Gough Whitlam.
Hughes - also substantially overlaps with the area Gough Whitlam represented, but is already named after a Prime Minister.
McMahon – partially overlaps withthe area Gough Whitlam represented, but is already named after a Prime Minister.
Blaxland – Whitlam did not represent this area, but was still a significant beneficiary of the Whitlam legacy. The current name can be confusing, considering the name of the town of Blaxland in the Blue Mountains – quite a long way away from the electorate. It is also worth bearing in mind that this seat could eventually be an appropriate seat to be renamed after Paul Keating when that time comes.
Parramatta – An original electorate, but as a geographic name that is also used for the City Council and state electorate (both of which have different boundaries) it can be quite confusing. Previous electoral redistributions have also brought Parramatta close to shifting out of the Parramatta CBD, so a more flexible name may make life easier for the boundary commissioners.
Chifley - named after a Prime Minister, and not an area that Whitlam represented.
Greenway – named after colonial architect Francis Greenway.
Lindsay – named after Australian artist Norman Lindsay.
There are clearly a number of options, none of them perfect, and I expect we will see a variety of submissions by political parties and others during the redistribution process.
To my mind, I think the most likely seats to be renamed are Parramatta or Werriwa. They are the only seats in the region not to be named after a prominent Australian, and while they are both Federation names, their geographic descriptions are either constraining (in the case of Parramatta) or irrelevant (in the case of Werriwa).
I also think there is an outside chance that the commissioners could rename Fowler, Lindsay or Greenway, as those seats are not already named after Prime Ministers.
What do you think?