Australian federal electorates follow a fairly unique naming convention. Australian state seats are usually named after geographic locations, which is also common for national electorates in Canada, the UK and New Zealand, while electoral districts in the United States are generally given numerical names.
The majority of Australian federal electorates are named after prominent individual Australians, as a way of honouring those people. 113 out of 150 seats in the current parliament are named after people, while 37 are named after geographic features.
The AEC is usually hesitant to rename seats, and their guidelines prioritise maintaining existing seat names. Yet seats do change from time to time: states gain additional seats, population shifts within a state sometimes require a seat to be abolished, and there is pretty much a hard-and-fast rule that former prime ministers are honoured with a seat as soon as possible after their death.
Because of this practice, most seat names are those that were named in the first half of last century: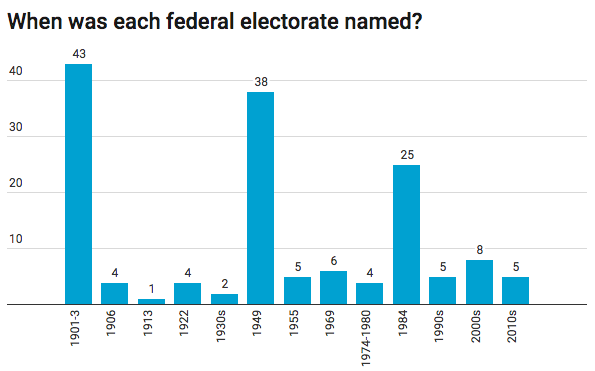 43 seats are those created for the first parliaments. 35 seats have survived since 1901, while eight other seats are the same as when they were created in Tasmania and South Australia in 1903 (those states did not use single-member electorates in 1901).
There were spikes in seat names in 1949 and 1984, when the parliament was expanded. More than two thirds of electorates were named in these three peak periods.
Thus it's not surprising to discover a strong bias towards naming seats after white men. This partly reflects the era in which seat names were coined, but also reflects how men were much more likely to qualify as someone who had "rendered outstanding service to their country" in an era where women didn't get the same opportunities.
After the fold I will run through why this has happened, and how the AEC isn't making anywhere near enough progress towards honouring a more diverse cross-section of Australians. You can also download the dataset I used to conduct this analysis.