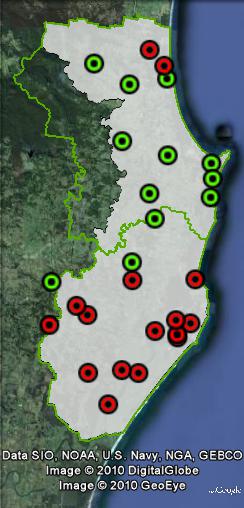 Following on from my post on the Greens overtaking the ALP on the north shore of Sydney, I have just been working on the booth map for the north coast seat of Ballina. The seat covers Ballina Shire and most of Byron Shire. Byron in particular is heartland territory for the Greens. It is the only council area to have a directly-elected Greens mayor in Australia. The ALP came second in the state seat of Ballina in 2007, with 23% to 19% for the Greens. The Nationals' Don Page won the seat in 2007 with 54% of the primary vote and winning 64.5% of the two-party-preferred vote against the ALP.
This map shows which out of the ALP and Greens came second in each booth. The Nationals polled the most votes in every booth, although it was a close contest in Byron Bay and Mullumbimby.
Greens booths are marked in green and Labor booths in red. The green line marks the local government boundary, Ballina Shire covers the southern half of the seat and Byron Shire covers the northern half.
The Greens clearly came second throughout most of Byron Shire, but the ALP came second throughout most of Ballina Shire, which makes up a majority of the seat's population.