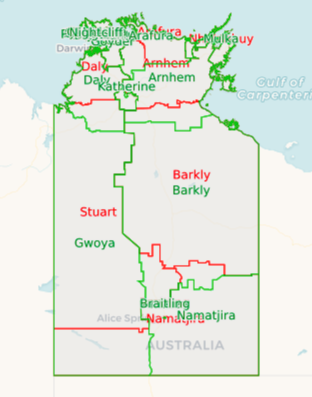 While we've been focused on the federal election, redistributions have been progressing for the local Legislative Assemblies in both the ACT and the Northern Territory.
I blogged about the population numbers in the NT in April, and since then the first draft of the boundaries have been released.
In that post I suggested that changes did not need to be overly dramatic, particularly in the majority of seats in the Darwin-Palmerston area, but that the Alice Springs seats were well over quota and would need to lose population to the surrounding rural seats.
And that is largely what has happened. Both Alice seats shrunk, giving off surplus population to the surrounding seat of Namatjira. That seat then shrunk, triggering a cascading effect as another five seats stretching from end to end of the territory all edged south to accomodate the shrinking southern seats.
7.8% of the territory's population has been moved into a new seat. 44% of the population of Namatjira was previously in either Araluen or Braitling. Three other rural seats (Arnhem, Barkly and Stuart/Gwoya) include over 20% who were previously in another seat.
Four seats were unchanged: Goyder, Karama, Nhulunbuy/Mulka and Port Darwin.
Two seat names have been changed Nhulunbuy in the north-eastern corner of the territory has been renamed Mulka, while the south-western seat of Stuart, which stretches from the Timor Sea to the South Australian border, has been renamed Gwoya.
I've included a map showing the changes below the fold, along with a link to download the file yourself.
Green lines on the map show the new boundaries, while red lines indicate former boundaries, where they have changed. You can toggle these layers off if you wish.
I was originally considering making my own estimates of the redistribution margins, but it proved too difficult, particularly in the remote electorates. Many NT electorates only have one or two booths within them, and in the large rural electorates the ordinary booth votes make up a small proportion of the electorate. At the moment I don't see changes dramatic enough to change the notional party in any seat, but I expect we'll eventually get margin estimates from someone, potentially with access to more data.
If you want to download the boundaries file as a Google Earth KMZ file, it's now been posted on the maps page. I've also posted the equivalent file for the ACT redistribution. I'll return to that redistribution once I've had a chance to calculate the party numbers in the new electorates (which is much easier in the ACT).