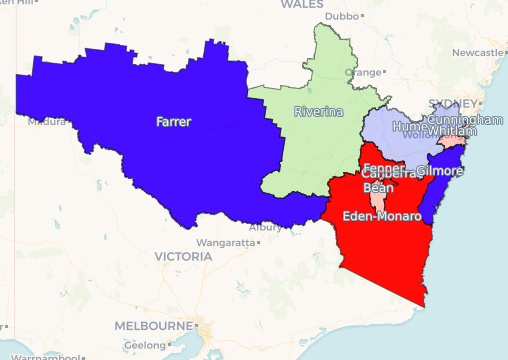 For my next regional focus I decided to split regional New South Wales into two areas: north and south. Today I'll be looking at the seven seats in southern NSW, plus the three seats in the ACT.
Labor holds six of these seats, the Liberal Party holds three, and the seat of Riverina is held by Nationals leader and deputy prime minister Michael McCormack.
There are four seats that I think are worth paying attention to.
The NSW south coast seat of Gilmore is one of the most marginal seats in the country, held by Liberal MP Ann Sudmalis by a margin of 0.7%. It would be a hard enough seat for the government to hold in the national polling environment, but it's been made even harder thanks to a three-way split in the Coalition vote.
Sitting MP Sudmalis announced her retirement in the face of a serious preselection challenge from Grant Schultz, but his Liberal preselection was overruled in favour of former Labor national president Warren Mundine. Schultz is instead running as an independent. The Nationals have also jumped into the race, running former state minister Katrina Hodgkinson. It seems likely that Labor will win but the wildcards of Hodgkinson and Schultz could make things more unpredictable.
Labor's Mike Kelly holds the seat of Eden-Monaro by 2.9%. This seat had gone with the party of government from 1972 until Kelly won in 2016. National trends should give Kelly the edge to win re-election, but this seat can be unpredictable, particularly if Labor is struggling in regional New South Wales.
A lot of attention has been paid to the normally-safe Liberal seat of Farrer. This seat covers Albury and other areas on the New South Wales side of the Murray River. Liberal MP Sussan Ley holds Farrer by a 20.5% margin, but is facing a strong challenge from Albury mayor Kevin Mack, running as an independent.
Finally I wanted to mention the new inner-city seat of Canberra. This electorate was created in the recent redistribution as the ACT's third seat (confusingly the name 'Canberra' previously applied to a southern electorate now renamed 'Bean'). Labor holds this seat by a 12.9% margin, and will probably win another term here, but the seat also holds potential for the Greens to try and build a marginal Labor-Greens seat in the inner city of Canberra.