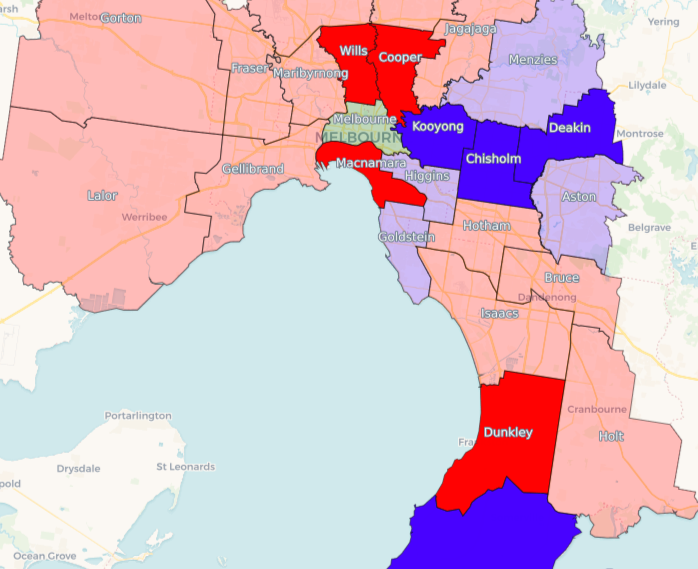 There are 25 federal electorates in the Melbourne metropolitan area. Labor won 16 of these seats in 2016, with the Liberal Party winning eight and the Greens winning one.
There are nine seats I wanted to zoom in on in today's post, with the map below the fold:
The seat of Chisholm is held by independent MP Julia Banks, who was the only Liberal to win a seat off Labor in 2016 but subsequently left the party following Malcolm Turnbull's removal from the leadership. Banks herself has shifted to run in Flinders, leaving Chisholm as an open seat. It's hard to see the Liberal Party holding on here.
The seat of Batman has been renamed Cooper. This seat is in the inner north of Melbourne and was won by Labor's Ged Kearney at last year's by-election. This has been fiercely contested by the Greens at recent elections but it appears that they are focusing on other races this year. Former member David Feeney won the seat in 2016 by a 0.6% margin, but Kearney expanded this margin to 4.4%.
Liberal MP Michael Sukkar holds the eastern suburbs seat of Deakin by a 6.4% margin. This is one of a number of multicultural Liberal marginals in the big cities which could be in play.
Liberal MP Chris Crewther has held the south-eastern seat of Dunkley since 2013, but the recent redistribution redrew the seat into a notional Labor seat with a 1% margin. This means Crewther will have to gain ground to win a third term.
Senior government minister Greg Hunt has held the Mornington Peninsula electorate of Flinders since 2001. He holds Flinders by 7% but is facing strong challenges from both Labor and challenge from ex-Liberal independent MP Julia Banks.
The seat of Higgins in the eastern suburbs has traditionally been a safe blue-ribbon Liberal seat, but it was a Greens target in 2016 and they brought the margin down to 7.6%. Sitting member Kelly O'Dwyer is retiring in 2019, creating more of an opening for a progressive challenger.
Liberal deputy leader and treasurer Josh Frydenberg has held the eastern suburbs seat of Kooyong since 2010. Kooyong is a traditional blue-ribbon Liberal seat, held for over thirty years by Robert Menzies. Frydenberg is facing challenges from Greens candidate Julian Burnside and independent candidate Oliver Yates, which have brought a lot more attention to this area than is typical in a federal election.
Macnamara is a new name for the inner south electorate of Melbourne Ports. It has been held by Labor's Michael Danby since 1998, and he holds it by 1.2%. Danby is retiring in 2019. This seat is a three-cornered contest between Labor, Liberal and the Greens, who came close to overtaking Labor for second place on primary votes in 2016.
Labor's Peter Khalil won the inner north seat of Wills in 2016, and holds it by a 4.9% margin against the Greens. The absence of Liberal how-to-votes may boost the Greens chances here.