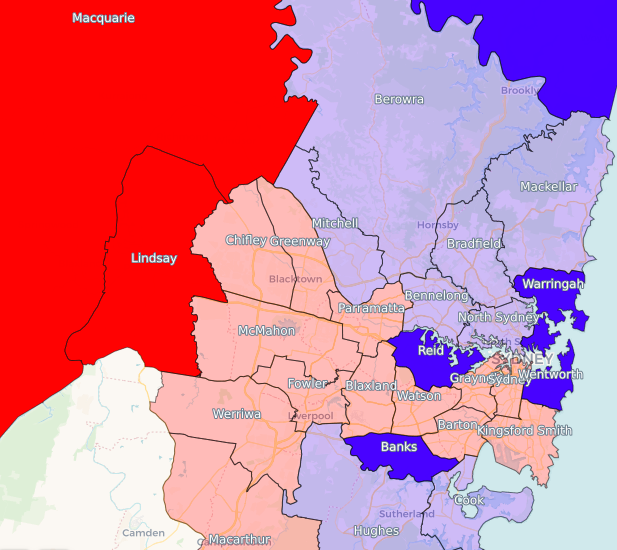 There are 29 federal electorates in the greater Sydney region (including the Central Coast and Blue Mountains) – it's the most populous region in Australia.
The region contains sixteen Labor seats, twelve Liberal seats and one independent seat.
I've identified seven seats that I think are particularly worth watching in Sydney, below the fold.
Liberal MP David Coleman holds the southern Sydney seat of Banks by a slim 1.4% margin. This area has gradually shifted towards the Liberal Party, but it could still fall to Labor in 2019. Banks is a very multicultural electorate, and the local member now serves as Minister for Immigration.
The seat of Lindsay is one of a handful of Labor seats which appear in real danger of flipping to the Coalition. This seat covers the Penrith area in Western Sydney, and is held by Labor's Emma Husar. Husar's removal as the Labor candidate may have alienated some local voters, which has given the Liberal Party room to move here.
Macquarie covers the Blue Mountains and Hawkesbury areas to the west and north-west of Sydney, and is held by Labor's Susan Templeman by a 2.2% margin. She should probably hold on but it's a seat worth watching.
The Liberal Party's Craig Laundy holds the seat of Reid by a 4.7% margin. The seat covers suburbs in the outer parts of the inner west on the south side of the Parramatta River. Laundy's late decision to retire has made this campaign hard for the Liberal Party.
The Liberal seat of Robertson covers the Gosford area on the NSW central coast. It has been held since 2013 by the Liberal Party's Lucy Wicks, who now holds it by a 1.1% margin.
Former prime minister Tony Abbott is in a tight contest in his northern beaches seat of Warringah, which is normally a safe seat held by an 11.6% margin. The challenge by independent Zali Steggall has made this one of the main seats to watch on the 18th.
The eastern suburbs seat of Wentworth was considered very safe for former member Malcolm Turnbull before his retirement last year, but it is now very marginal for independent MP Kerryn Phelps, who won last year's by-election by a 1.2% margin.