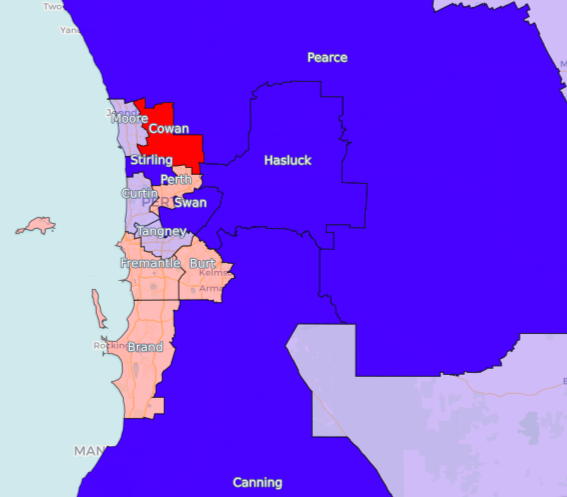 Western Australia has sixteen seats in the House of Representatives, and these seats strongly favour the Liberal Party. Labor holds five seats, while the Liberal Party holds the other eleven.
The Liberal Party has dominated Western Australia at federal elections since Kim Beazley's departure from federal politics over a decade ago. Polling earlier in the current term suggested a reversion towards Labor, but the latest polling suggests Labor is only on track to gain a small swing.
I have identified six seats worth watching at this election: three marginal Liberal seats, one marginal Labor seat, and two other slightly safer Liberal seats.
The seat of Canning has been held by the Liberal Party's Andrew Hastie since a 2015 by-election. The electorate covers the outer south of the Perth metropolitan region and is held by a 6.8% margin. The seat is probably out of reach for Labor but has a history of being very marginal. Canning became less marginal when the Armadale area was removed at the redistribution prior to the 2016 election.
Labor's Anne Aly won Cowan by a slim 0.7% margin at the 2016 election, defeating longstanding local Liberal MP Luke Simpkins. Cowan covers parts of the northern suburbs of Perth. Aly should probably win re-election but it's a bit close for comfort.
The Liberal Party's Ken Wyatt holds the eastern suburbs seat of Hasluck by a 2.1% margin. Wyatt has now held the seat for three terms – prior to his election the seat had changed hands at three successive elections. Hasluck will be an important target for Labor if they are aiming for a solid governing majority.
Senior government minister Christian Porter holds the seat of Pearce by a 3.6% margin. The seat covers the outer northern suburbs of Perth and a larger rural fringe. Porter is a prominent government minister and the seat has traditionally been safer for the Liberal Party, which could help Porter but could also suggest that the seat has more capacity to swing.
The seat of Stirling covers parts of the northern suburbs of Perth, and is held by Liberal MP Michael Keenan by a 6.1% margin. The seat has a long history of moving back and forth between Labor and Liberal but Keenan has now held the seat for fifteen years, and it will be a tough ask for Labor to win here in 2019.
The Liberal Party's Steve Irons holds the inner southern seat of Swan by a 3.6% margin. He has held this seat since 2007, but it is one of the key targets for Labor at this election.