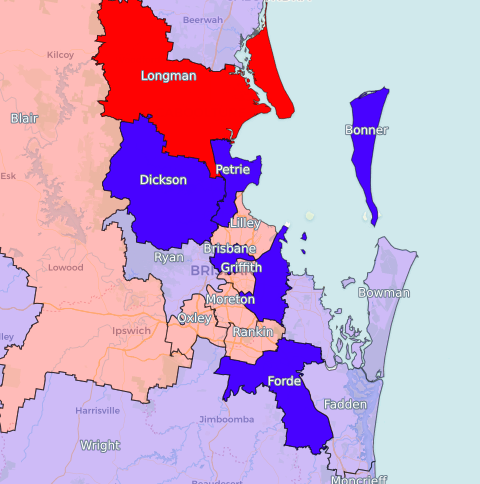 19There are twenty seats in south-east Queensland, stretching from the Gold Coast in the south to the Sunshine Coast in the north.
South-East Queensland currently contains thirteen Liberal National Party (LNP) seats and seven Labor seats. Brisbane proper is dominated by Labor, with five Labor seats and three LNP seats, but the LNP holds the six seats on the Gold Coast and Sunshine Coast. The real contest happens on the fringe of Brisbane, both to the north and south.
In this post I will run through six of the more interesting races.
Bonner is held by the LNP's Ross Vasta by a 3.4% margin. It covers the eastern suburbs of Brisbane and has only been won by the ALP once since its creation in 2004.
The seat of Brisbane on paper is safer than the other seats featured, but has a more intriguing contest. The LNP's Trevor Evans won this seat in 2016 with a 6% margin. This inner-city electorate is the kind of place you could imagine the LNP having trouble in following the removal of Malcolm Turnbull. The Greens polled almost 20% here in 2016 and are devoting some attention to the race, running former senator and Democrats leader Andrew Bartlett.
Dickson covers the northern fringe of the Brisbane metro region, and has been held by senior minister Peter Dutton since 2001. Dutton only holds the seat by a 1.7% margin but is a formidable local member. The seat has been a focus of a great deal of campaigning.
Forde is the most marginal seat in south-east Queensland, held by the LNP's Bert van Manen by only 0.6%. It covers the southern fringe of Brisbane, centred on Logan. van Manen has held the seat since 2010.
Longman is the most marginal Labor seat in the region. This seat covers parts of the Moreton Bay region between Brisbane and the Sunshine Coast and was won in 2016 by Susan Lamb with a 0.8% margin. Lamb was forced to resign over problems with her citizenship, but she won the by-election with a 3.7% swing. This suggests she should probably win another term in 2019 but this seat remains very marginal.
The seat of Petrie is held by the LNP's Luke Howarth by a 1.6% margin.