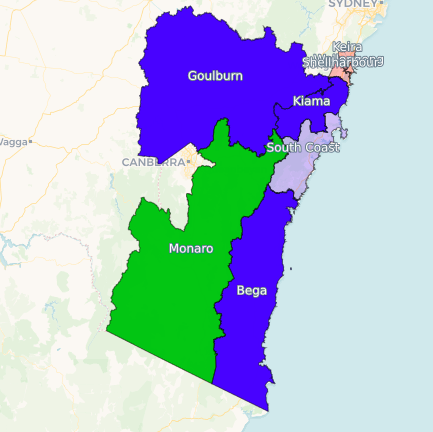 I've defined this area to cover parts of the state which don't neatly fit into any of the other categories. I've included the four seats in the Illawarra area, plus Bega, South Coast, Goulburn and Monaro.
I've identified four out of the eight seats in this region which are worth zooming in on.
The Illawarra is not a particularly interesting place in this election. Labor holds Keira, Wollongong and Shellharbour comfortably. Heathcote is a marginal Liberal seat, but is mostly in the Sutherland Shire so will be covered in a different post. I will focus on Kiama.
The Coalition holds five seats in this region, and four of them have a chance of being interesting at this election. Sorry, South Coast.
Let's start with Bega, which covers the south-eastern corner of the state, following the boundaries of the Bega Valley and Eurobodalla shires. Bega is held by Transport minister Andrew Constance by an 8.2% margin. The seat is one that Labor would hope to win if they were on track to form government.
The Liberal vote is strongest at the southern end of Bega Valley council area, and weakest at the northern end of the same council. The Eurobodalla region falls somewhere in between.
The seat of Goulburn is the most marginal Liberal seat which wasn't held by Labor prior to the 2011 landslide. Retiring minister Pru Goward has held the seat since it was created in 2007. Goward's retirement will likely weaken the Liberal Party, who only hold the seat by a 6.6% margin. It is another seat which a uniform swing would see flip to Labor if they were on track for government.
Monaro is the most marginal seat in the region, held by Nationals leader and deputy premier John Barilaro by a slim 2.5% margin. Monaro was won off Labor in 2011, and Barilaro slightly increased his margin in 2015. There is an expectation that Barilaro will hold his seat despite the pro-Labor shift, but in a seat this marginal that is a brave prediction.
Finally it's worth mentioning Kiama. Gareth Ward won this seat in 2011 with a 19% swing. The seat had previously been held by Labor by a 12% margin. Ward slightly increased his margin in 2015, holding the seat by 8.7%. There is an expectation that he will hold on and strengthen his position but this area is one which was solidly Labor when they were last in power and if Labor does a bit better than expected it would be worth watching.