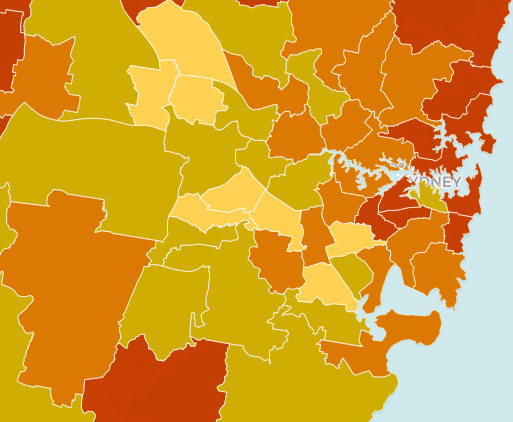 When I was analysing the list of candidates running in the state election yesterday, I was a bit surprised by which minor parties were running the largest number of Legislative Assembly candidates.
Three parties outside of Labor, Greens and the Coalition ran over 40 candidates: Sustainable Australia are running 55, Animal Justice (AJP) are running 48, and Keep Sydney Open (KSO) are running 42. Quite a lot of these candidates came out of the blue – I didn't have a single KSO candidate on my list before nominations were declared, and it's practically impossible to find out information about most of them.
All three of these parties could be broadly described as "on the left". Some lefties would object to that classification of Sustainable Australia because of their approach to immigration, but all three parties clearly are competing for political space with the Greens.
The right-wing minor parties have nominated a lot less candidates: the Shooters are in 25 seats, the Australian Conservatives in 19, Fred Nile's Christian Democrats are in 18, and One Nation are only in twelve.
In one sense the number of candidates running doesn't really matter – very few of these people have a chance of getting elected, and preferential voting minimises the spoiler effect. But it is a test of organisational capacity – it takes time and effort to find people willing to put up their hand, and it costs money just to get on the ballot. As a contrast, I haven't identified a single independent running in alliance with Jeremy Buckingham's upper house ticket (although it is possible some have slipped under the radar), suggesting difficulty finding people and money to run lower house support candidates.
The growing presence of left-wing parties challenging the Greens is partly a story about the recent divisions in the Greens NSW (I've noticed more than one Sustainable Australia candidate who has previously run for the Greens), but it's also a broader story. The Animal Justice Party already hold a seat in the upper house, and both Sustainable Australia and Animal Justice won seats in the Victorian upper house last November.
There are a few interesting patterns in terms of where parties are running. I have put together the following map which can be toggled to show three different layers.
Most interesting is where the three left-wing insurgent parties are running.
Keep Sydney Open is, unsurprisingly, mostly running candidates in the eastern half of Sydney. They are running in every seat on the north shore, as well as almost every seat in the inner west and eastern suburbs.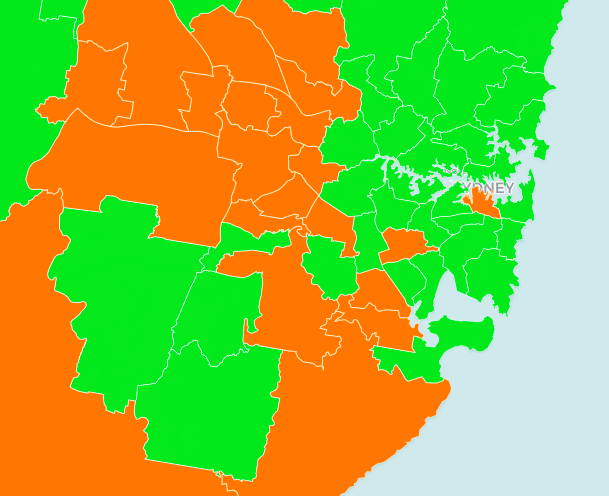 The only exceptions are Canterbury and Sydney, and the seat of Sydney particular stands out. This electorate covers the area most directly affected by the lockout laws which triggered the creation of KSO. It is also the seat held by independent MP Alex Greenwich. Greenwich is part of Clover Moore's independent alliance, and one of Clover's councillors is running as a candidate for Keep Sydney Open in the Legislative Council. It seems reasonably obvious that this is a deliberate decision to not challenge Greenwich.
KSO is also running in a number of rural seats, including Albury, Bathurst, Murray and Orange. Interestingly they are also running in the Greens seat of Ballina.
The first map in this post shows how many candidates are running in each seat from Sustainable Australia, Animal Justice and Keep Sydney Open.
It's probably not surprising that these parties are most likely to be running in seats which are strong for the Greens, particularly on the north shore of Sydney and in the eastern suburbs and inner west. I do think it's interesting that all three parties managed to run in all three Greens seats (Balmain, Newtown and Ballina).
For the first time in 2019, registered election-day material (mostly how-to-vote cards) will be published online on the Monday before election day. It will be interesting to see how these preferences flow, and whether there is some kind of preference arrangement either in support of, or in opposition to, the Greens.
There is a general trend of less minor parties running in Labor seats. If you exclude the three Labor, Greens and Coalition candidates in each seat, there are 2.6 other candidates standing in the average Labor seat, compared to 3.4 other candidates in the average Liberal seat. Whether this is a coincidence or a deliberate preference strategy, time will tell.
The Shooters, Fishers and Farmers are probably the most interesting right-wing minor party. They had almost no experience of running lower house candidates up to and including the last election, but since their win in the 2016 Orange by-election they've become a major factor in regional NSW politics.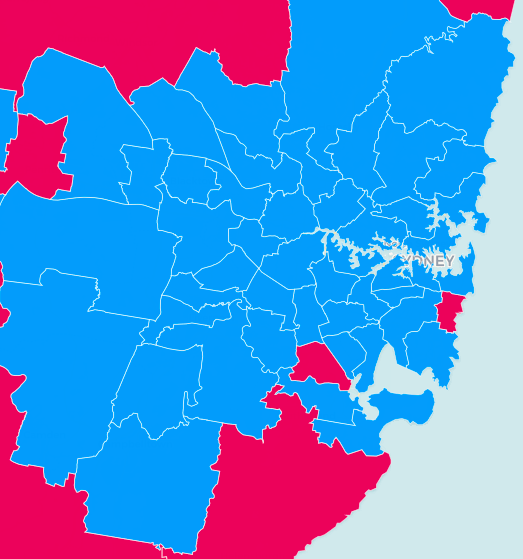 They are mostly standing in the places you'd expect, including 10 seats in inland NSW (including Upper Hunter) and 3 seats in the south-east, including Goulburn. They are also running in four mid-north coast seats. Most of their candidates are running in Coalition seats, which is likely just a reflection of their stronger areas.
Their presence in Sydney is mostly limited to the outer fringe, running in four seats on the edge of Sydney. But they are also running in Coogee which seems like a strange choice.
One Nation has mostly avoided running against the Shooters, Fishers and Farmers, with most of their seats in mid and outer suburban Sydney, but they are still both contesting five seats.
Pre-poll voting opens on Monday, so this should give us the first hint of how these parties will be directing their preferences, and how this could effect this election.