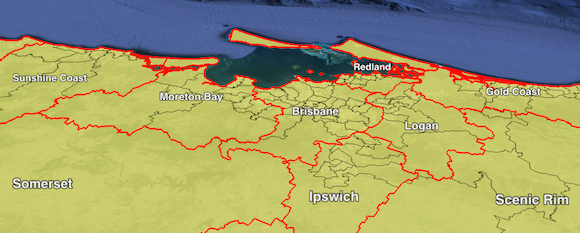 It's only nine days now until Queenslanders vote for their councils for the next four years (along with a referendum on fixed four-year terms for the state parliament), and I've finally finished my Google Earth map of the ward boundaries.
Sixteen councils have changed their divisional or ward boundaries since the 2012 election. Four of these are councils which have changed their external boundaries due to the reversal of a pre-2012 council amalgamation: Cairns, Tablelands, Sunshine Coast and Rockhampton. The restored councils which took in parts of those four, respectively Douglas, Mareeba, Noosa and Livingstone, will all elect their councillors at large without any wards.
The other twelve councils to change their wards are Banana, Brisbane, Bundaberg, Fraser Coast, Ipswich, Isaac, Logan, Moreton Bay, Redland, Scenic Rim, Townsville and Whitsunday.
You can download the map here.
I'm now focusing all of my attention on preparing my guide to the 2016 federal election, with seat guides due to start appearing in April. I'll likely return with a small amount of analysis of the results of the QLD election and referendum after March 19, but apart from that I'll be keeping my head down working on the federal election.