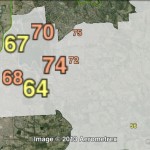 Fisher is an independent-held seat in southern Adelaide, covering Aberfoyle Park, Happy Valley, Coromandel Valley, Cherry Gardens, Clarendon, Reynella East and parts of Chandlers Hill, Flagstaff Hill and O'Halloran Hill.
Bob Such has held the seat since 1989. Such originally held Fisher for the Liberal Party, serving as a minister from 1993 to 1996. He became an independent in 2000, and has managed to win re-election without a party's support at the last three elections.
Such holds the seat by a 17.4% margin.