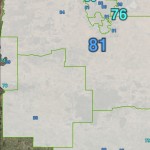 Chaffey is a Liberal seat covering areas along the Murray River, close to the Victorian and NSW borders.
The Liberal Party's Tim Whetstone won the seat in 2010, defeating Karlene Maywald, who was the sole parliamentary representative of the National Party, and a minister in the Labor-led government.
On paper, Chaffey is held by a 3.8% against the Nationals, and is the safest Liberal seat in the state with a margin of 28.1% against the ALP. Despite the seat being held so recently by the Nationals, they are not running a candidate in Chaffey in 2014.