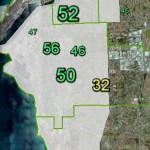 Fremantle has been one of the most talked-about seats during the last term of the Western Australian Parliament.
Fremantle had been held by Labor for close to a century, all the way up to 2008. Former Attorney-General Jim McGinty retired in 2009, triggering a by-election won by Greens candidate Adele Carles.
Carles resigned from the Greens in 2010 after falling out with her party following revelations of an affair between herself and Troy Buswell, the Treasurer and former Liberal leader.
In 2013, Carles is running again, but the seat is expected to return to the Labor fold.