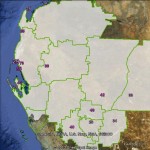 North West Central is a vast seat on the Western Australian coast, including the town of Carnarvon.
The seat was won by Labor MLC Vince Catania in 2008, but in 2009 Catania defected to the Nationals.
The redistribution flipped the margin from 3.1% for the ALP to 3.3% for the conservative parties.