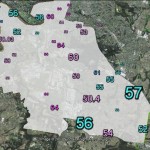 Moreton is Labor's most marginal seat in Queensland. The seat has been held by Graham Perrett since he won it off the Liberal Party's Gary Hardgrave in 2007.
In 2010, Perrett won a second term despite a 4.9% swing back to the Liberal National Party. His current margin is 1.1%.
Moreton covers suburbs to the southwest of the Brisbane CBD, on the south side of the Brisbane River.