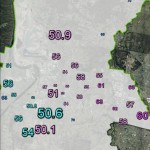 Lindsay is a marginal Labor seat covering the Penrith area in Western Sydney.
The seat is held by Assistant Treasurer David Bradbury by a margin of 1.1%. Bradbury has held the seat since 2007, when he replaced former Liberal MP Jackie Kelly.
The seat has a totemic status as a key seat in recent elections, and gained a great deal of attention in 2010.